Many young people with Special Educational Needs ("SEN"), especially those with Austic Spectrum Disorder have difficulties in social communication. They sometimes may exhibit emotional outbursts, often to the detriment of their school or work life. On the other hand, some dementia elderly people need extra care due to the deterioration of their expression ability and mobility. By providing the youths with communication training and career planning skills, a non-profit organisation links the two sides, preparing the SEN youths for future career and enabling them to contribute to the elderly.
Both Tsz-kei and Daniel were diagnosed with autism. "As a secondary student, I dreaded going to school, where I was often subject to stereotyping and seen as unintelligent. Recognising and understanding my autistic traits was a great relief for me, because I knew what was behind my problems" Tsz-kei said. Daniel also shared similar experience: "I didn't get along well with classmates in my primary and secondary schools. I don't know how to communicate with them."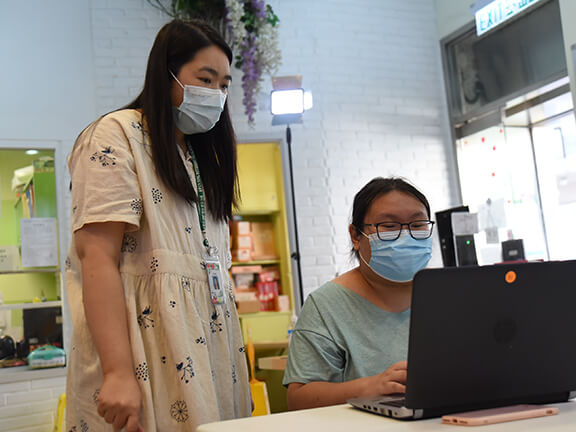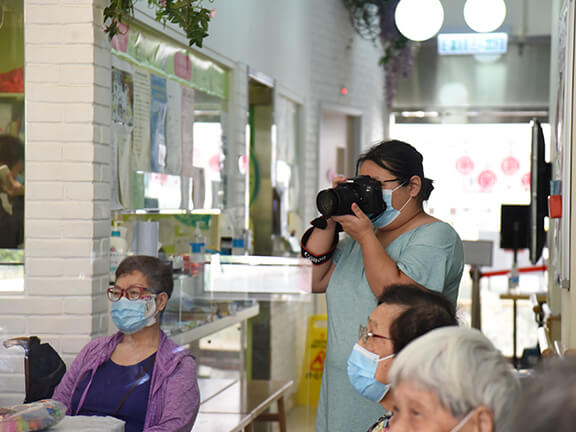 Readying for life in the workplace
Tsz-kei and Daniel joined the "Key to Life — Caring · Sharing · Action" project of Kwun Tong Methodist Social Service (KTMSS), which is sponsored by Link Together Initiatives. Under the guidance of social workers and instructors, they are receiving training in communication and career planning. Referred by the project, Tsz-kei is now doing an internship in a multimedia firm and making social media postings under the nickname "Mirror. Shadow". She said, "The internship has equipped me with skills in filming, computer-aided drawing and managing a social media page. It also allows me to earn an income to help with my expenses."
As part of his internship under the "Key to Life" project, Daniel teaches seniors to play table games. Having the chance to deliver elderly services has not only enhanced his social skills, but also changed his view of seniors. "I had little contact with seniors before, and viewed them as troublesome, but now I find them chatty, gentle and caring."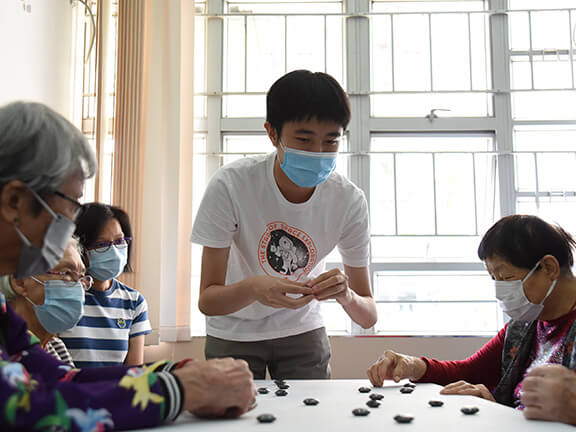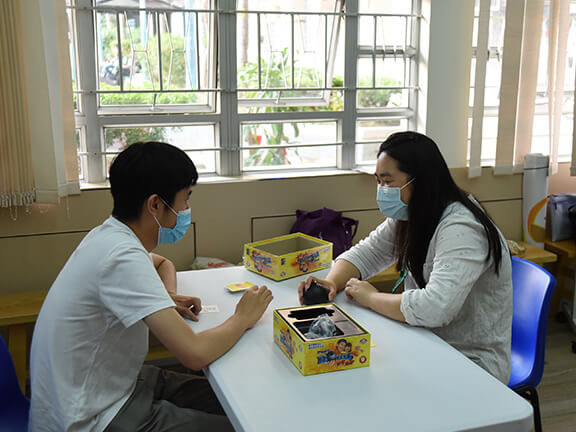 The project's service coordinator Ms Shiu Wan-kit, who has been following Tsz-kei's and Daniel's cases for years, witnesses that the changes brought to the youths by the project. She said, "Tsz-kei's internship, which requires her to regularly make social media posts, teaches her to get accustomed to delivering her work in a timely manner, and in so doing, she learns how to better manage herself. She also improves communication skills through the co-ordination work required by multimedia production projects."
On the other hand, Daniel improved his time management skills. "Now he takes care not to miss any training classes by arriving early. He also learned skills in talking to seniors, such as saying things loudly and clearly, and repeating himself in case they don't hear him the first time. By promoting better interactions between seniors and young people, we hope that they can have a positive influence on each other."
Fostering a better understanding of SEN students
Shiu noted that SEN-related disorders – which encompass autism, attention deficit disorder, hyperactivity disorder and dyslexia – are like an invisible barrier for affected students, most of whom attend mainstream schools and look just like other students. She hopes that the "Key to Life" project can help promote a more inclusive community by fostering a better understanding of SEN students' needs among the public. This would offer these students more room for development while also guiding them to embrace their traits and use them to their benefit to unleash their full potential.