"I thought I was the one in need, but now I realise that I also have the ability to help others." Ching Ling tells us of her transformation in just six months from being a beneficiary of Food Angel to becoming one of the programme's outreach ambassadors.
Transformation in a six-month journey
Ching Ling, a mother of three children ranging from two to seven years old, has worked in the catering industry since graduation. Because of COVID-19-related social distancing measures and dine-in restrictions, she was required to take leave without pay. As a result, Ching Ling, as advised by close friends, started to get packaged food from Food Angel around March of this year. The frozen meat, vegetables and noodle packs she receives once every week from Food Angel provide her family of five with proper meals for four days. Such assistance allows Ching Ling to better allocate her resources to support her children's tuition fees and extracurricular activities, empowering the children to be future-ready.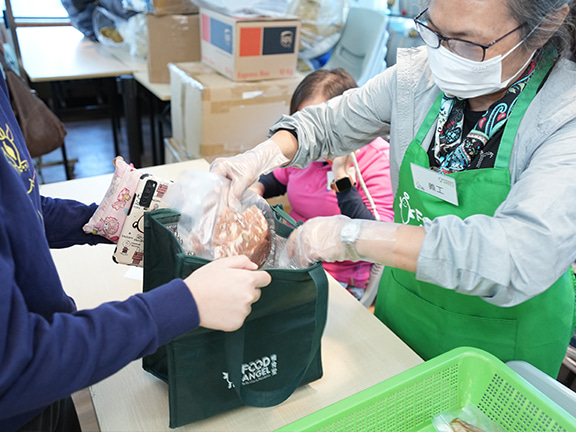 Ching Ling did not feel very comfortable in the beginning about receiving food from Food Angel. She was shy and hesitated to communicate with the social workers at the organisation. Over time, though, the love and care offered by the social workers and volunteers at Food Angel melted Ching Ling's heart, and she began to feel like she was part of the Food Angel family.
One afternoon during the summer, Ching Ling noticed that Food Angel was recruiting outreach ambassadors with a basic hourly rate. She applied and was hired, marking her transformation from a beneficiary into a real "food angel". Now, from about 10am to 1pm every day when her children are at school, Ching Ling delivers hot meals – and provides warm company – to about 15 elderly recipients living in Sham Shui Po and Cheung Sha Wan.
Some elderly beneficiaries live in tenement buildings where Ching Ling needs to climb 11 floors to reach their apartments. She never finds the job hard but instead finds it meaningful. "I thought I was the one in need, but now I realise that I also have the ability help others," she said with a satisfied smile.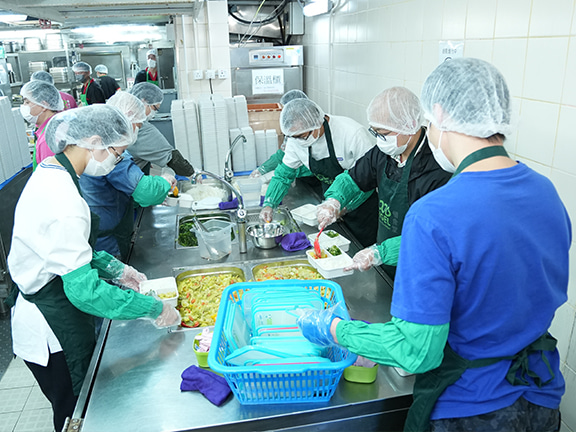 In addition to delivering meals, the outreach ambassadors also need to report to Food Angel the situation of elderly beneficiaries who live alone, ensuring their safety and health. "The meaningful part of the community outreach service is to reassure these seniors, who may not be frequently visited by friends and family members, that they are being cared for. We are not delivering only food but also love." Ching Ling has grown a lot during the experience, as she has learnt how to better communicate and interact with others with more compassion.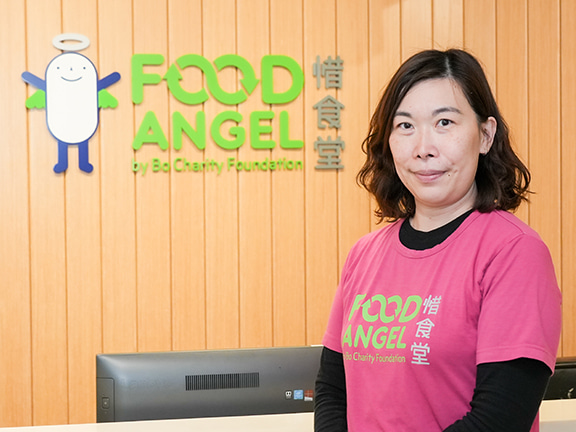 Astor Wong, Senior Manager – Partnership and Resources Development of Food Angel, reiterated the mission of the programme: "Waste Not, Hunger Not, With Love". And "waste not" through education always comes first. "The food products sold in fresh markets or supermarkets always have a best-before or expiry date. Instead of being discarded, we very much hope that these food products can be donated to food collection organisations like ours, since we are generally able to use and distribute 60% or 70% of these products, if not all."
"Waste not" through education always comes first
Hong Kong is one of the wealthiest cities in the world, but an estimated 23.6% of the population (1.653 million people) lived in poverty as of 2020, according to the government's Hong Kong Poverty Situation Report. Bread, biscuits and instant noodles are always the food products that families in need consume most, as food is always the item they cut first when money is tight. "Food Angel was established to help poor families eat a nutritious and balanced diet, as we don't want them to sacrifice their health because of economic pressure".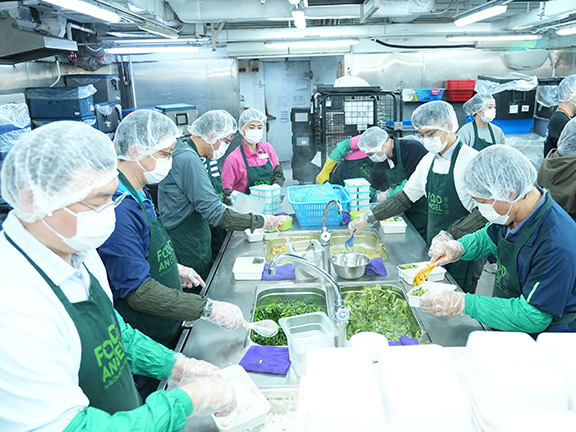 Certain industries such as catering, aviation and tourism have been hard hit by the COVID-19 pandemic, leading to a dramatic rise in unemployment or underemployment. This has been reflected in the increased demand for assistance from Food Angel in the past year. While Food Angel is determined to satisfy as many food assistance requests as possible, it is also trying its best to raise its production capacity to meet this increased demand. In addition to hot meals, Food Angel has been offering frozen food boxes since 2019. Currently, about 15,000 nutritious meals are produced daily, compared to 10,000 in 2020, comprising 60% hot meals and 40% frozen food boxes. "Before 2019, we could only serve elderly in our community centres during weekdays, but with the introduction of frozen food boxes, now we are able to take care of their diet during weekends too," said Astor.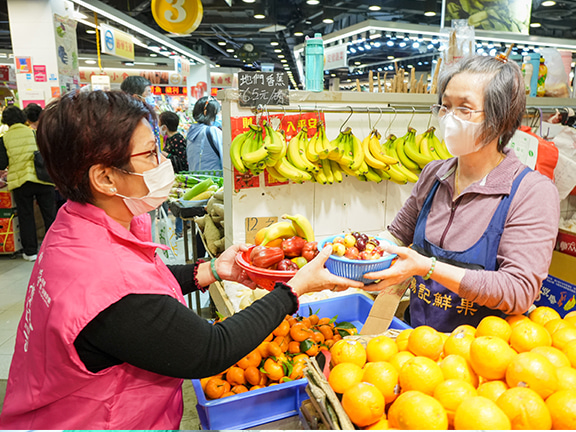 Food collections from fresh markets and shopping centres
Fresh markets have always been one of the most important contributors of surplus food for Food Angel. "We are grateful for Link's support over the past five years through the Food Angel - We Link We Share Programme, which has enabled us to collect sufficient ingredients from its fresh markets and shopping centres to increase our meal production." However, the COVID-19 pandemic impacted the volume of food collected from fresh markets in 2021/22, as Food Angel's food collectors could not always collect food from fresh markets in person due to social distancing measures.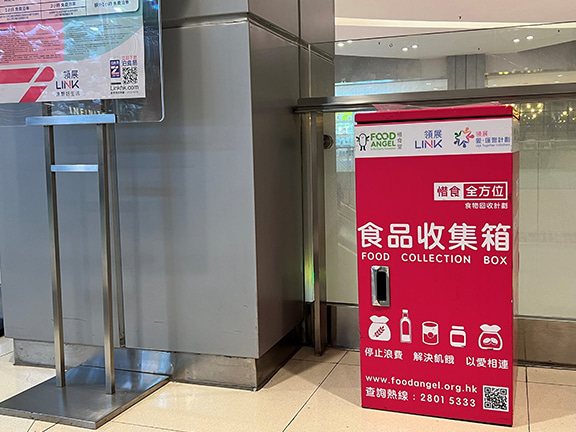 Interestingly, food received via the food collection boxes in Link's shopping centres has substantially increased during the pandemic. "This phenomenon can be explained because many people had been accumulating food at home to avoid going out due to the pandemic, but when the situation eased, they decided to donate these food products as they no longer needed them," said Astor. During 2021/22, the volume of food collected from Link's food collection boxes exceeded the target by 80%, with most of the donated food comprising packaged and canned food, and rice and noodle packs. In addition, rice dumplings and moon cakes were also donated following holiday periods.
"Food Angel remains committed to delivering the 'waste not' message through education," Astor said. In October 2021, three additional Link fresh markets in Tin Shui Wai were added to the programme with Food Angel, increasing the total number of Link fresh markets participating in the programme to 39.
"It normally takes time in the beginning to invite stall operators in newly added markets to participate in our food donation programme, but we feel grateful that many of them are willing to join after the detailed explanation by our food collectors," said Astor. She expects that the volume of food collected from the fresh markets will gradually pick up to pre-pandemic levels with the continued improvement of the COVID-19 situation in Hong Kong.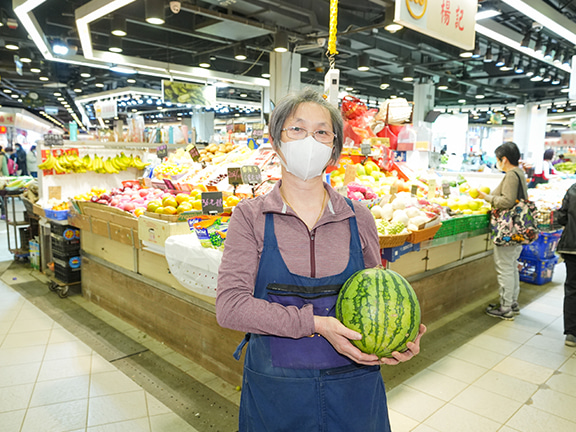 A meaningful initiative to fresh market stall owners
Mrs Yeung, who has been operating fruit stalls in Lok Fu Market for decades, has participated in the Link x Food Angel - We Link We Share Programme since inception. "Some of the fruits at my stall are hard to sell due to their unappealing appearance, but they are still edible. I'm happy that these fruits, with only minor aesthetic imperfections, can be delivered to people in need," Mrs Yeung concluded with a smile.