The scent of hand-roasted chestnuts hanging in the air is a sure sign that autumn has arrived. The rustling sound created by the heavy wok spatula combined with the aromatic flavour of a freshly roasted chestnut is an unmistakable sign that winter is just around the corner.
But have you ever wondered why roasted chestnuts are always sold together with simmered sweet potatoes? The simple answer is that the small cart operators need to use the limited space of their carts efficiently, so they utilise the heat released from hand-roasted chestnuts to simmer the sweet potatoes.
In this article, we will share with you how differently coloured sweet potatoes vary in taste and nutrition, as well as how to make delicious roasted chestnuts at home.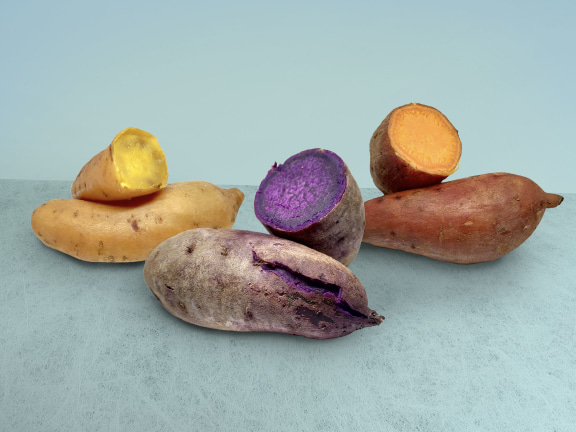 A range of flavours and nutritional benefits
Street hawkers offer a range of sweet potatoes with different flesh colours at their carts: yellow, orange or purple. People often mistakenly believe that the only variation between these three colours of potatoes is sweetness. In fact, different varieties of sweet potatoes also have different nutritional benefits and edible values.
Appearance and taste
The tubular shape of sweet potatoes with violet-purple flesh is unique, as they feature a tapered end. In contrast, sweet potatoes with yellowish or reddish-orange flesh share a similar round shape. In terms of mouthfeel, yellow-fleshed sweet potatoes feel fluffy, orange-flesh ones feel soft and purple ones have a creamy and moist texture.
Sweetness
Purple sweet potatoes are less sweet but have a stronger aroma. The other two-coloured sweet potatoes are relatively sweeter than their purple-fleshed cousin, with a subtle luscious flavour.
Nutrition
Yellow-flesh sweet potatoes are rich in vitamin B1, which the body uses for energy production. Orange-flesh sweet potatoes have the fewest calories among these three, and they are rich in vitamin A, carotene and potassium, which help diuretic drainage and prevent cardiovascular diseases. Potassium also helps maintain a vigorous and healthy body. Purple-flesh sweet potatoes are high in dietary fibre, which helps boost the digestive system.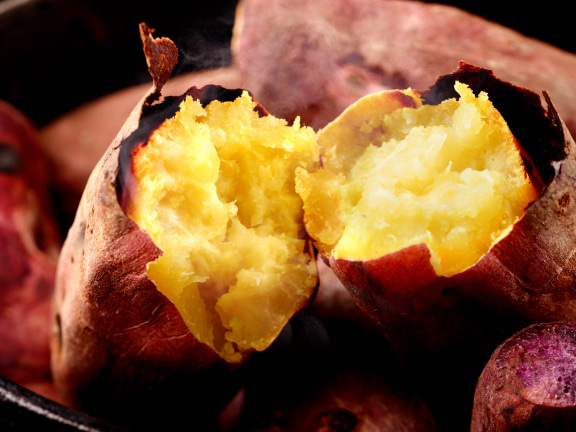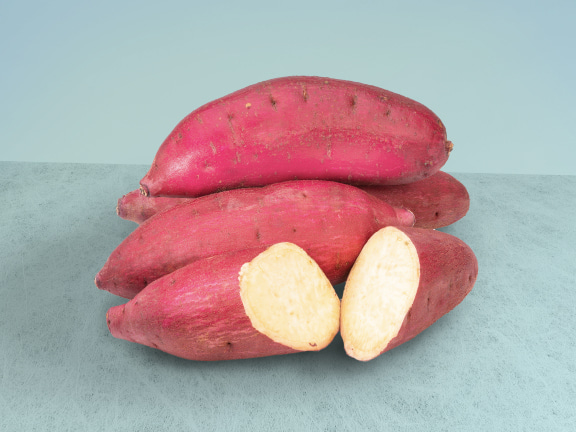 Japanese sweet potatoes make their mark in Hong Kong
In recent years, Hong Kong supermarkets have increased their supply of sweet potato varieties imported from Japan. Among these varieties, Annou-imo sweet potatoes are relatively small in size with a blend of thick orange and brown skin. They are known for their sticky texture, creamy taste and sweet flavour, and especially loved by the elderly and children. They should be peeled before being eaten and can be baked to enhance their naturally sweet flavour. Another variety, the Naruto Kintoki sweet potato, has a rough skin that is purple in colour, with faint red patches. These sweet potatoes are fluffy, and can be eaten with their skin on or off. Their moderately sweet flavour is accentuated whether they are grilled over coals, steamed or fried.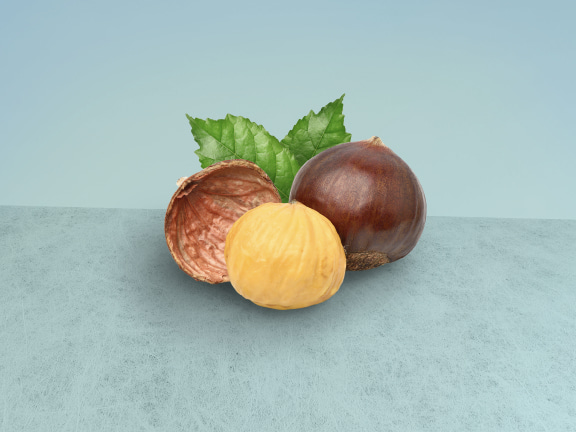 Chestnuts are rich in dietary fibre and antioxidants
In the family of nuts, chestnuts are renowned for their high dietary fibre. They are a good source of monounsaturated fatty acids, which help lower blood pressure and bad cholesterol, maintain intestinal health and prevent cardiovascular diseases. In addition, chestnuts are rich in vitamins, which helps produce collagen, maintain skin elasticity and enhance immunity. The tannins in chestnuts are rich in antioxidants, which can help fight against cancer!

Although chestnuts have many benefits, they are rich in carbohydrates, which means that diabetics should not eat too many to avoid increased blood sugar levels.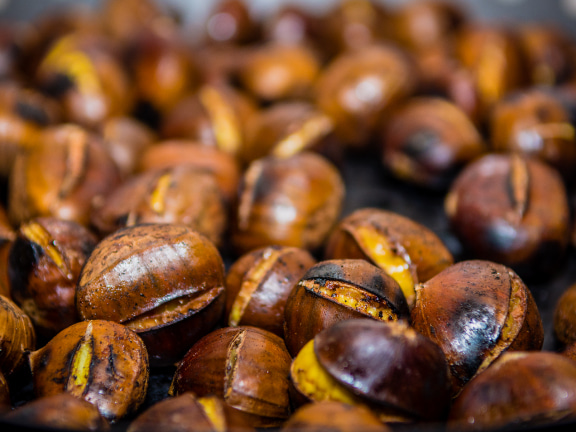 Roast chestnuts at home with an air fryer
It is actually quite easy to roast chestnuts at home using an air fryer. Simply wash the chestnuts and use a sharp knife to carve an X into the shell. Place them into the air fryer basket and set the temperature at 160°C for 10–15 minutes. As soon as they have popped, remove them from the air fryer, serve them on a plate and enjoy!

When the days grow chilly, it is time to try these two traditional autumn and winter delicacies to help warm you up!
Original posts on Link's Facebook page:
https://bit.ly/3ywyAYp
https://bit.ly/326TWzm