Hong Kong people work long hours, and it is sometimes difficult to find the time and energy to exercise regularly. To help encourage local residents to maintain a healthy physique in as few as five minutes a day, this August, Link will host its first indoor cycling competition, the Tour de LINK, with stationary bicycles installed in Link malls across six districts. Indoor cycling is just one option, though, and there are many other convenient exercise options for people who want to maximise their fitness with quick 5-minute workouts at home or in the office using simple equipment or even none! To get the inside scoop, we came to 24/7 FITNESS in Tin Yiu Plaza, Tin Shui Wai and invited professional fitness coaches Alex Auyeung and Anna Cheng to introduce us to some simple and easy "light exercises".
Different Body Parts to Exercise for Guys and Gals
Generally speaking, for guys who want to achieve good posture, every part of the body must be trained. Alex recommends that men use a chair and a resistance band to do the following four exercises:
Place both hands on a chair and do push-ups to train your chest muscles
Put both hands on a chair and hold yourself up to strengthen the triceps
Place both feet on a chair and do crunches to exercise your abdominal muscles
Put both hands behind your back and pull the resistance band up and down
Do 12 to 15 repetitions of each of the above exercises for a full-body training session in just 5 minutes. "The chest, arms, abs and legs must be all trained together to get a well-proportioned body, and no part of the body will be drilled too thick or too thin." Alex said.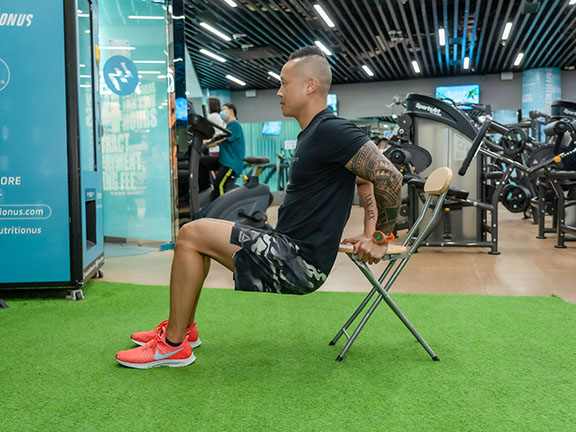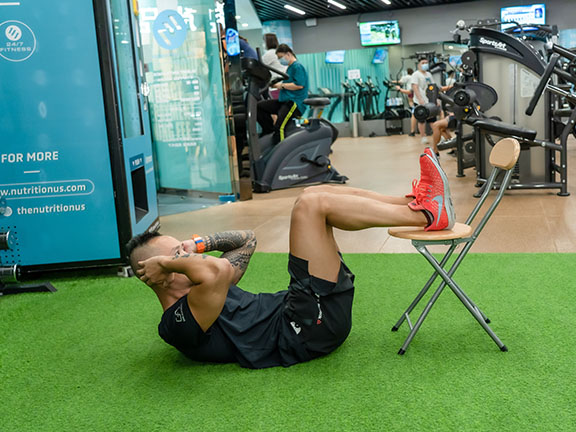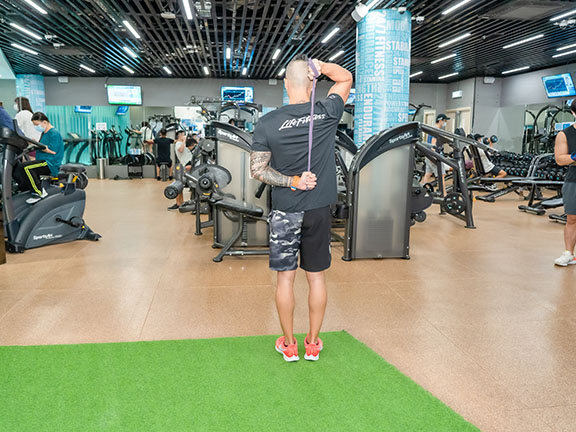 For girls who want a trim waistline and a toned butt, Anna selected two simple exercises that can be performed on flat ground without any equipment:
Single-leg side plank
Sumo squat
Take about five minutes a day to do these two exercises, three or four days a week, and you will see the effects in about two to three months.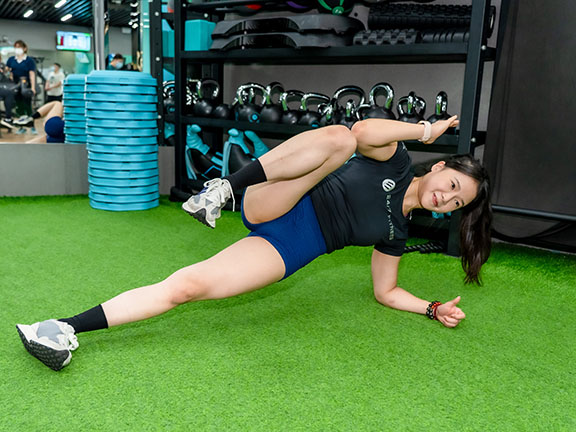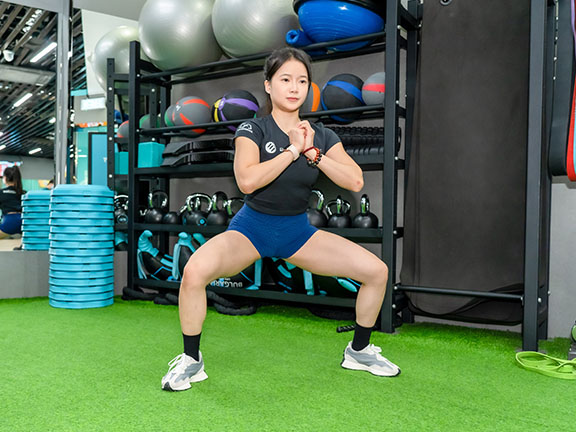 Simple Exercises for Seniors
Exercise and fitness are important for all ages. However, as people age, their physical strength tends to diminish, so Anna recommended two simple exercises for seniors to do at home:
Towel chest press
Legs-up-the-wall pose
Doing these exercises for about five minutes a day is generally sufficient to see results. "Exercise not only strengthens joint health and prevents osteoporosis, but also boosts blood circulation and the body's immunity," said Anna. "Exercising more can also prevent brain degeneration, and even prevent dementia!"
Anna, who has experience with elderly clients, said seniors who exercise more generally have better health – and live happier lives.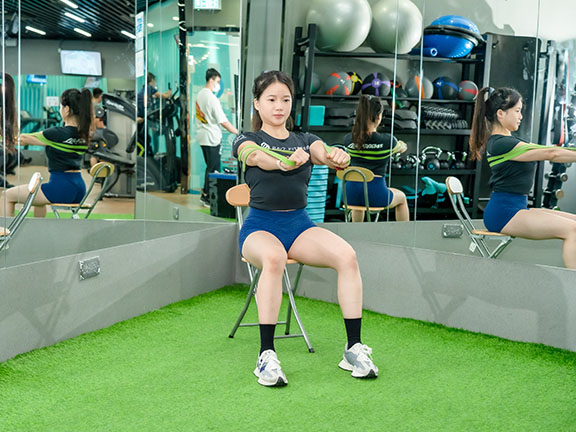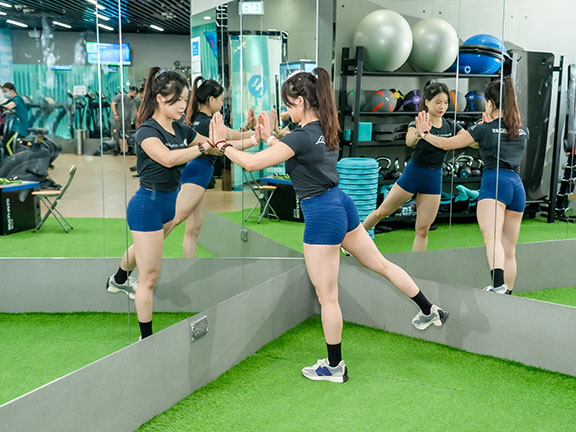 A Fun and Healthy Date Night
When you are in a relationship, sometimes the most satisfying thing is to simply relax at home with your partner. That sounds cosy, but it could also unknowingly lead to an unhealthy sedentary lifestyle. To combat this, the two coaches demonstrated three exercises that can be easily done together at home. Think of it as a fun and healthy date night!
Double hand-hold squat to exercise the lower limbs and torso
Partner v-sit circle: sit on the ground facing each other, with the upper body leaning slightly back and hands resting on the ground. Lift both feet off the ground and draw circles – first clockwise, then anticlockwise – to exercise your abdominal muscles.
Partner leg raise: one person lies flat and does crunches, raising his/her legs upwards. The partner takes hold of his/her ankles, and then pushes the legs back to the ground, which targets the abdominal muscles.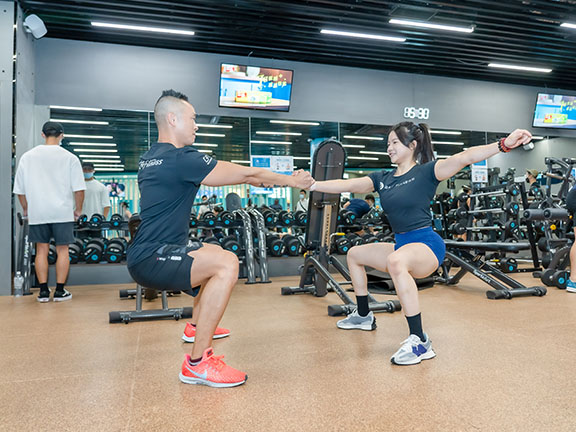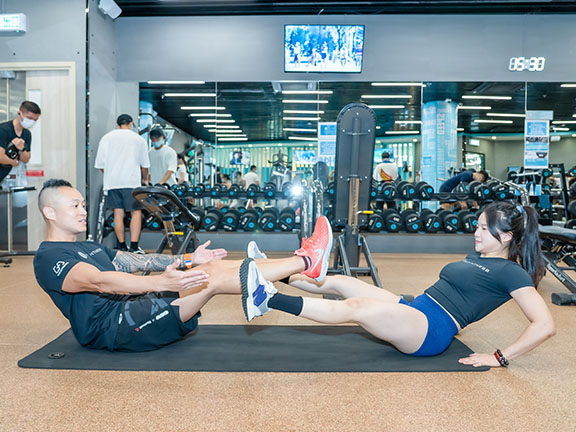 When doing these exercises, each partner must move in sync, which creates camaraderie. Exercising in pairs also helps keep motivation high, as each partner can encourage the other to push just a bit more. "When one person exercises, sometimes they give up halfway because of the high intensity, but when two people exercise together, even if you feel unable to sustain it, your partner can cheer you up, which can motivate you again and create the effect of '1+1>2'," Alex said. Therefore, in addition to couples, friends and family members can pair up to exercise together. So, go ahead and invite someone around you to be your workout buddy!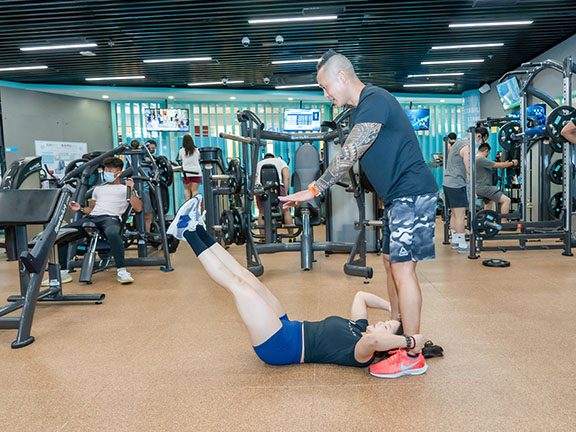 In closing, Alex and Anna also issued these reminders: before and after exercising everyone should warm up and warm down, and it is important to always stay hydrated and progress step by step to avoid injury. And if you have any fitness or exercise-related questions, it is always better to consult a professional coach.