Cycling has gained popularity among local people in recent years. Aside from offering a variety of health benefits, cycling can be good to your social network and helps you develop a stronger tie with the community. Read on to learn those benefits, unique advantages of outdoor bikes and fitness bikes, and why it is good for the community development.
Benefits of Cycling
Riding a bicycle is easy and can be enjoyed by people of all ages. It helps you develop a healthy lifestyle, both physically and mentally:
Work out multi-muscle groups
The motion of cycling works different muscle groups in the body, including the upper body and core. In particular, it strengthens muscles of the lower limbs such as glutes, thigh muscles, quadriceps and calf muscles, and improves their endurance.
Improve blood circulation
Muscles of the lower limbs squeeze the blood vessels in the legs during the ride. This action pushes blood flow back into the upper body, stimulating body circulation and preventing varicose veins caused by prolonged sitting. What's more, cycling improves cardiopulmonary function and keeps your heart healthy.
Compared to running, cycling puts less stress on your knees. It is therefore a more gentle option for people who just start their exercise routines.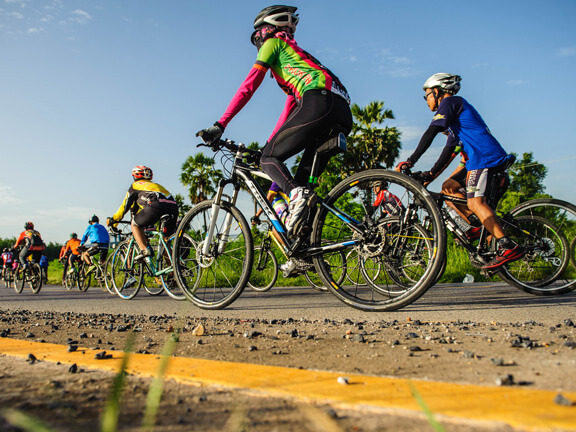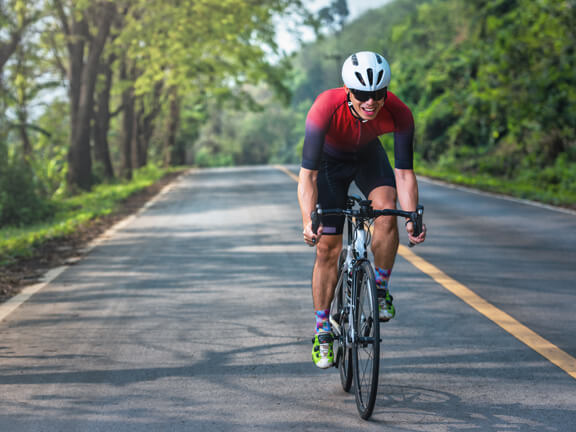 Prevent and manage chronic diseases
Since cycling improves cardiorespiratory function and promotes blood circulation, it helps you prevent and manage chronic diseases including arteriosclerosis, diabetes and hypertension. In addition, it has a lower impact to joints and thus is suitable for people who are less mobile.
Cycling is a high-intensity aerobic activity and burns around twice as many calories as walking. It thus helps you achieve your weight loss goal.
Exercise in general stimulates the release of dopamine which improves mood. Riding on a bike makes you feel relaxed and escape from the mental stress.
Cycling requires hand-eye coordination. It improves your overall balance and coordination of different parts of the body like eyes and limbs, maintaining the agility of the nervous system.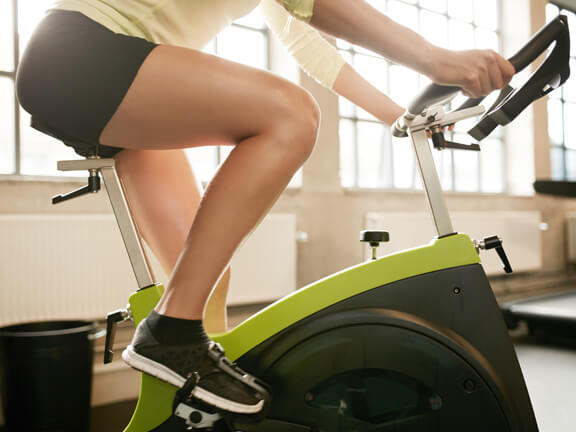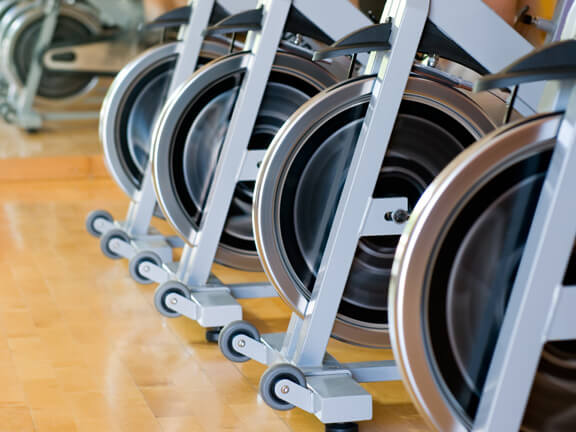 Unique Benefits of Indoor Fitness Bikes
Some people prefer indoor fitness bikes to outdoor cycling so that their exercise schedules are not affected by weather and road conditions. Here are the unique benefits of indoor fitness bikes.
Avoid sunburn or heat stroke
Riding an indoor fitness bike reduces the chance of getting sunburn and heat stroke.
Not affected by bad weather
With indoor cycling exercise, you can continue fitness regime regardless of the weather conditions and stick to a workout routine more easily.
Avoid traffic accidents or collisions
Some move their rides indoors so that they do not have to worry about the traffics and any injuries caused by accidents or collisions on the road.
An easy-to-use stationary exercise machine
Compared to other sports equipment, indoor exercise bikes are more gentle and safer to our bodies because of less vibration and shock produced by the motion. Furthermore, you can easily adjust the speed and resistance level to suit your fitness condition, which makes it easier for beginners.
Good songs and videos keeps you motivated
Good songs in the playlist give you the right vibe for the workout. Exercising on an indoor bike allows you to do even more like watching videos. It makes your workout more fun and increases your stamina.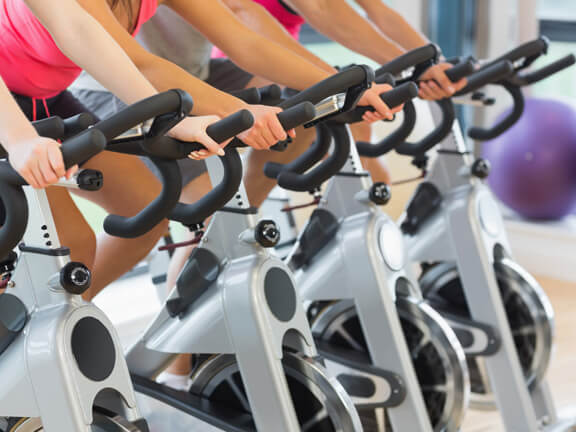 Cycling Promotes Social Interaction and Builds Community Ties
You can explore the neighbourhood on wheels with friends and families, bringing you closer to the broader community. One of the most popular cycling routes in Hong Kong is Tseung Kwan O Waterfront Promenade. Highly accessible with an open view, this cycling hotspot attracts both local residents and cycling enthusiasts. You may also grab refreshment and take a break in the TKO Spot near the route before continuing the journey.
Link is excited to launch "Tour de LINK" – a neighbourhood fitness drive and cycling competition to promote healthy bodies, minds and spaces across Hong Kong. From 4 to 29 August 2021, six participating malls across Link's portfolio, including Lok Fu Place, Kai Tin Shopping Centre, Tin Yiu Plaza, Oi Man Plaza, TKO Spot and Wan Tsui Shopping Centre will feature exercise bikes for the community to take a ride to start their fitness journeys! Participants can see their distance achieved during the event and those with outstanding results may become our "Cycling Champs"! Beside individual results, district results will be generated from accumulated distances cycled by all participants in that district. We invite you to unite with your neighbours to attain the best results for your community!
Details: Tour de LINK