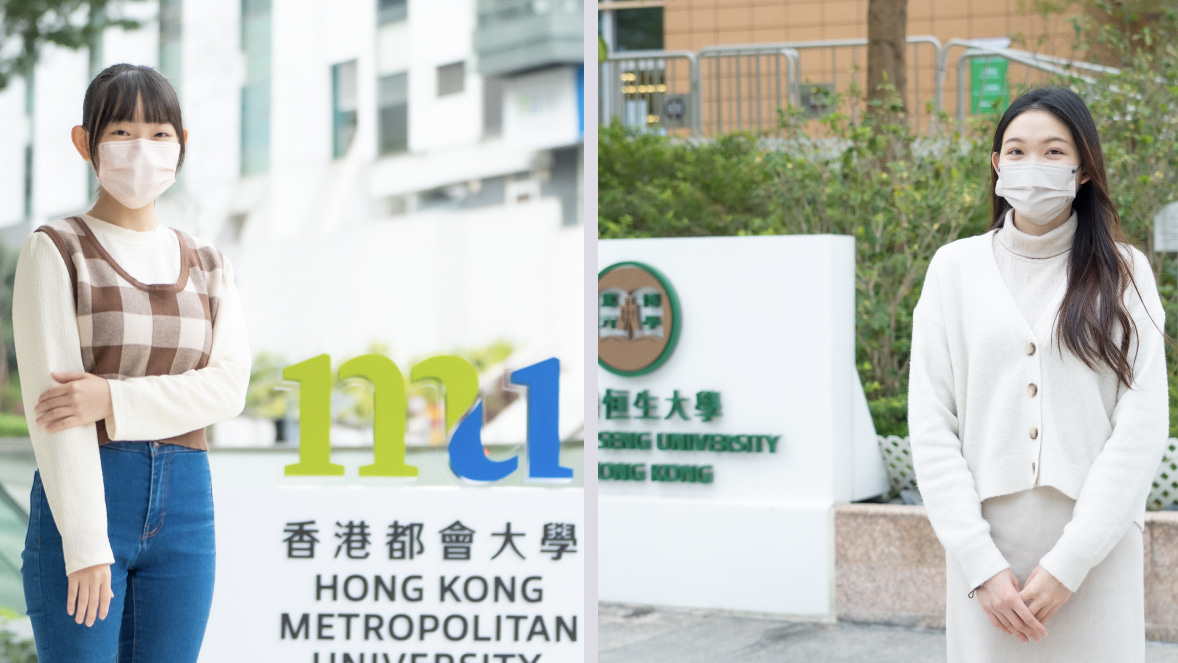 Marking its seventh consecutive year, the Link University Scholarship opened applications to students from three self-financing universities for the first time in 2021/22 and awarded scholarships to 220 students in total – the most Link has ever awarded in a single year. Zoe Chan from Hong Kong Metropolitan University (HKMU) and Emily Chan from The Hang Seng University of Hong Kong (HSU) were among the first batch of self-financing university students who garnered a Link University Scholarship.
Zoe, in her final year studying International Hospitality and Attractions Management at HKMU, and Emily, also in her final year studying Business Administration in Supply Chain Management at HSU, are facing totally different job prospects. But both of them are not only staying hopeful of their future after graduation, they are also committed to contributing to society and helping people in need.
Zoe followed her dream in pursuit of happiness
Although she appears to be gentle and quiet, Zoe is actually an outgoing young lady who likes interacting with people. With her strong passion for tourism, Zoe chose to pursue an International Hospitality and Attractions Management degree at HKMU immediately after receiving her Hong Kong Diploma of Secondary Education Examination (HKDSE) result. Her four years at HKMU have been extremely fruitful, as she has been on the dean's list and has won various scholarships during her studies.
Even as a secondary school student, Zoe was already an active participant in extracurricular activities. She participated in the "IFocus@IGF 2016" competition organised by the Chinese YMCA of Hong Kong and won with her assignment, which focused on teaching elderly people to use smartphones. "The aim of the competition is to help disadvantaged groups make good use of information technology," Zoe said. "I chose to teach the elderly to use smartphones and communication software to stay connected with their family members, not only for maintaining relationships with their children and grandchildren, but also to make sure they are well taken care of in case of an emergency."
Winning the competition brought Zoe valuable experience, as she was invited to attend the 2016 Internet Governance Forum in Mexico organised by the United Nations.
"During our time in Mexico, we joined representatives from different countries in discussions on public policy issues relating to the internet, including topics like gender equality and cyberbullying," said Zoe. "Through these constructive discussions, we were able to better understand our cultural differences and the varied levels of digitalisation, and we also shared good practices with each other, aiming to seek common ground to build a better internet for people around the world."
Assisting SEN children to integrate into society
Apart from spending time on her studies, during her free time Zoe volunteers at church, helping children with special educational needs (SEN) to integrate into society. "It's not easy for SEN children to stay focused. Therefore, we need to supplement reading with pictures or singing, which allows us to engage these children with reading while not boring them. Through these interesting and dynamic activities, we also help them improve their social communication skills," Zoe said with a satisfied smile.
Although travel has been severely hit by the pandemic, Zoe is still determined to turn her passion for tourism into a career after her graduation in the middle of this year. "I sincerely think that tourism is my dream job and I hope to devote my career to it. Despite the short-term uncertainty in the industry, I believe that companies will be able to find their way out and discover new business opportunities. My passion for tourism won't be affected by this short-term blow," she said with firm eye on the future.
Zoe hopes to plan a graduation trip to Europe to better understand the local culture and heritage there, which she believes will be of great help to her future career.
Emily aims to tackle elderly issues
Compared to Zoe, Emily is a different type of young woman who is sociable and talkative. Studying supply chain management at HSU, Emily is another dean's list student who has received various scholarships, and she also loves devoting herself to volunteer work. She joined the school's VolTrekkers Service-learning Training Scheme during her first year at HSU, through which she had the chance to go on an exchange trip to Taiwan and have in-depth discussions with university students from Taipei. During these discussions, they exchanged the similarities and differences of the elderly policies in both cities, and brainstormed ideas on how to develop an innovative elderly care plan that suits both societies' needs.
"During the 12-day exchange trip in Taiwan, we not only deepened our understanding of Taipei's elderly policies thanks to discussions with students from Taipei Medical University, but we also had the chance to examine the shortcomings of the elderly policies in our hometown," said Emily. "In the past, I only focused on spreading love to the elderly, which I think it is something they need, but neglected more practical details, such as building elderly-friendly facilities to make their life easier. After the fruitful exchange programme, we collaborated with the students from Taipei Medical University to design an elderly programme, recommending to both governments that they should disseminate the latest elderly-focused social services and benefits to senior citizens in a more lively and friendly manner – such as through singing and garden fairs – to encourage senior citizens to better understand their rights and benefits after retirement."
Emily's thoughts are always with the elderly. Before the pandemic outbreak, Emily was a frequent visitor to elderly centres and seniors who live alone at home, bringing them warmth and care. "I always think that elderly people have contributed a lot to society in the prime of their lives, but they are always forgotten during their older years. They sometimes can't access social resources, which is why I hope to devote myself as much as possible to elderly care – to let them know that they are still cared for and loved."
Serving as a volunteer teacher in Mainland China
Apart from elderly care, Emily used to travel to Mainland China regularly to serve as a volunteer teacher in remote and impoverished mountainous areas. "I'm good at teaching English and dancing," she said with confidence. "Each of my fellow volunteer teachers worked to design their own teaching programme, and I always made the class more fun by adding games and activities, with the hope that my students could enjoy learning as much as possible."
Emily has a big dream despite her young age. "I wish to spend a year or two in Mainland China as a volunteer teacher before I turn 30, so hopefully I'll have sufficient financial support by then," she said with a bashful smile. "We have free education in Hong Kong but education in these rural areas in Mainland China is a luxury. I hope to bring educational opportunities to the students in remote mountain villages and inspire them to chase after their dreams and improve their lives in the future."
Emily was raised in a grassroots family and she longs to improve her family's quality of life after she finishes her university studies. She was forward-thinking in choosing supply chain management as her major four years ago, since logistics is now one of the highest growth sectors globally, especially after the pandemic outbreak.
"HSU's programme in supply chain management is unique among universities in Hong Kong," she said. "I am lucky enough to be graduating at a time when the industry is experiencing high growth, and I'm ready to start my career in this sector after graduation."
Two completely different strangers share many similarities
Though Zoe and Emily are both now on the dean's list at their respective universities, they were not always accomplished students. In secondary school, neither of them had outstanding HKDSE results, probably because they were not interested in the rigid syllabus and routine teaching prevalent during their secondary schooling. Now comes to university, they both think that time management has been the key to their success.
"During secondary school, it was teachers who had to push you to hand in homework, while at university you need to know how to allocate your own time for each assignment," Emily said.
Zoe added, "In university, we need to set clear goals, and the only way we can perform at our best for each project is with better time management."
During their respective internship experiences, both Emily and Zoe realised that high adaptability and problem-solving skills are crucial at work.
Zoe shared one of the memorable experiences that took place during her four-year internship at Millennium New World Hong Kong Hotel. She was once working the morning shift with another more experienced colleague, and as they were preparing for the opening of the breakfast session at the hotel lounge, they found that the main entrance of the restaurant was broken. Luckily her colleague told her there was a side entrance, so Zoe immediately helped her colleague prepare some signage to direct hotel guests to enter the lounge through another way, which ensured that the breakfast session ran smoothly. Through this experience, Zoe realised that it is essential to have a thorough understanding of her working environment while also keeping calm and identifying solutions in a timely manner – even when facing hiccups like the abovementioned incident.
As for Emily, she once helped a Taiwanese customer place a cargo flight order when she was an intern at US freight forwarder Flexport, but she found that the currency on the invoice was mistakenly stated as US dollars instead of New Taiwan dollars, which differ greatly in value. She reported this error to her senior colleague immediately and successfully rectified the issue independently, which brought her huge job satisfaction.