Lin Weijie (Aaron) followed his mother from Guangdong to Hong Kong in 2014, living in a subdivided flat in Sham Shui Po where he had to take nine flights of stairs to go up and down every day. To earn a living for his family, Aaron used to work part-time three nights a week and could not go home until nearly midnight. He did not "win at the starting line", as the saying goes, but with his hard work, Aaron has put himself ahead of his peers in both work and study since arriving in Hong Kong. He is now a year 3 law student at The Chinese University of Hong Kong.
Achieving Fluency in English by Watching Films
Aaron attended a Band 3 secondary school after coming to Hong Kong. At that time, English became a big obstacle for him. "When studying in the Mainland, I was always at the bottom of my Chinese class and at the top of my English class. But when I came to Hong Kong, it was the complete opposite." Aaron could not afford tutorial classes and had to catch up on his English using unorthodox methods such as studying the lines of "Harry Potter" and other films. He also kept his Chinese speaking skills sharp by watching debate shows from the Mainland. In the end, with a high score of 33 in the DSE exam, including a score of 5** in both the English and Chinese oral exams, he became the only student from his secondary school to be admitted to The Chinese University of Hong Kong that year. He is also the first among three generations of his family to attend university.
Aaron interned at a law firm during secondary school. During his internship, he was impressed by the professionalism of the staff, and he enjoyed the pace and atmosphere at the law firm, so he decided to pursue a career as a lawyer. As a first step towards his goal, he made the choice to study law in university. However, Aaron's family members are not well-educated, and they did not have any connections in the field. In addition, they were busy making ends meet and did not have the resources to finance a law education. Given these circumstances, Aaron was struggling to figure out a way to make his dream of becoming a lawyer come true. He explored his options and decided to apply for the Link University Scholarship. He was selected as a recipient, receiving a scholarship of HK$20,000 per year for four consecutive years!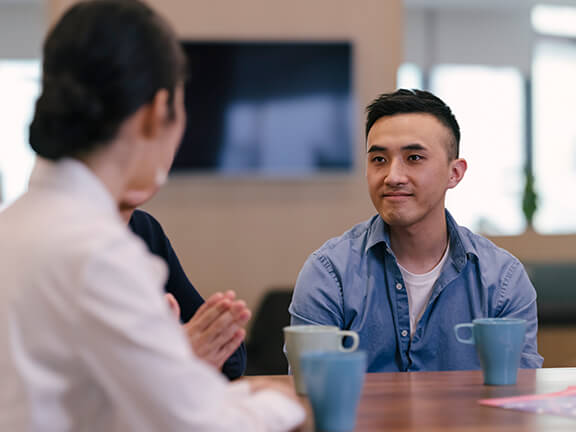 "Receiving the Link University Scholarship was a huge lifesaver for me," he said with a laugh. "It allows me to have the financial resources to do things that are more meaningful to me, without having to make ends meet doing part-time jobs." Aaron used part of the Scholarship funds to pay for his travel expenses to the Mainland as part of an internship. And last summer, he also participated in Link's Summer Internship Programme to gain legal and company secretarial-related work experience.
Sharing Experiences to Help Others
Aaron's journey has not been easy, so he can sympathise with the plight of other new immigrants. He said, "I used to help fellow students with tutoring, and it was easy money for me. But when I gave it more thought, I realised that these students, who were wealthy enough to afford tutoring, were not necessarily those most in need of help. I recalled my own past, when I had few resources, and I decided to give something back by freely sharing my English learning and university life experiences on Facebook and the Mainland social platform Xiaohongshu to benefit a wider audience."
Through this outreach, Aaron has come across people who were born poor and without privileges like him. Some have even given up on their studies. To give these people a boost, Aaron shares the same inspiring message with each of them: "Don't set limits for yourself." As he progresses towards his goal of becoming a lawyer, Aaron hopes to stay in Hong Kong in the future. In addition to giving his family a better life, he hopes that one day he will be able to set up a scholarship to help others so they can change their life trajectory, just as he did.