Raised in a public housing flat, a young speech therapist Li Chun-yuen (Nick) was a passionate and articulate debater in his school years and loved the thrill of winning competitions. Things changed, however, when Nick found that he was unable to communicate effectively with elderly residents in a care home during a volunteer visit. This got him thinking and eventually made him decide to study a rehabilitation-related subject at university to equip himself with the professional knowledge to help people in need.
Helping is better than winning
Growing up in a typical grassroots family, Nick did not have video games or a computer at home. Instead, wandering around the local public library became his favourite pastime, and it was there that he sharpened his language skills through extensive reading. Equipped with consummate language skills, he became a core member of his secondary school's debate team and won awards in many large-scale inter-school debating competitions.
However, he had a revelation of sorts when he participated in a visit to a home for the elderly while in form 5. Despite being an articulate speaker, he found that he was unable to communicate effectively with the elderly residents at the home. That moment sparked something inside him, and he decided that he would pursue a new path that would equip him with the skills and tools to help those in need.
The first of his family to enter university
With total dedication and continuous effort, Nick achieved a high score of 36 from his best six subjects in the Hong Kong Diploma of Secondary Education Examination, earning a place at The University of Hong Kong, where he studied for a Bachelor of Science in Speech and Hearing Sciences for five years. As the first of his family to enter university, Nick was encouraged by his school principal and secondary school teachers to apply for a Link University Scholarship. His exemplary academic record and extensive experiences on social services made him an especially strong applicant, and he became one of four all-time scholars in 2019 to be awarded an annual scholarship of $20,000 for four consecutive years.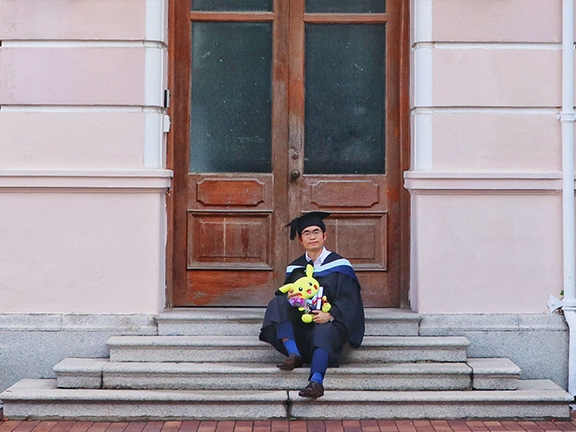 Nick is grateful for receiving the scholarship, which he used primarily to pay his tuition. Nick said that Link's sponsorship not only provided additional resources for his academic development and pursuit of personal goals, but also encouraged him to care more about society and help other people. "The Scholarship funds relieved my parents' financial burden and allowed me to have more time to participate in volunteer work, without having to make ends meet doing part-time jobs."
Making good use of his talent in speaking, Nick has participated in various volunteer services related to language learning since his university years, and has organised youth volunteer groups to connect ambitious young people to serve the community.
Inheriting the spirit of "taking and giving"
As a four-time scholarship recipient, Nick was invited to join the Link University Scholarship judging panel. He now experiences Interview Day from a different perspective, and his transformation from awardee to judge has allowed him to see how the spirit of giving and receiving that the scholarship embodies can be passed down from generation to generation.
"The scholarship didn't just give me the financial support to let me pursue my dreams," he said, "but it also affirmed and encouraged me at a deeper level, and inspired me to take the initiative to help those who need it most. I hope to encourage others to inherit this spirit of 'taking and giving'."