Since 2015, Link University Scholarship has granted 1,160 scholarships, including those of 2021/22, with each worth $20,000. The scheme rewards students who have excellent academic performance, and are keen volunteers and the first amongst three generations in their families to attend universities in Hong Kong. The 2021/22 Scholarship is now open for application.
Recently, some recipients of our scholarships have expressed their appreciation of these awards in thank you letters to Link. While scholarship has certainly offered them more resources to finance their studies and personal interests, what touched us most is their feeling of thankfulness for what they have been given and their beliefs in giving back to society.
Ma Pak-hong, a music student at Hong Kong Baptist University (HKBU) shared his aspiration: "After my graduation at university, I plan to pursue a master's degree in music overseas. I believe that the Scholarship could financially support my further studies. I would never forget my dream to be an orchestral conductor and music educator. I hope that one day I could be standing on the stage, leading talented young musicians to bring music to the community."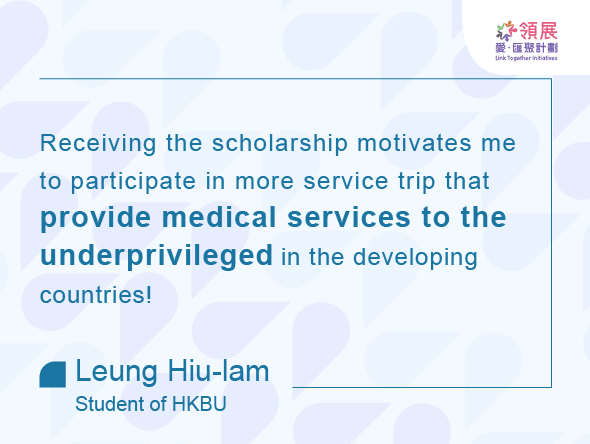 Receiving scholarship has motivated young people to achieve something more than just academic excellence. Leung Hiu-lam, a student of Chinese Medicine and Biomedical Science at HKBU, said in her letter: "Receiving the scholarship motivates me to participate in more service trips that provide medical services to the underprivileged in the developing countries!" Miko Wong, a Science student at The Chinese University of Hong Kong (CUHK), thinks the scholarship will help fund his trips overseas which he can learn environmental policies and latest biotechnology in Europe. He hopes to contribute his knowledge in making Hong Kong and even the whole world a better place to live in the future.
Little deeds can bring big rewards. To some students, the scholarship has given them courage to start. Tam Chun-mei, who is studying Chinese at Lingnan University, said: "I plan to buy some textbooks with a portion of my scholarship and offer private tutorial classes to underprivileged children. No matter how small my contribution seems to be, I believe my deed will help those children thrive in a long run." Rose Lam, a student of Professional Accountancy at CUHK, told us: "Your generosity has encouraged me to continue to help others and give back to the community. I hope one day I will be able to help students achieve their goals just as how Link has helped me".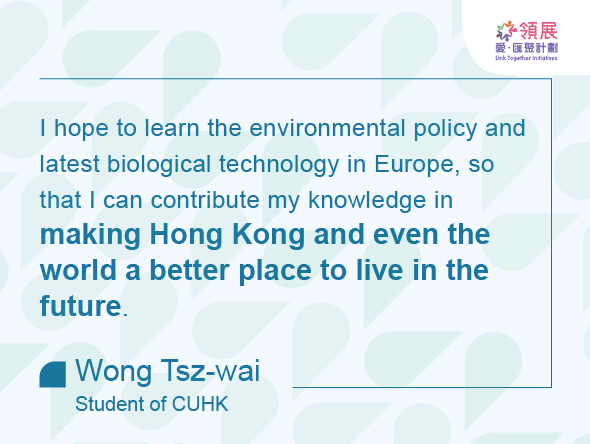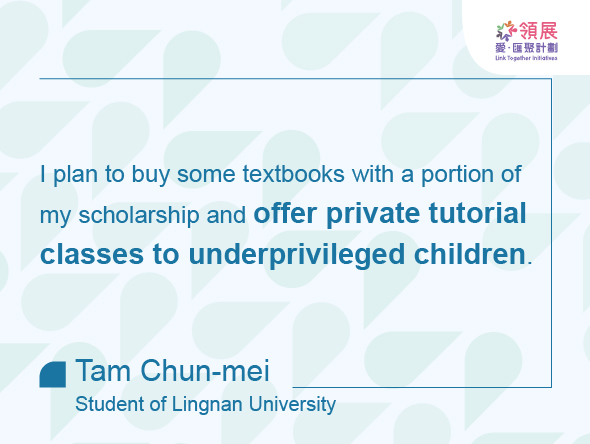 At Link, we believe paying it forward gives back. Over the years, Link has offered scholarship, community engagement and internship opportunities to young students in the hope of developing them for a better future. We are very delighted that many of our supported students are looking to contribute their ideas and energy in addressing social needs and shaping the society of tomorrow. Bringing to life Link's ethos – Link People to a Brighter Future.
Let's see more sharing of dreams from other scholars below: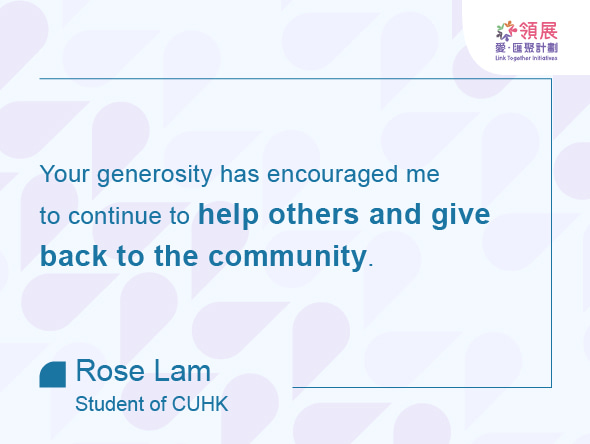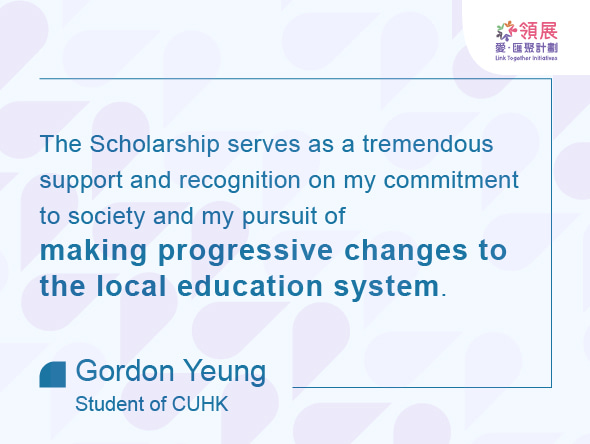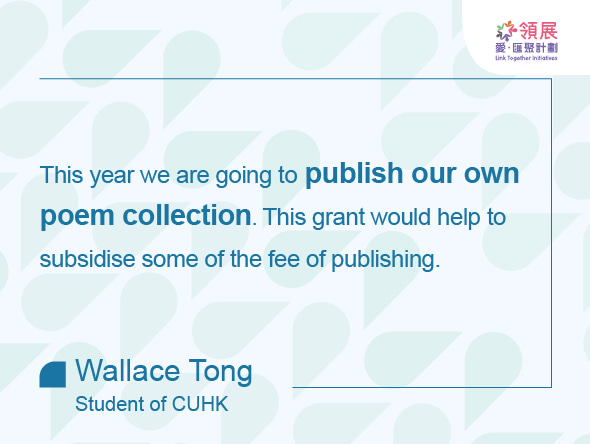 Link University Scholarship Open for Application
Link University Scholarship is part of Link Together Initiatives, the flagship charity and community engagement programme of Link. The Scholarship awards students who are the first among three generations of their families to attend Hong Kong universities. The scholarship grant for each awardee is HK$20,000. Link introduced this non-means-tested scholarship in 2015 and has since offered 1,160 scholarships. Link University Scholarship 2021/22 is now open for application, and the deadline of application is 30 June 2021. The total number of Scholarship awardees will increase from 190 to 220 this year. For details about the application process, please refer to this website.