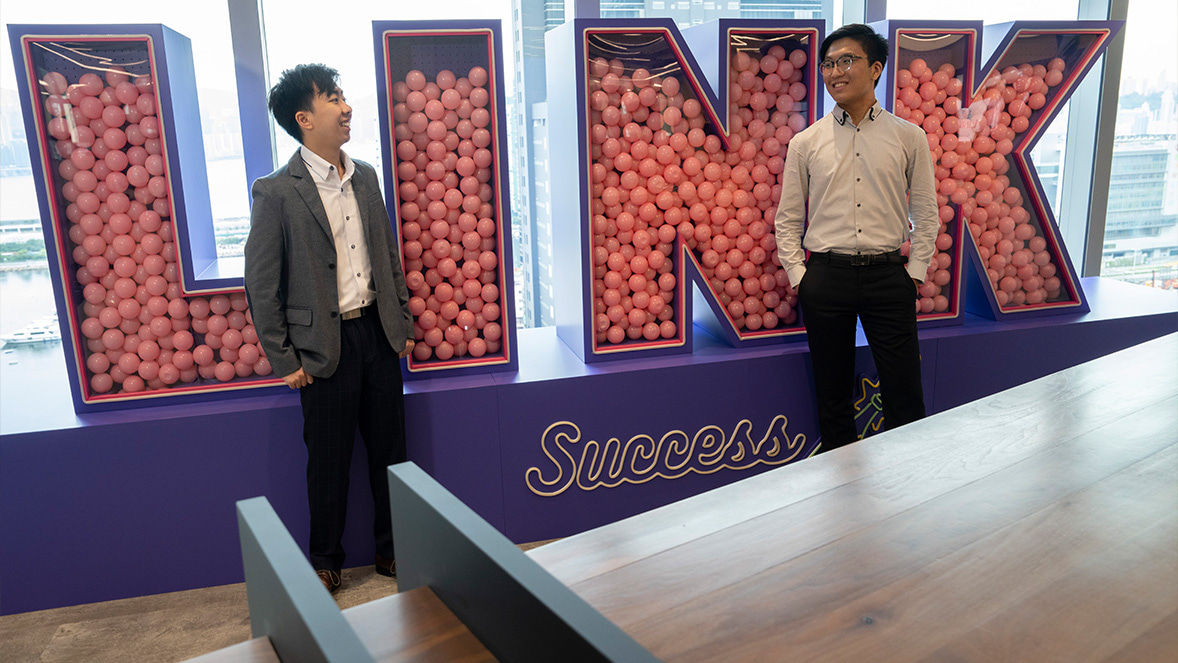 Two Link University Scholarship recipients. Two summer internship programme participants, one year apart. One shapes this year's programme for the other, believing in the importance of empowering youths to make positive change. This is the story of Vincent and Bernard.
"I grew up in a public housing estate and spent most of my free time in Oi Man Plaza. I would hang out there with my friends and sometimes even play hide-and-seek there with them in the mall! I have so many fond memories there, and that was my connection with Link started," said Vincent Yeung in his video interview for his summer internship application.
One lasting memory of Vincent was of the mall's old circular staircase that used to be inconvenient for elderly shoppers, and how Link built an escalator in its place. "I thought that was a great thing to do for the community," said Vincent, "and later, when I received a Link University Scholarship, I realised just how much they do for society." This connection with the company is what made Vincent apply for the summer internship this year, and he was thrilled when he got it!
The young supporting the young
This year, Link involved its management trainees in designing the summer internship programme. One of the internship programme coordinators, Bernard Chan, who is like Vincent, also received a Link University Scholarship during his university days.
"When designing the activities for interns, I tried to put myself in their shoes and think about how the activities would support their personal development, enable them to gain exposure outside of their studies and develop their innovative thinking," said Bernard.
When Bernard was planning site visits for the interns, he would like them to do more than just walk around Link's various shopping malls ─ interns were asked to make observations and share their thoughts on strength of each mall, and to identify any areas for enhancement.
As a participant, Vincent really appreciated Bernard's planning. He said that through various skills workshops, personality analysis and site visits, it focused on his personal development and helped train his soft skills and increase his understanding of the real estate industry, both of which have been important to his career development.
Asked about his memorable experience from the internship, Vincent referred to his experience of seeing the difference between the pre- and post-refurbishment of Tak Tin Market in Lam Tin. "It was incredible to see that within just a month, the market had a brand new look and feel after refurbishment, with stalls more organised and the overall environment cleaner," he said. "It demonstrated to me the value of asset enhancement can bring to the community."
A journey of discovery
This year, 40 university students took part in the 2022 summer internship programme. Themed "Career Discovery @ Link", the programme aimed to enable participants to discover about Link while exploring their personal working styles and career aspirations, as well as gaining on-the-job experience.
"The on-the-job experience broadens my career exposure. I was able to see first-hand the positive impact that asset enhancement initiatives have brought to the communities we live in," said Vincent.
The internship experience benefitted both Vincent and Bernard from each of their perspectives. Vincent was able to discover more about himself and widen his career exposure as a participant, while Bernard was able to solidify his career aspiration as a programme coordinator on this journey of discovery with the interns.
"Organising the internship programme reaffirmed my desire to work in the development of young talent," said Bernard. "I felt a sense of accomplishment when I saw our interns being able to apply what they had learned about the company and the soft skills they gained in their final presentations. I was also glad to put what I learned in the past year into practice when designing the programme."
Shared vision of youth empowerment
As Link University Scholarship recipients, Vincent and Bernard are motivated to pass on the spirit of giving and receiving from generation to generation. Coincidentally, they also share a vision of empowering young people to succeed.
Vincent finds it especially meaningful to support the young people who share a similar background to his. Raised in a grassroots family, he has an innate understanding of the hardships and challenges faced by underprivileged youth. "I thought about being their tutor so that I could guide them and help smooth their path of achieving success," said Vincent.
For Bernard, he is truly grateful for all the support he has received and the many opportunities given to him. He wants to leverage his experience to help develop young people who are motivated and inspired – and to see them thrive, just as he has done.