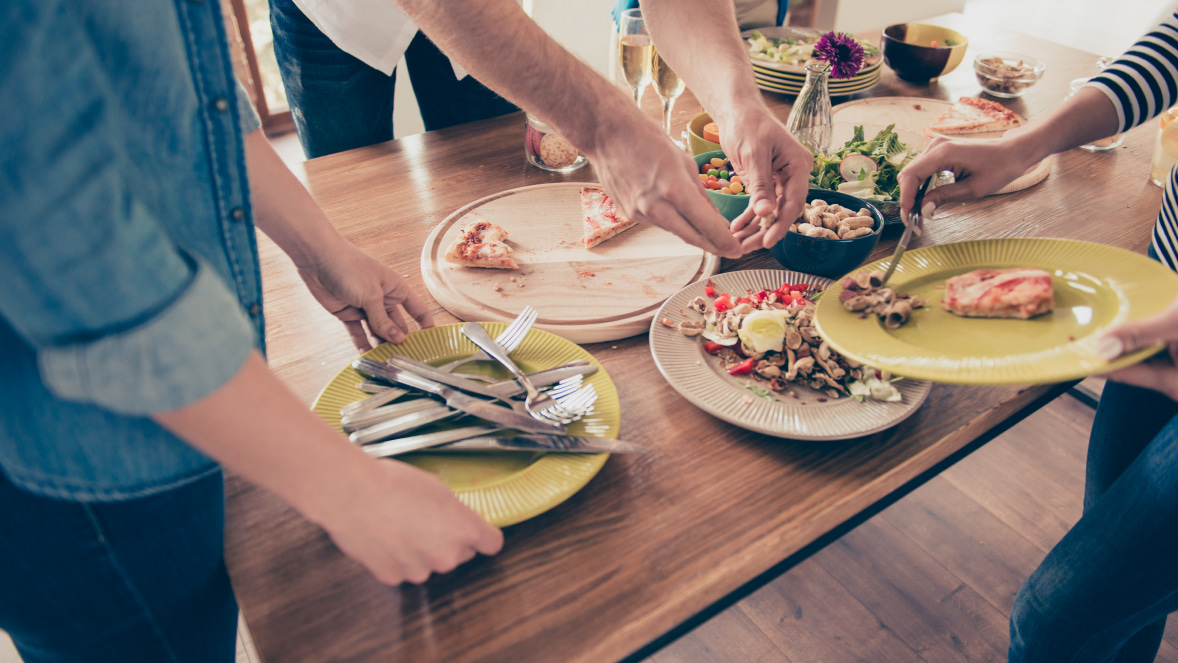 Hong Kong is a gourmet heaven. The abundance of good food at restaurants often entices diners to over order. Promotion campaigns at grocery stores also encourage shoppers to buy more than necessary. All these unfinished foods eventually become waste in the landfill. Currently, around 3,255 tonnes of food waste is added to Hong Kong landfills daily, which is equivalent to the weight of 226 double decker buses [1]. The volume of food waste not only stretches the capacity of the landfills, but the odor also affects nearby residents. Do we really want to be "Big Wasters?"
The First Food Angel Pop-Up Store in Link's shopping centres
To promote a food-wise culture and to encourage Hong Kong people to participate in food donation, Food Angel is launching the first Mobile Food Angel Pop-Up Store, which will make its rounds in Link's shopping centres since May of this year. Through exhibitions and workshops, the store will engage visitors with knowledge about food waste reduction and a food-wise culture.
Between 1 and 14 May, the Mobile Food Angel Pop-Up Store made its debut at Lok Fu Place. Upon entering the third floor of the shopping centre, you will see a pop-up store of about 200 sq ft, beautifully set up with all kinds of information on food-wise culture. The exhibition is presented with interactive touchscreen display boards, printed pamphlets and mini games. You will also find a mini museum on food-wise culture. Guided by the Food Angel's Food-Wise Ambassadors, you will learn helpful tips on how to develop a lifestyle of zero food waste.
Levelling up: giving food waste a second life
We encourage you to stay longer to participate in the various Food Waste Recycling Workshops, where you will learn how to make a body scrub from used coffee grounds, eco-enzyme, and odor-absorbing tea bags. By recycling food waste, we are fully utilising the natural qualities of food. As an added bonus, you will also receive a reusable bag after completing the workshop!
Food Angel's Senior Officer – Project and Donor Engagement Hannah Chan who is responsible for organising this project and the food donation initiative said, "The Mobile Food Angel Pop-Up Store offers a shared space where people can learn about food-wise culture. Local residents, merchants and their staff can all come and get involved in the work of Food Angel. Some might even drop off food for recycling. We are grateful to Link for providing the venue and for the sponsorship of over a thousand reusable bags."
"Before serving as a Food-Wise Ambassador, I had never thought that cooked soup ingredients could be turned into dumplings, or that soy residues can be turned into steamed siu mai dumplings," said Bella. Her role as a Food-Wise Ambassador has certainly broadened her horizons and given her the chance to pick up some good tips from workshop participants. One of them told her that, if she ever ran out of used coffee grounds, the coffee shops could give away her used coffee grounds for free. Used coffee grounds are also an excellent odor-absorbent for the fridge – all you need is to wrap them in a teabag and put it in the fridge. "Not very many people know about this. The workshops themselves are good opportunities for community and knowledge-sharing."
A food donation drive to help the underprivileged
Food Angel has also set up a food donation box[2] at the Mobile Food Angel Pop-Up Store. Donations of dry goods are welcome. "In the past, the beneficiaries of Food Angel's initiatives were mainly the elderly, especially those who live alone or who are of an advanced age. Since the pandemic, we have received requests for help from an additional 10,000 families. Many of them were workers in the logistics or food and beverage industries. Some might have lost their jobs, or become underemployed, resulting in a significant loss of income," says Hannah, adding that Food Angel are turning donated items into meal boxes and food packs. These supplies are a great relief for the underprivileged.
If you missed the Mobile Food Angel Pop-Up Store at Lok Fu Place, don't worry. It will be appearing in TKO Gateway and Butterfly Plaza soon. Please join us there!
Coming Up: Mobile Food Angel Pop-Up Store
TKO Gateway
Date: 1 to 14 June; 16 to 29 June; 13 to 25 August, 2 to 15 September, 2022
Opening hours: 12noon to 7pm
Location: G/F, East Wing, TKO Gateway
Butterfly Plaza
Date: 1 to 14 July; 14 to 27 October, 2022.
Opening hours: 12noon to 7pm.
Location: G/F, Butterfly Plaza
For detailed directions to its location, please enquire at the Customer Service desks of the respective shopping centres.
Note:
Statistics from the Environmental Protection Department, Monitoring of Solid Waste in Hong Kong: Waste Statistics for 2020, published in 2021.
Food collection boxes are placed at 15 Link's shopping centres. Please see the details at:

https://www.foodangel.org.hk/food_rescue.php?l=en

.