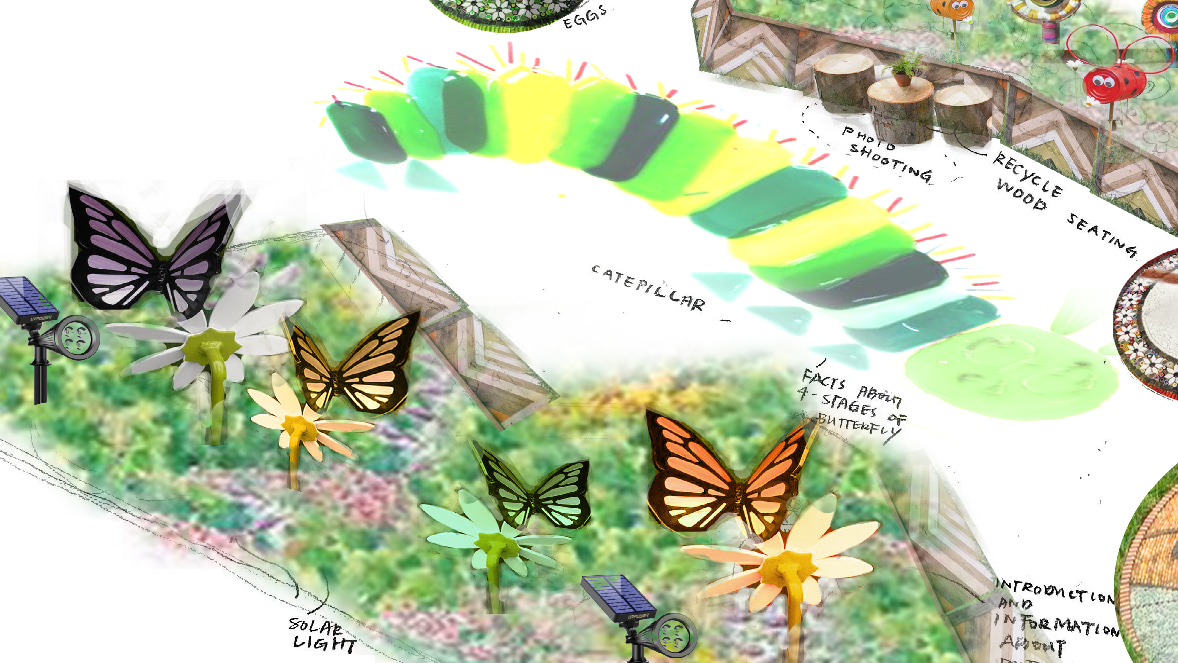 Many of us have grown plants on the balcony or used them for interior decoration, but how about building an entire butterfly garden from scratch for the community? Organised by the Environmental Association's Fung Yuen Butterfly Reserve and supported by Link Together initiatives, "My Garden Competition" offered such valuable opportunity for aspiring landscape designers to submit their designs for the planned rooftop butterfly gardens at three shopping centres under Link's portfolio, including Choi Ming Shopping Centre in Tseung Kwan O, Chung On Shopping Centre in Ma On Shan, and Kai Tin Shopping Centre in Lam Tin. While all results were unveiled in March, the winning design for Choi Ming Shopping Centre by Avni Kam and her 7-year-old daughter Olivia Chow was rated the most inspiring among all entries by Julia Lau, a Hong Kong-registered architect and member of the judging panel.
From "lepidopterophobia" to eco-butterfly garden designer
Avni said it is indeed the first time she participated in a competition together with her daughter Olivia. Though only 7-year-old, Oliva has been long interested in science, nature and greenery, and loves to observe different types of plants. But what stirred up Olivia's enthusiasm to join "My Garden Competition" recounted a family trip to Discovery Bay a few months ago. "I've had this fear of butterflies since I was a little kid. But on that day at Discovery Bay, a butterfly landed on me out of nowhere. I tried to ask my husband take it away but it ended up staying on his finger for over an hour until we put it back in suitable flower bushes." This encounter with a butterfly left a deep impression on Olivia. Living in Tseung Kwan O since birth, it is imaginable how excited Olivia felt when hearing about the opportunity to design the rooftop butterfly garden for the nearby Choi Ming Shopping Centre.
"We started to do research right away after making up our mind about entering the contest. To our surprises, the first thing we found out was that Hong Kong is indeed a suitable habitat for over 240 butterfly species, even some endangered ones." A few years ago, during a trip to Singapore's Gardens by the Bay, Avni and Olivia were captivated by the radiance and vibrancy of this urban garden. Using that as an inspiration, they strived to recreate for Hong Kong a similar green space that blends style and conservation. And that's how the blueprint for Choi Ming's eco-butterfly garden came about. "We want this butterfly garden to be more than just about the appearance, but to inspire visitors to think about things like the environment, conservation, inclusion, and energy savings."
Inspiring visitors to blend environmental concepts into daily lives
In Avni's mind, an eco-butterfly garden and environmental concepts complement each other. That is why she has added elements of upcycling and recycling into her work to inspire visitors to bring these concepts into their daily lives. "Olivia also provided her ideas like making wall paintings with bottle caps and butterfly decorations with tin cans. When researching about upcycling, we noticed there are vendors in Hong Kong that would take tress damaged by typhoons and upcycle them into building material. We added these elements into our design so that the planning for the butterfly garden can be more complete."
Over the three weeks they spent on planning the project, Avni and Olivia constantly shared with each other their thoughts and ideas. Together they would read and analyse information found online. "Winning the champion was just a bonus to me. What I really treasure was the time that we got to spend together while working on the project. It was an amazing parent-child time." Like other children, Olivia has boundless imagination, but naturally not all her ideas were practical. That gave Avni the chance to show her daughter how to filter and sort out useful information that could be applied to designs in real life.
Nevertheless, that didn't mean all the teachings could only go one way. Avni said there were moments where Olivia would play the role of the inspirer. "I only got to really learn about metamorphosis during biology lessons in secondary school. But it turned out that my daughter has already been taught the basic concepts at year 2 in kindergarten, so she was the one who drove the idea of the "butterfly growth path", which illustrates their entire life cycle: the egg, the larva, the pupa, and finally the adult butterfly. We have also added information about endangered butterflies, characteristics of different species, and other practical knowledge to help visitors learn more about butterflies." Olivia also learnt that many flowering plants can provide nectar for butterflies and just recently she has asked for planting some nectar plant at home to provide butterflies a better habitat.
Support building of ecological stepping stones
The judging panel for "My Garden Competition" includes Dr Yau Wing-kwong, CEO of the Environmental Association; Julia Lau, Hong Kong-registered architect; Max Wong, Director of Project & Operation at Link; and Jenny Wan, Link's General Manager of Asset Management (Hong Kong). Julia, who comes with over 30 years of property sector experience, has long been promoting architectural arts in Hong Kong. "I really appreciate how Link makes use of its extensive shopping centre network to support the building of ecological stepping stones in Hong Kong. To me, Nature Link 2022, a project supported by Link and working with the Environmental Association to promote environmental conservation in the city, can act as an exemplar for encouraging more sustainable network projects within the community."
Among the entries, Julia was most impressed by the work of Avni and her daughter Oliva. To her, their design not only possessed aesthetic quality and covered all the necessary facilities, but more importantly it was able to bring environmental conservation ideas into daily lives. It was simply inspirational, she said. "Many of the entries had very meticulous designs: some of them were aesthetically pleasing but put the focus on large butterfly sculptures; some had brilliant landscape designs, but most of the plants would only bloom in the summer. To me these were flawed designs, which was why I put more emphasis on the inspirational quality of the messages behind the designs."

The competition didn't set any age limits, with participants ranging from 4 to 79 years old. "With no age limits, the downside was we ended up seeing a big gap in the entries' quality. However, by allowing more people to participate, it encouraged them to learn more about conservation and to appreciate architectural arts. To me the most meaningful part of the competition was that it let children and people in the community to use their own ways and resources to participate and complete their projects. Only through that could we truly raise awareness about the environment and strengthen their commitment to building community ecosphere." Through the Nature Link projects, Julia hopes to recruit more institutions to participate in ecological conservation. And her long-term goal is to turn urban Hong Kong into a broad butterfly habitat.
Photo credits: Environmental Association
Environmental Association will incorporate the winning entries into the designs for the butterfly gardens at Choi Ming Shopping Centre, Chung On Shopping Centre and Kai Tin Shopping Centre. Constructions for the three gardens are expected to be completed this summer. Along with Sau Mau Ping Shopping Centre and Tsz Wan Shan Shopping Centre, there will be five butterfly gardens in total at Link's retail portfolio, a major step towards building ecological stepping stones for Hong Kong.