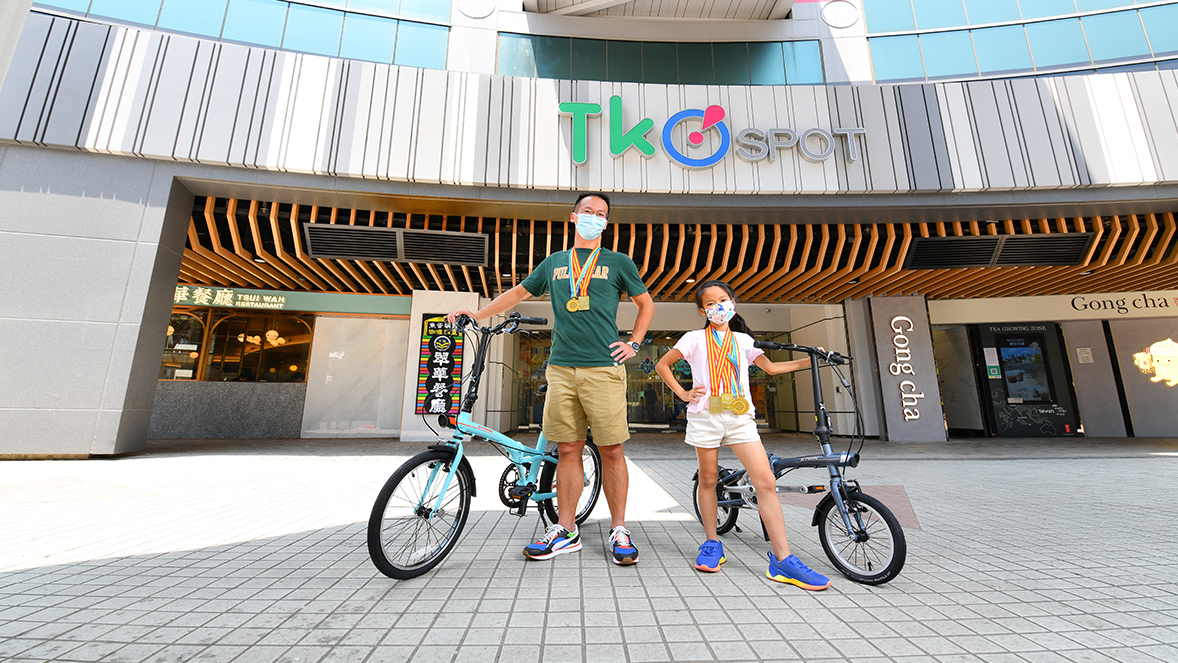 Following the success of the inaugural "Tour de LINK" last year, Link has brought back the first-of-its-kind in-mall cycling competition in Hong Kong. "Tour de LINK 2022" was held in two rounds from 3 to 28 August 2022 at six of Link's malls across Hong Kong Island, Kowloon and the New Territories. More than 10,000 riders participated to complete over 16,000 challenges in total, 1.5 times more than the record set last year. The data alone speak volumes about the popularity of the event.
This year the event extended the competition categories to men's, women's, children's and family, to attract people of all ages to ride for glory. For this issue of Channel 823, we had an exclusive interview with the champions in children's and family categories, YY and her father Arad.
Father-daughter duo to be their best
The eight-year-old YY is a Primary three student and since she was just three she has been riding a bike, initially with her father's help. From balance bike to two-wheel bike, YY slowly developed a genuine interest in the sport. She came across "Tour de LINK" last year but her height prevented her from joining. "So I am really glad that there are children's and family categories this year. Riding with my parents is so much more fun!"
As a sports lover, YY joined the race not to win but simply for fun, and also for the sense of satisfaction when she saw her name on the rankings. "Every time I saw my record surpassed, I would be motivated to beat it again and that's when I reflect with my father on how to improve my result."
YY's father Arad felt that this cross-district race could strengthen both the bonding between families and also within the communities. "Fighting for a common goal, I have created some wonderful memories with my daughter thanks to Link."
In the end, YY rode 3.29 km in three minutes which won her the "Children's Hong Kong Cycling Champ" and the "Children's Tseung Kwan O Cycling Champ". Together with her father, the duo also clinched the championship in the family category, with the addition of the champions in the Tseung Kwan O and Lam Tin districts. The pair of cyclists received eight medals and three foldable bikes as prizes and Arad told us: "After we claimed our prizes, our family immediately rode the bikes back home. We even went on a 60-km ride from Tuen Mun to Ma On Shan the next day, and it was just exhilarating!"
When asked about her goals, YY said she was aiming to ride at least 3.88 km in three minutes next time. She also hoped that the event could add a "friends' category" and more bikes for the competitors.
Riding for charity, spreading love in the community
While the participants are riding for glory, they are also contributing to their own districts. On behalf of the participants in Lok Fu, the district with the most accumulated mileage, Link has donated $100,000 worth of meal coupons to the elderly and residents in need in Kowloon Central District through ten welfare NGOs, including Buddhist Ching Hang Neighbourhood Elderly Centre, CareAge Health Centre (A member of Community CareAge Foundation), Choi Wan Development Network, Community Care Limited, Evangelical Free Church of China (EFCC) Choi Fook Church Neighbourhood Family Service Centre, Favor Centre, Ho Ping Neighbourhood Centre for Senior Citizens (Sik Sik Yuen), Hong Kong Sheng Kung Hui Chuk Yuen Canon Martin District Elderly Community Centre, Pentecostal Church of Hong Kong Choi Wan Neighbourhood Elderly Centre, and Tsz Lok Community Residents' Association. The coupons were gifted to the NGOs' representatives in person on the eve of the Mid-Autumn Festival to bring love and care to the community.