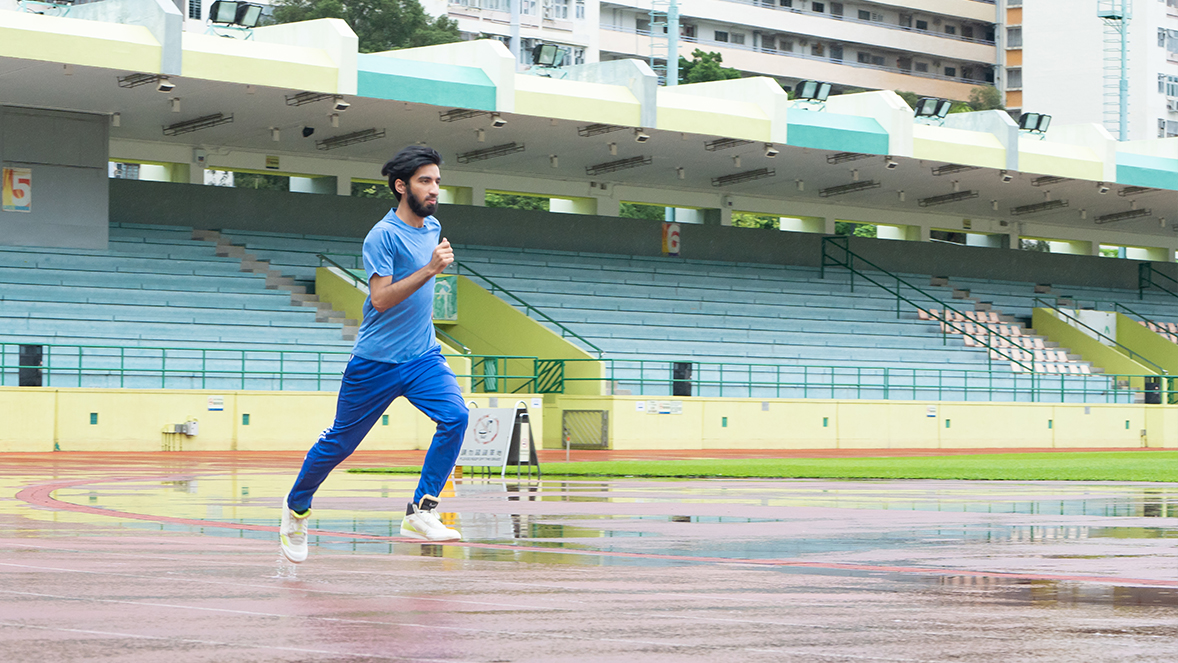 Fire in the eyes, giving it all till the end, sweat raining down one's face – these are terminologies we use to praise sports performances. Aslam Hamza Sahir (Hamza), a Hong Kong-born young athlete, is no stranger to these terms. Yet what sets him apart from an average sport lover is a passion for utilising sports knowledge to connect communities together.
We caught up with Hamza, a well-built lad with thick-set beard, at Wo Che Plaza in Sha Tin, where he has been actively preparing for "Tour de LINK 2022". Hamza is clearly in it to win it, but his participation in this indoor cycling competition hosted by Link is not only for personal glory, but also hopes to bring honour to the Sha Tin district, which he calls home.
"I believe everyone has sporting talents, you just need to find your strength," said Hamza, who has been a sports lover since childhood. With all its sporting facilities, Wo Che was his training ground. When he was young, Hamza was made captain of his primary and secondary school football teams. At university, he joined the school team, local football clubs and an amateur running club. He even found time to be the ambassador for a sports brand."
I found my strengths in football, running and taekwondo, which I practice to maintain my fitness levels, but I love all kinds of sports including cycling which I find relaxing."
Hamza completed university studies in sports and has used the knowledge gained as well as his passion for sport to benefit the community. "I want to improve in sports and help the next generation." Hamza had helped organise competitions for his alma mater, for which he invited alumni to take part and share career advice with current students, aiming to use sports to connect people from different age groups.
Breaking the ice
Although ethnically Pakistani, Hamza is no foreigner in Hong Kong. He speaks fluently in Cantonese and was taught how to read and write in Simplified Chinese and French in school. However, it still took him almost a year to find a job as a research assistant at the university. "I had been playing football and hung out with local friends since I was little, and wasn't made to feel any different from them. I never really thought about my identity." Having spent his whole life in Hong Kong and has only visited Pakistan for several times, he considers himself thoroughly local, so he is determined to give back to the community.
Currently, Hamza is an active member of many community volunteer services and a running club. Other than trainings on every Tuesday and Thursday, he also spends time to share with his fellow participants Pakistani culture and sports knowledge. To raise public awareness about ethnic minorities, he has also organised and hosted tours to the city's mosques and Chungking Mansions. He would also let the group exchange stories about their lives as a mean to change public perception towards ethnic minorities.
Promoting sports to give back to the society
With the sporting experience accumulated since childhood, Hamza is able to find plenty of ways to expand his horizons and social circle even after leaving school. "The heart of team sports is that I can spend time with friends, not just by myself."
In his current job as a research assistant in a local university, Hamza is focused on topics such as professional and recreational sports development. Although nowadays many adults criticise young people for their lack of interest in outdoor sports. But Hamza sees it differently. "Work-life balance is not something easily achievable for people who live in cities. Many people end up losing the motivation to participate in sports, what they need are support from friends or teammates."
This inspired him to set up a community exercise group, which he uses to motivate friends from his local area to come together to play sports. "There are many sports competitions and activities in Hong Kong. Many people want to participate but don't know how to take the first step, or they're just shy and worry they can't find teammates. That's the reason behind this exercise groups. I want to bring people together," Hamza adds that the group is still in its early stage but he hopes to grow the scale so that he can invite people to exercise and sign up for competitions together, to connect the community through sports.