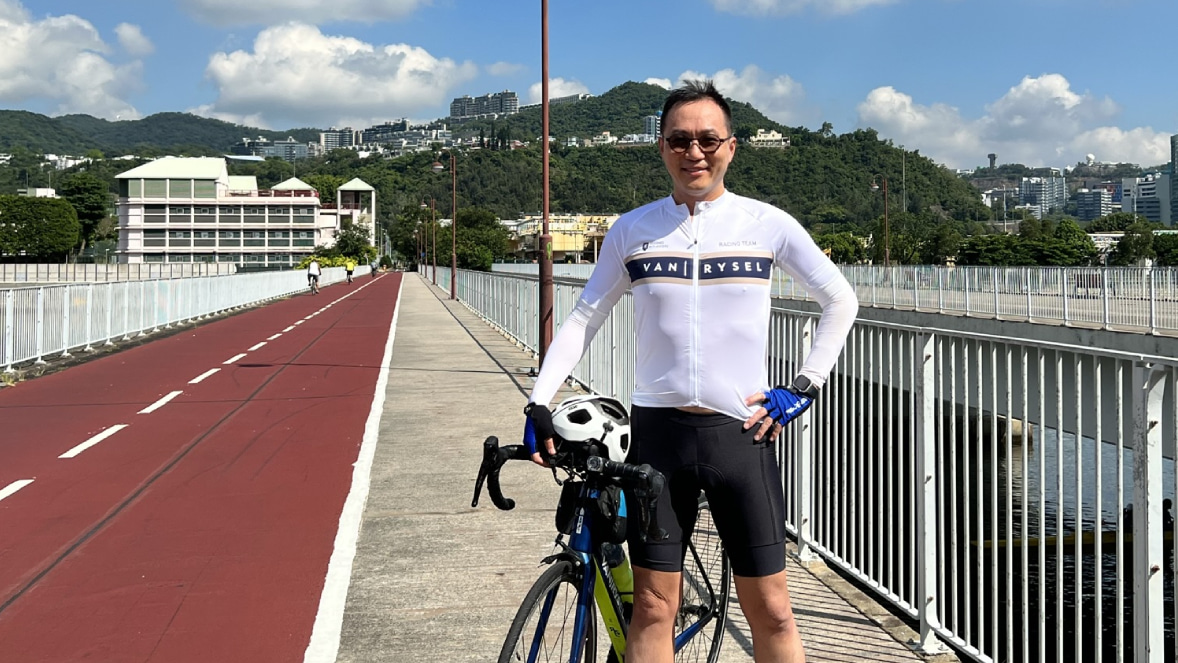 The pandemic has changed our lifestyles tremendously. Zoom classes, working from home, ordering takeaway – many of us have been sitting at home a lot more while indulging ourselves with food. According to a study by the Hong Kong Obesity Society*, 36% of respondents reported a 10% weight gain since the pandemic began. To rectify this worrying situation, we need to get more physically active!
Keith Ng, Managing Director – Finance at Link, can often be spotted exercising on the stationary bike while typing away on his keyboard in the hub of the company's headquarters at The Quayside. With a busy schedule and the responsibility of managing over 100 staff, his days are often filled with meetings or other duties that require him to sit down. Yet despite the long working hours, Keith still manages to keep himself in fine physical shape and stay mentally sharp. So what are his secrets?
His answer is simple: "Just exercise every day."
Most of us think of finance professionals as boring and stiff, yet Keith is far from your typical accountant. Having grown up playing many different sports – swimming, diving, gymnasium, running, hiking, and kayaking – even today, Keith still enjoys spending his free time exercising with friends. "When I was young, I studied hard and didn't have time for sports. Once I started working, I realised exercising makes you more energetic and helps your brain release more endorphins. It is also a good stress-reliever."
Rediscovering the joy of cycling
Since the pandemic began in 2020, international travel has been halted, and those stuck in Hong Kong were subjected to social distancing restrictions. To keep himself active, Keith started to look for outdoor activities to take part in, including bike outings with colleagues from different departments. "Compared with running, cycling brings less impact to the knee joints."
Like many of us, at the beginning, Keith stuck to riding on bike lanes in Tseung Kwan O, Tai Wai, and Sha Tin. Once he started to ride for longer and enjoy the faster speed, he would try more challenging routes such as Bride's Pool Road. He even bought his first road bike. "Cycling is not only a good workout, it also lets you get closer to nature and appreciate the natural beauty of Hong Kong. It's both green and healthy. There are just so many benefits," said Keith, adding that he has made many new friends through cycling. "It's more fun to do this with friends since you can all hang out after the workout."
Family bonding through the bike
A father of two, Keith regularly brings his family to bike outings. "My wife and I would go for bike dates at Inspiration Lake. And our family would sometimes bike to other areas for dinner." According to Keith, cycling has helped him better connect with his children, and they have all grown closer because of that. "About a year ago, I challenged myself to ride from Tseng Kwan O to Lam Tin through the hill, and I made a short film of that ride. When my kids saw it, they wanted to try it as well. The next day, they even took my road bike with them." After all, a child's role model will always be the parents. Setting good examples is important if you want them to be physically active.

"To me, whether it is speeding down the road with friends or just an easy ride with my family, I enjoy them equally. Cycling has become part of my life. I feel that it doesn't just shorten the travelling distance, but also the distance between people."
Linking the community with "Tour de LINK"
If cycling can be done in mountains and offices, why not in shopping malls? From 3 to 28 August this year, Link will once again host "Tour de LINK," Hong Kong's largest in-mall cycling relay event. The competition is open to the public and will take place in six of Link's shopping malls. Keith believes the event will help link the community and raise public awareness about the benefits and joy of exercising and cycling.

"We all need more positive energy to help deal with the pandemic. Link is proactively bringing information about healthy living to the community. Given its 129 properties, the company can connect with millions of Hong Kong people more effectively. Other than supporting their daily necessities, we hope to utilise our extensive property network to create more hangout spots and public spaces that allow the community to strengthen their connections."


*Note:
On 20 June 2022, Hong Kong Obesity Society unveiled the findings of a study conducted this year.