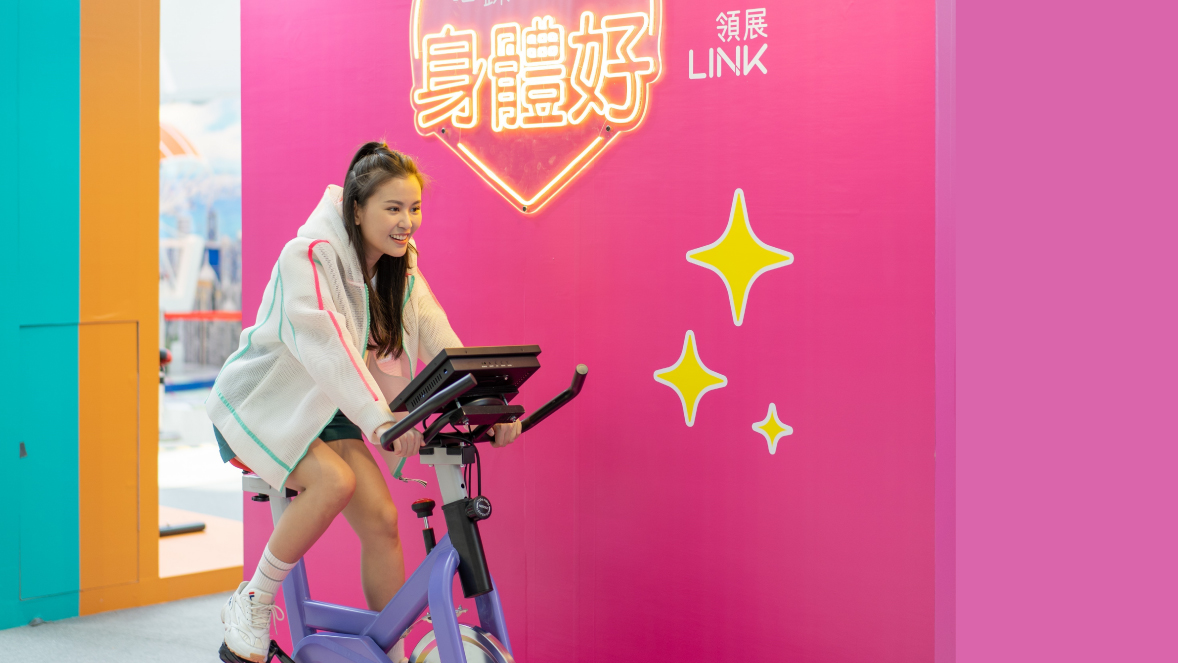 Cycling is a great family holiday activity. Yet overheating can happen easily if we spend too much time outdoors in hot weather. That is why more and more people are now taking indoor exercise bike as a good alternative during the summer months. For the second year in a row, Link will host "Tour de LINK 2022" at six of its shopping centres in Hong Kong this August. Fitness and cyclist enthusiasts can once again compete for the championships of top riders!
Here, let us explain the features that make exercise bikes different from outdoor cycles and bike trainers, followed by their health benefits.
A Quick Look at Exercise Bike
There are many kinds of exercise bikes available in the market. Here we list the four main types: upright, recumbent, folding, and flywheel. Each comes with its own features that cater to the needs of different users.
Features

Benefits

Users

Upright

Upright design
User's back is perpendicular to floor

Resembles real bike
Engages user's lower body

Beginners
Those looking to lose weight or lacking exercise

Recumbent

Reduces stress on user's body
Good for longer workout

The elderly, people with back pain or low fitness levels

Folding

Easy to put together
Elevated seats

Easy to store
Good for smaller flats

Flywheel

Heavier
Users need to lean forward, similar to elite cyclists

High-intensity
Good for elite-level training
Tour de LINK 2022 will use simple Flywheel indoor cycles, which all participants will get a good workout while challenging for the coveted title!
Comparing Exercise Bike with Outdoor Bike and Bike Trainer
The best things about indoor exercise bikes are efficiency and the wide selection of training methods. Users can achieve their weight-loss or training goals in a short period of time. In addition, it is easier to maintain a consistent schedule as the training will never be disrupted by bad weather.
Compared with bike trainers, exercise bikes are more flexible – the seats can be easily adjusted to suit the users' posture and height.
Top Five Reasons for Choosing Exercise Bike
Cardio Training
Cycling is an aerobic activity. It is good for weight-loss, helps reduce bloatedness and increase cardiovascular endurance.
Adds Muscle and Reduces Fat
Riding exercise bike primarily engages lower-body muscle, including those in the thigh, hamstring, and calf. It is good for adding leg strength and muscle endurance.
Stationary Installation and Easy to Learn
The speed and resistance levels on exercise bikes can be easily adjusted to suit each user's ability. They also come with wider and more stable pedals, while the rotation of the wheels is steadier and quieter. All these make it easier for beginners to pick up.
The Fun Factor
While riding exercise bikes, users can engage in a variety of entertainment, such as listening to music or watching virtual scenery videos. This can make the training more fun and easier to get through.
Lower Chance of Injury
As indoor cycling takes place off the road, users won't have to worry about injury or traffic accidents. The stable setup along with the wider and steadier pedals also help reduce the impact to the users' bodies and joints.
Tour de LINK 2022 will include a parent-child category to allow whole families to participate in a safe and comfortable cycling game inside the shopping centres. Competitors can sign up for different categories and even race for their own districts!
Does Riding Exercise Bike help with weight-loss?
Normally, users can use same-speed method for training. Start with a 10-minute warm up of low-intensity cycling, followed by 30 to 45 minutes of moderate-intensity cycling as the core training. The heart rate should be kept at 60 to 70% of maximum heart rate – the optimal range for fat-burning.
Some ladies may worry that cycling gives them overly muscular calves in the long run. In fact, it is genetically much more difficult for women to build muscle. As long as they stick with same-speed or interval training, avoid high-intensity strength training, use proper techniques, and incorporate other aerobic exercises that involve the upper body, they can achieve their desired weight loss goals.
Six Tips for Riding Exercise Bike
These six tips will help ensure a smooth and safe indoor cycling workout.
Adjust Seat Height to Appropriate Level
Adjust the indoor bike seat to match your own height. At the highest point, your knees should form a straight line with the seat.
Warm Up Before Training
Before getting to the core training, you should always warm up with about 10 minutes of low-resistance and low-speed cycling.
Stretch After Your Workout
Avoid stopping abruptly after finishing your training. Gradually reduce the speed and resistance to ensure enough oxygen goes to your brain.
Increase Intensity Gradually
Both speed and resistance level should be increased gradually. If the resistance is too high relative to your lower body strength, it may negatively affect the fat-burning. Don't over-exert yourself to catch up with the speed. When your heartrate is too fast, it may damage your cardiovascular system.
Pay Attention to Indoor Temperature
You may find it hard to cool down while riding exercise bike. Use the fan or air-conditioner to ensure that the temperature is at the right level for your body.
Keep the Equipment Clean
As you will be sweating all over the bike while exercising, it is important that you clean it thoroughly after each session because over time, the sweat can cause the machine to smell and break down.
The Keys to Picking Exercise Bikes
When picking an indoor cycle, your first priorities should be the functions. For example, does it have a variety of training modes? Is the seat adjustable? Other questions include its weight capacity, noise level, and the amount of space it takes up. These are all questions you should consider.
Selection of Training Modes
Avoid bikes that only has high-intensity training mode if your fitness level is low. If there are multiple users at home, you should consider getting one with a wide variety of training modes
Adjustable Seats
Adjusting the seats to the level that suits your height will help avoid muscle injury. Some exercise bikes have fixed-seat designs, so if there are multiple users of vastly different body sizes, you should consider getting one that leaves more room for seat height adjustment.
Weight Capacity
Pay attention to the bike's weight capacity relative to your own weight. This will help reduce the chance of injury.
Noise
Excessive noise from your bike can be a nuisance to your family. Some models use the latest mechanical resistance technology to reduce the noise.
Bike Sizes
If your home has only limited space, a folding exercise bike will make storage more convenient. Some models even come with casters so they can be moved around easily.