The Hong Kong cycling scene has always brought pride to the Hong Kong people. Lee Wai-sze, who recently returned victorious from Tokyo after winning the second bronze medal of her Olympic career, has brought the Hong Kong people nothing but happiness and joy. Vivian Ma is another extraordinary Hong Kong cycling talent. She has achieved outstanding results for the Hong Kong team in international competitions such as the 2018 Asian Games in Indonesia. Channel 823 was honoured to sit down for an exclusive interview with her to learn more about her fateful encounter with the sport.
Steering Onto a Different Path
Although Vivian has been fond of cycling since she was little, she got her start in the sport in a rather ordinary way. Vivian's first proper training on wheels was in fact strapped into a pair of roller skates while her younger sister trained on a bicycle. At the time, her father had to drive her and her sister to separate training venues far apart from each other. "My mom thought, why not have the two of us train together so we don't have to be dropped off in completely different places," Vivian recalled. Just like that, Vivian's path to professional cycling was kick-started.
Becoming a professional cyclist was not something that crossed Vivian's mind until her first year in university. One day, out of the blue, Vivian received a call from Shen Jinkang, Head Coach of the Hong Kong Track Cycling Team. "Have you thought about how far you can make it in a professional cycling career?" the coach asked. This question made Vivian, who hated losing, ponder the possibilities. Vivian thought to herself that if a coach of Coach Shen's calibre was willing to give her a chance, why not commit two or four years while still young and see how far she could go. Determined, Vivian took a break from university and put herself on track to become a professional cyclist.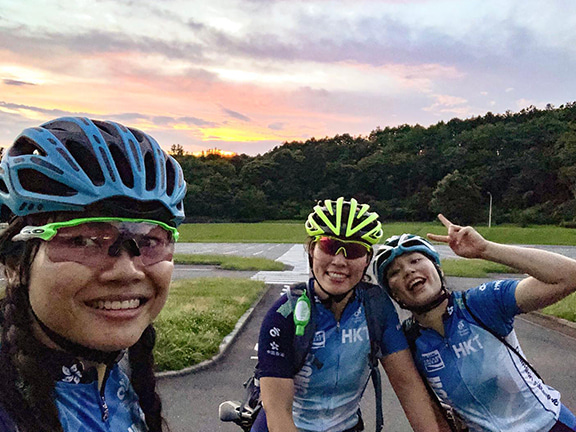 Vivian was quick to adapt to her life as a professional athlete. Racing frequently overseas and living on her own in a dormitory in Hong Kong made her independent in the blink of an eye. "The training regimen of the Hong Kong Cycling Team was rigorous and stressful. Because my older teammates had already accomplished a lot, I could not afford to be lax," she said. Vivian added that the Hong Kong Track Cycling Team has a wealth of resources, including a strong support team when competing overseas. In addition, the training and racing experience of her older teammates served as a valuable reference when she was new to the team – and Vivian did not disappoint. Alongside her teammates Lee Wai-sze and Li Yin-yin, Vivian won silver in the team sprint at the 2018 Asian Games.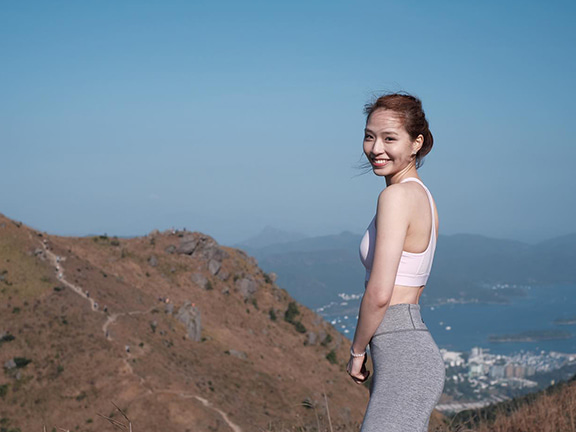 Although Vivian decided to retire in 2019 and return to university, cycling remains a part of her daily life. "Cycling has become a habit," she said. The retired athlete now cycles once or twice per week to train her cardiorespiratory fitness and to maintain a healthy lifestyle.
Making Cycling Mainstream Would Be a Dream Come True
As a former Hong Kong Cycling Team member, Vivian hopes that cycling can become an even more popular sport in Hong Kong, and she believes this should start by encouraging more children to gain exposure to and get involved with cycling. For example, piloting cycling programmes in school and initiating more inter-school and intra-school competitions could help nurture children's interest in cycling. The Hong Kong Cycling Team's recent accomplishments in the international scene also helped garner interest in the sport.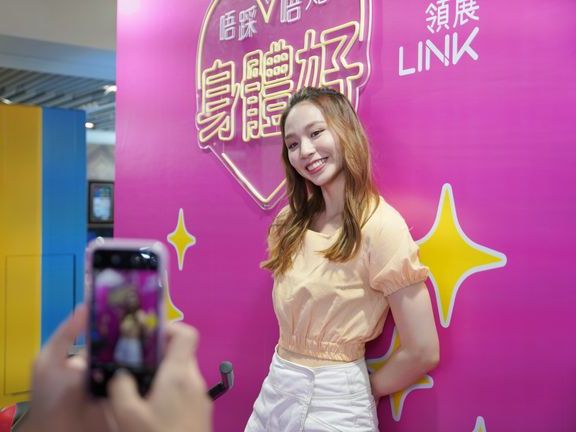 In line with this idea, Vivian was proud to take part in the recent Tour de LINK at TKO Spot, where she competed for top rider in the district and helped promote the pursuit of healthier bodies, minds and spaces across Hong Kong. As a final important point, Vivian would like to remind everybody that although cycling is easy to learn and great for fitness, no matter if it is done indoors or outdoors, if you decide to cycle outdoors, remember to wear a helmet properly and master the basics such as turning and braking. "As a road user, it's important to be conscious of the safety of other road users as well," she stressed. By being mindful of road safety and taking responsibility for the safety of yourself and others, you, too, can make cycling an enjoyable and healthy part of your life.