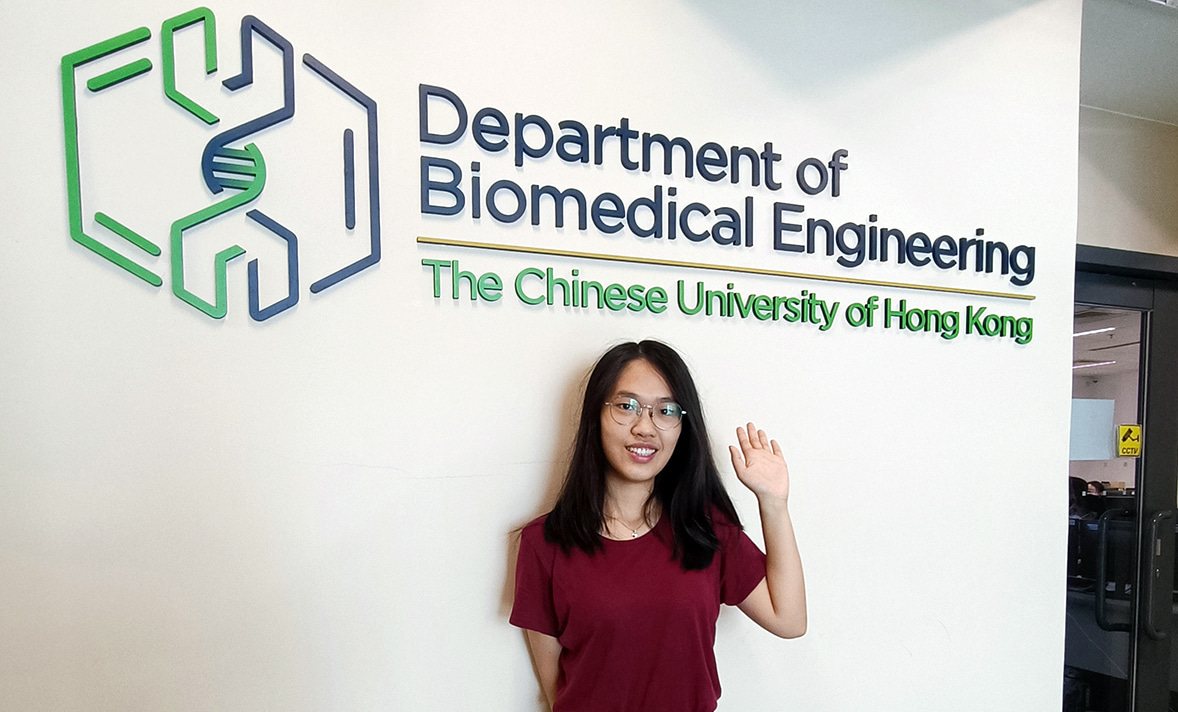 People see things differently after having a broadened horizon and exposure outside one's everyday social circle. Tiffany Choi, who studies for biomedical engineering at the Chinese University of Hong Kong, proves this point.
Tiffany won the $20,000 Link University Scholarship last year with her academic achievement and outstanding performance at the interview. Although schoolwork has been keeping her busy, she still manages to find time for volunteering – this summer she took part in Link's volunteer month activities.
Supported by Link Together Initiatives, the annual Link University Scholarship program aims to nurture young people and encourage upward mobility.
Tiffany said, "I like to explore things outside of academic subjects. The more I see and learn, the more I can broaden my horizon." She took part in the project of Food Angel, another Link-sponsored program, a few months ago. For the project, she went to fresh markets in Lok Fu to collect vegetables and fruits and turn them into meal boxes. While taking part in the activities, she was stunned by the extent of the wealth gap between the rich and the poor in a prosperous city like Hong Kong.
"If it wasn't for this experience, I would have no idea about the number of people who are dependent on free meals. Their situations were made worse by the fifth wave of the pandemic, which has taken away many people's jobs."
Broaden life experience through volunteering
Besides helping people, volunteering gives Tiffany the opportunity to see the different segments of society and to make friends with people from different background. This has greatly broadened her life experience. As for the $20,000 scholarship, Tiffany said part of it will be used to pay off tuition fee, while some will go into her savings – she plans to apply for the exchange program to Australia or Europe next year and would need money to cover her living expense abroad. She has also applied for this year's Link Scholarship and she will continue to take time off her studies and learn more about things happening outside the campus.
Link Scholarship empowers promising students
The university scholarship is of one of Link's core youth projects. Launched in 2015 and with no income screening requirement, it aims to support students who are the first among the three generations in their families to attend university, and to encourage upward mobility. So far, 1,380 scholarships have been awarded to students for a total of $27.6 million. The new academic year's final interview day was held on 19 November, with the number of applicants reaching an all-time high of 2,084. Around 340 applicants were selected by the judging panel for the interviews.
Due to the pandemic, the interviews with the judging panel were held in a hybrid format. On that day, fifty judges from the government, public bodies, social welfare organisations, the commercial sectors, and media conducted online interviews with around 340 scholarship applicants, who were asked to give both self-introduction and engage in current affairs discussions. A total of 220 local university students will be selected, with each being awarded $20,000 in scholarship.
Dora Li, General Manager of The Investor and Financial Education Council and a judge on the panel for the second consecutive year, said she was impressed by the overall performance of students qualified at the interviews. The students were each given 90 seconds to present their own life stories. Given the short time, they had to be well-prepared and make their introductions as concise as possible. And if there's a tip she can share with future applicants, it is that they can consult and learn from past scholarship winners on what judges normally look for in the interviews.
Franco Ngan, another judge and a member of the Financial Services Development Council's Human Capital Committee, agrees on the exceptional quality of this year's applicants, adding that some of them have left deep impressions on him. For example, those who were volunteering during early secondary school would take on planning and coordinating roles when they reached senior years. Some of them also demonstrated clear visions in their life-planning, such as their development of personal hobbies and future careers. Franco also sees the Scholarship's emphasis on benefiting students who are the first to attend university among three generations in their families as an effective way to promote upward mobility.
All recipients would automatically become members of Link Scholars Alumni and be entitled to participate in its workshops and activities. These workshops and activities are aimed at broadening students' horizon and mentality, as well as serving as a mutual aid platform where they can grow and face challenges together. Recipients are also given opportunities to join Link's Summer Internship and Management Trainee programs.