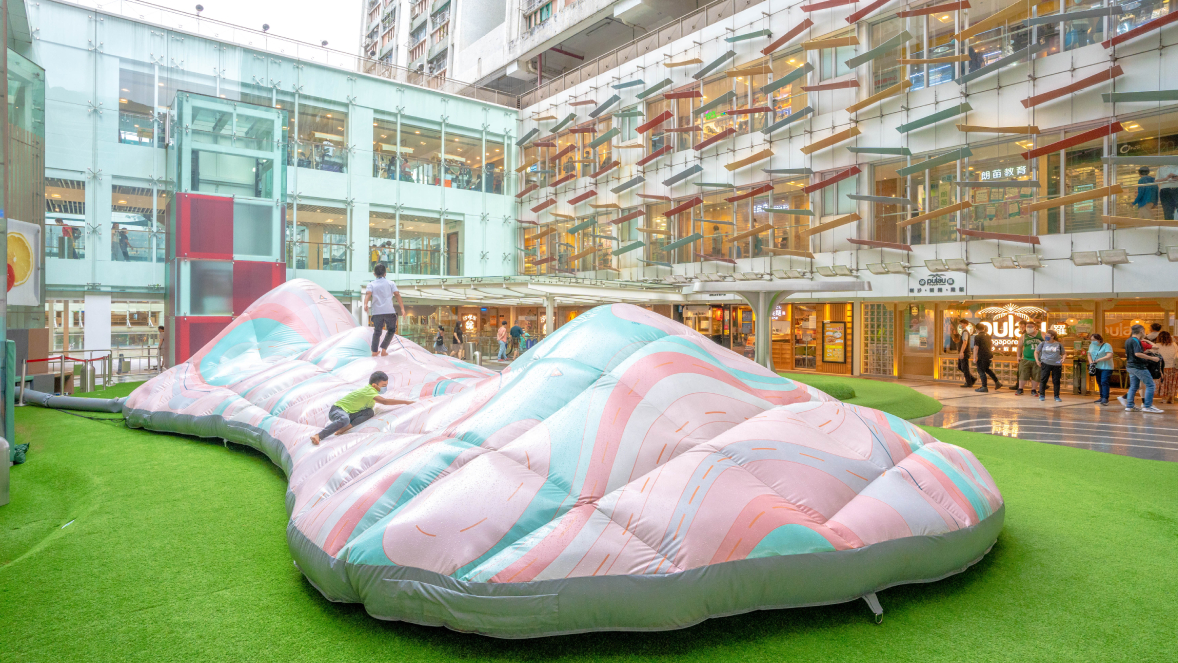 Every weekend, parents have to scratch their heads to find things for their kids to do. But while some love the nature or simply spending time outdoor regardless of the weather, others find Hong Kong's summer heat unbearable. Instead, all they want is to stay inside the air-conditioned shopping malls, find something decent to eat, and let their little ones run around. Lok Fu Place may just be the perfect place for this.
Adding health-boosting facilities to public space
Located in the middle of Kowloon and adjacent to both Lion Rock and Checkerboard Hill, along with a stadium and parks, Lok Fu Place has long been a popular hangout among exercise lovers. The mall recently completed the renovation of a 12,000 square-foot public space in zone A, with a "Glamping Hiking" theme. The new features include: a large public area surfaced with artificial grass; the "bouncy hill", an interactive art installation; the "mushroom tree" as a rest space for visitors; and a custom-made camping car for photo-taking. It aims to turn the area into a community space for different generations to interact and hang out.
With over 50 food outlets at the mall, parents should have no problem finding food for their children. After lunch, they can walk around the outdoor public space next to the food court. One of the most popular features is the "bouncy hill", an 800 square-foot 3-D interactive art installation layered with variegated colours, which uses the shape of the Lion Rock peak as its blueprint. Parents can sit back and recharge around the nearby "mushroom tree" while watching their children play at mountaineering.
To add to the "Glamping Hiking" ambiance, the mall also uses the nearby Checkerboard Hill, a popular hiking trail, as the blueprint for the designs of check-in places such as a giant glass curtain wall, a hiking trail, and a zone for camping car. Other regular activities being held there include thematic markets and workshops.
In addition, to encourage busking so that the public can enjoy music performance, Lok Fu Place also completed the renovation of a 2,500 square-foot space in zone B. Adorned with spectator seating and decorated in multiple colours, it aims to draw musicians in the neighbourhood to perform and use music to connect the community.
Placemaking for sustainability
Simply put, placemaking is the rebuilding and redefining of a community's landmarks and "personality". This concept has been gaining more traction in architecture in recent years. The latest placemaking projects at Lok Fu Place are the result of the collaboration between Link and the creative team of Groundwork, an architecture and urban design firm. "Lok Fu Place is the favorite hangout of many Kowlooners," said Jack Yiu, Senior Manager – Project (HK) at Link. "We are utilising the public areas of the mall to create a space where the public can come to rest and play."
Jack points out that placemaking not only adds vitality and improves the aesthetics of the neighbourhood, but it also promotes environmental protection and the importance of building a greener community. "We put a lot of emphasis on the sustainability of placemaking. The materials used for the projects were all bought locally or from the Mainland, in order to reduce the carbon footprint due to transportation. During the renovation, we kept the original installation and did not tear down anything. In addition, the buffer layer underneath the artificial grass was made of styrene butadiene rubber (SBR) granulates which are recycled from used truck tires. The drainage layer below is also made of recycled plastic. The upside is that they are easy to maintain and suitable for outdoor."
About Lok fu Place's "bouncy hill"
Address: Zone A, reset area at Lok Fu Place
Opening Time: 9am to 9pm
Entry fee: Free to the public
Suitable users: Children or individual below 1.5 metres in height