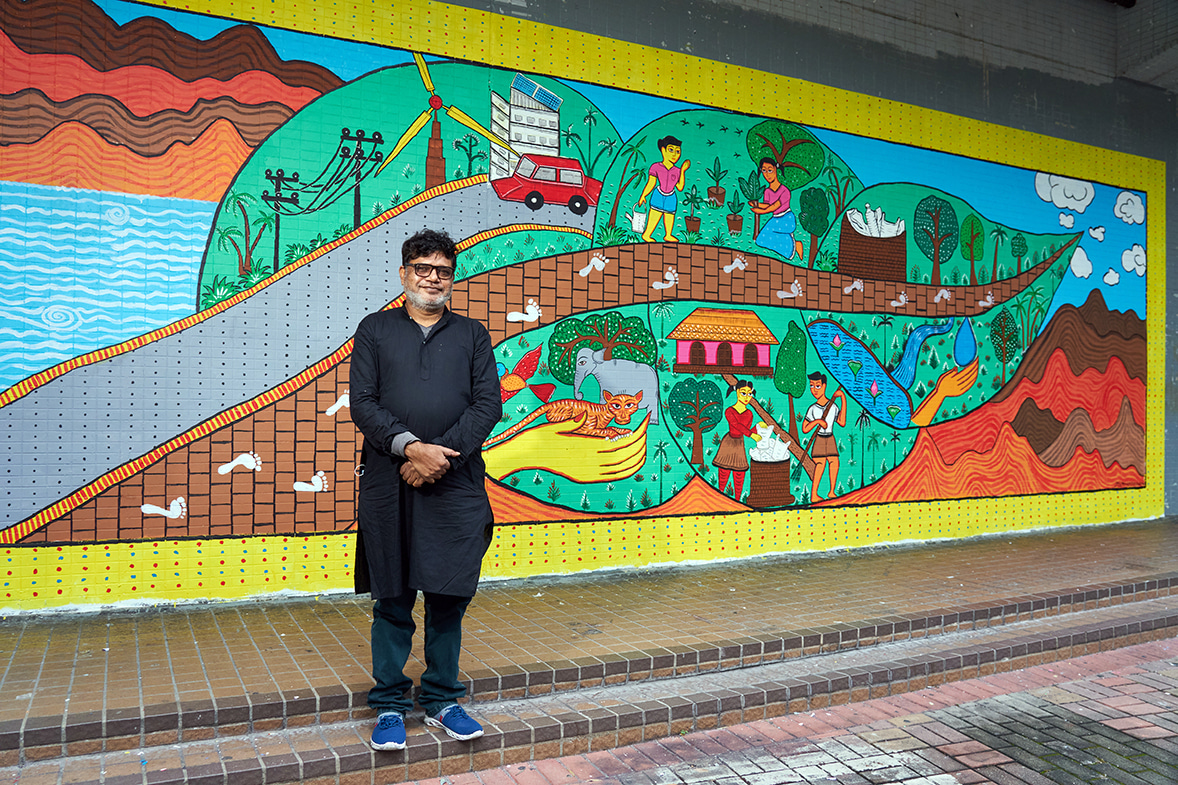 If you have recently passed by Nam Cheong Place in Sham Shui Po, you may have noticed that the previous anti-epidemic mural has been replaced by another colourful one with exotic figures, windmills, solar panels and green plants. The new mural is the work of Manoranjan Chitrakar, an Indian painter who came to Hong Kong on a special trip, and was invited by Link to paint a painting containing environmental protection messages at Nam Cheong Place.
Manoranjan has been painting for 30 years, since the age of 15. He loves to depict social and green issues in his works. In December last year, he was invited by the arts organisation HKWALLS and MeMeraki to come to Hong Kong for the first time to take part in an annual painting programme involving the creation of new murals on the walls of selected areas. As part of this trip, Manoranjan accepted the invitation of Link to create a mural for the residents of Sham Shui Po on the themes of nature and energy conservation.
"The main theme of my painting at Nam Cheong Place is to represent our world in a single leaf," explained the artist. "Just like every single leaf of a tree carries out photosynthesis using sunlight, wind and water to produce nutrients for themselves, animals and us, in the same way, our world is also dependent on natural resources, including trees. So it is our responsibility to protect and conserve our environment and all the natural resources that we are dependent on."
Following in the footsteps of ancestors to protect the earth
Manoranjan has travelled all across India and farther afield, including to Sweden and Paris. "The main vein of the leaf represents 'path' which is initially in its natural form and we could follow the footprints easily on the soil but, the concrete path shows no footprints. Footprints represent the legacy our ancestors have left behind for us to follow," he further explained. "The blades of the leaf show various environmental scenes, including saving every single drop of water to fill the reservoirs, protecting wildlife, separating dry and wet waste, producing electricity from windmills and solar power, using an electric car, and children planting trees and cleaning surrounding areas."
If we look carefully at this giant painting, it is not difficult to see the artist's desire to save natural resources and hope for a world free from global warming.
Not only painting but also singing
The characteristics of Manoranjan's works originate from Pattachitra, a Bengali style of scroll painting, which is part of an art tradition practised by the Patuas or Chitrakars of West Bengal. These paintings are generally created as long scrolls depicting a story or narrative, with artists also composing songs in Bengali to sing and explain their works.
With the help of several volunteers, Manoranjan completed his mural within six days. Asked if there were any challenges along the way, the artist said, "Initially, I thought that the height of the wall was too high, which would have posed a difficult challenge for me. However, with the help of the talented volunteers, I was able to finish it very quickly, and the artwork looks phenomenal."
Eco-friendly paints
The paints used are also environmentally friendly, reflecting the messages conveyed by the mural. "The paints we used are completely eco-friendly water-based paints, which are free from paraffin and toxic chemicals. In addition, these paints contain low levels of volatile organic compounds, and they have minimal odour," he added.
Manoranjan, who came to Hong Kong for the first time, stayed for just over a week. He said he was a bit nervous about the artwork and how things would turn out, as Hong Kong was a new and unfamiliar city to him. But it went very smoothly, thanks in part to the local volunteers of Indian descent who helped him a lot in getting acclimated and comfortable. "They helped not only in terms of painting, but also in day-to-day things like finding Indian restaurants, getting around the city and purchasing essentials," said the artist. "So overall, it was a great experience!"