During the month of August, the challengers in Link's "Tour de LINK" cycling competition gave spectators something to cheer for with a marvellous display of athletic prowess as they rode as hard as they could for five minutes. What did it take for these ordinary challengers from different walks of life to become cycling champs? Channel 823 invited three of the winners to share their secrets with us.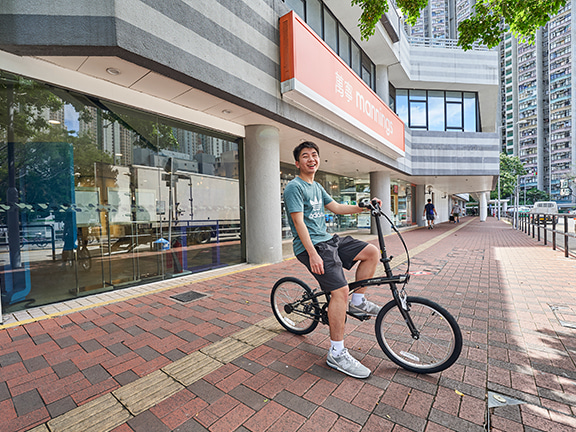 Savour the view
LIMB (nickname), who won first for Tin Shui Wai district, is a fourth-year university student who has been cycling for three years. LIMB travels by bicycle wherever he goes because it gives him more time to enjoy the view along the way. For LIMB, cycling is a constant reminder to not give up easily, and it helps him develop and maintain his mental strength. "I have never been a person who gives up easily, so I naturally apply the same attitude to cycling," he said. The passionate young man currently trains three to four times a week on his bicycle.
Riding for health
The overall winner from Oi Man, LITTLEKIM (nickname), first heard about Tour de LINK through a friend. Although he never thought he would win the competition, he told us his key to victory may have been his physical build. "To win this challenge, you must have great lung capacity, muscle endurance and explosive power. I guess I just naturally have all these qualities," he said. LITTLEKIM also said that he goes for a ride whenever he gets the chance. "I do it for my health," he explained.
Reflecting on his experience, he gave a special thanks to the medics on-site. "When we got off our bikes after the challenge, exhausted to our cores, the medics came over and handed us candies to replenish our strength. That was very sweet of them," he smiled.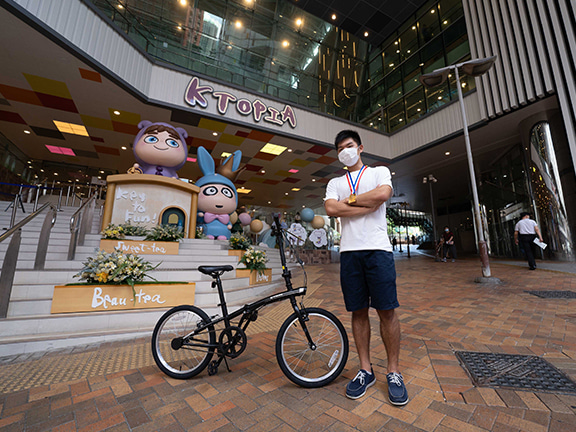 Attitude determines altitude
HOSLAM (nickname), the district winner from Lam Tin, met his group of bicycle friends in his secondary school years. Over the years, he would always go head to head with his friends on the bicycle, which has helped him develop a strong physique. His keys to winning were perseverance and willpower. "When the timer on the bicycle hit the 3-minute mark, in my mind I was ready to give up. However, as I rode longer and longer, I grew more and more determined to finish the challenge, which made me think that attitude is very important, for attitude determines altitude."
HOSLAM thinks that the cross-district competition held by Link has encouraged more people to exercise and has helped link communities together. Since each challenger's distance was measured and recorded, it has also made his conversations with friends and family that much more interesting. If Link holds Tour de LINK for a second year, HOSLAM told us he would set his target to passing 2,800 metres within five minutes.