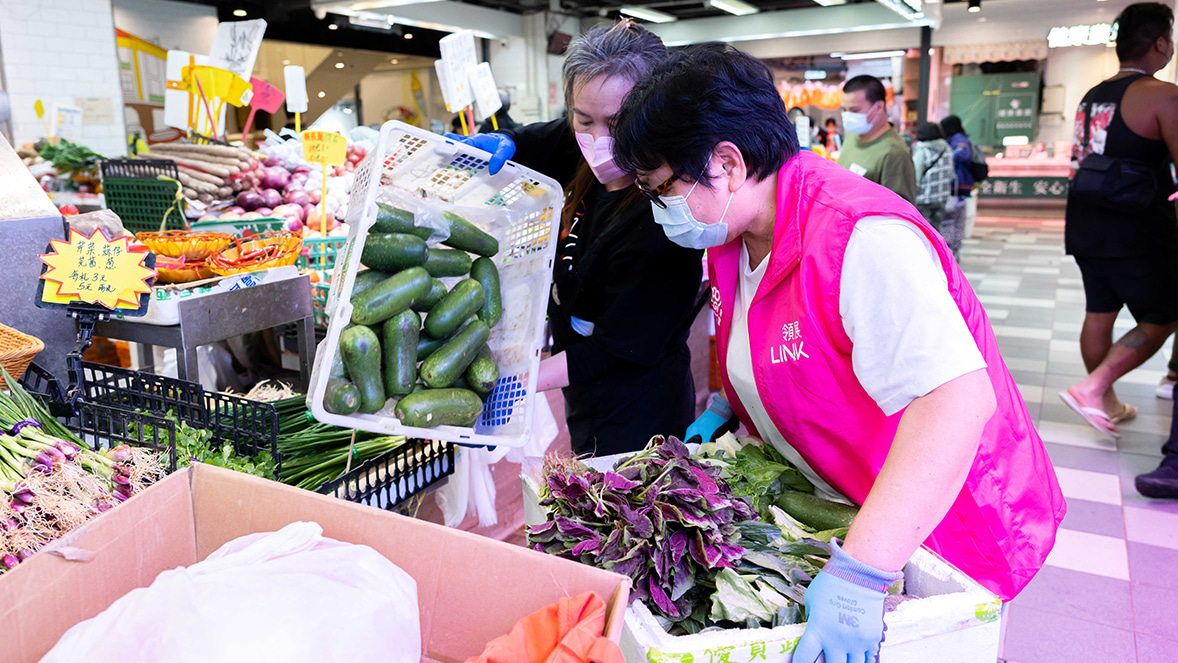 "I have been collecting surplus food on behalf of Food Angel for more than two years now. As a part-time staff, the working hours are flexible and more importantly, the food collected can benefit people in need, which brings a solid sense of achievement," Yau Mo-chun (Chun) told the writer as she collected surplus vegetable from a fresh market grocer.
It was just past six in the evening. Chun, who was in a pink Link vest, was manoeuvring her trolley in Link's Nam Cheong Place Market, collecting surplus food from grocers, many of whom were more than happy to hand over still fresh-looking food items. Chun explained: "The grocers are supportive and they always give away fresh food that could be sold. The shoppers also know about Food Angel and how the surplus food would be made into meal boxes for people in need."
This is the seventh consecutive year Link sponsors the "We Link We Share Programme" of Food Angel, which aims to collect surplus food and make meal boxes and food packs for the needy. The project targets to save more than 600 tonnes of food waste each year and benefit 1.9 million people.
Every person and leaf counts
As a resident of Fu Cheong Estate where Nam Cheong Place is located, Chun had experience of collecting vegetables in Cheung Sha Wan Wholesale Food Market. She joined Food Angel more than two years ago and it is rather convenient volunteering at Nam Cheong Place.
Chun said although she was only working on the frontline, the work was crucial to the whole operation, which turns edible surplus food into meals at the central kitchen following strict safety protocols. The logistics team then distributes the food to the elderly and other people in need. That is why Chun saw great value in her contribution: "Helping others is meaningful."
Surplus food is a hard harvest
Simon Tang, Senior Officer (Food Donation) of Food Angel, saw the serious issue of surplus food in Hong Kong: "According to the latest statistics from the Environmental Protection Department, there is around 3,437 tonnes of food waste being sent to the landfills every day*. However, we are facing various challenges when we promote food recycling to industry practitioners. For instance, they might not know about Food Angel and how we process the food, or who we distribute the meal boxes to."
Despite this, Simon told us that Hong Kong people have become more aware of the need to cherish food. Statistics say people tend to donate more festive food around the time of festivals, though there is still much room for improvement: "Many corporates have been supporting Food Angel but we recycle only around 45 tonnes of food waste every week, which is nothing compared to the daily 3,437 tonnes of waste produced. Therefore, we look forward to working more closely with the business and social welfare sectors. We continue to welcome more food donations to reduce waste."
Link gives tremendous support to "Food Smart"
Since 2016, Link has been participating in the Food Angel food recycling scheme, with volunteers collecting surplus food from over 400 grocers in 39 Link's fresh markets. Moreover, people can also donate food that they bought, as Simon has said: "We often have helpful people buying extra food for donation."
In addition, Food Angel has set up 15 "food collection boxes" in Link's malls for people to donate unopened packaged food that is not expired. The food will be delivered to people in need to reduce food waste.
Simon also told us the importance of educating the public on the concept of sustainable development. Since 2022, Food Angel and Link have organised a pop-up store under the "Link Together Initiative" to set up short term booths at various Link shopping malls. Food rescue works are introduced to the public through interactive games and eco workshops such as coffee ground scrubs, eco-enzyme detergent, tea leaf anti-odor packs and festive fruit net handicrafts. "Through the pop-up stores, we hope to share with citizens how to maximise the usage of resources, educate them on how to reduce waste on a daily basis, and raise awareness of cherishing food ultimately."
Note:
*According to the statistics published in 2022 by the Environmental Protection Department in "Monitoring of Solid Waste in Hong Kong 2021".