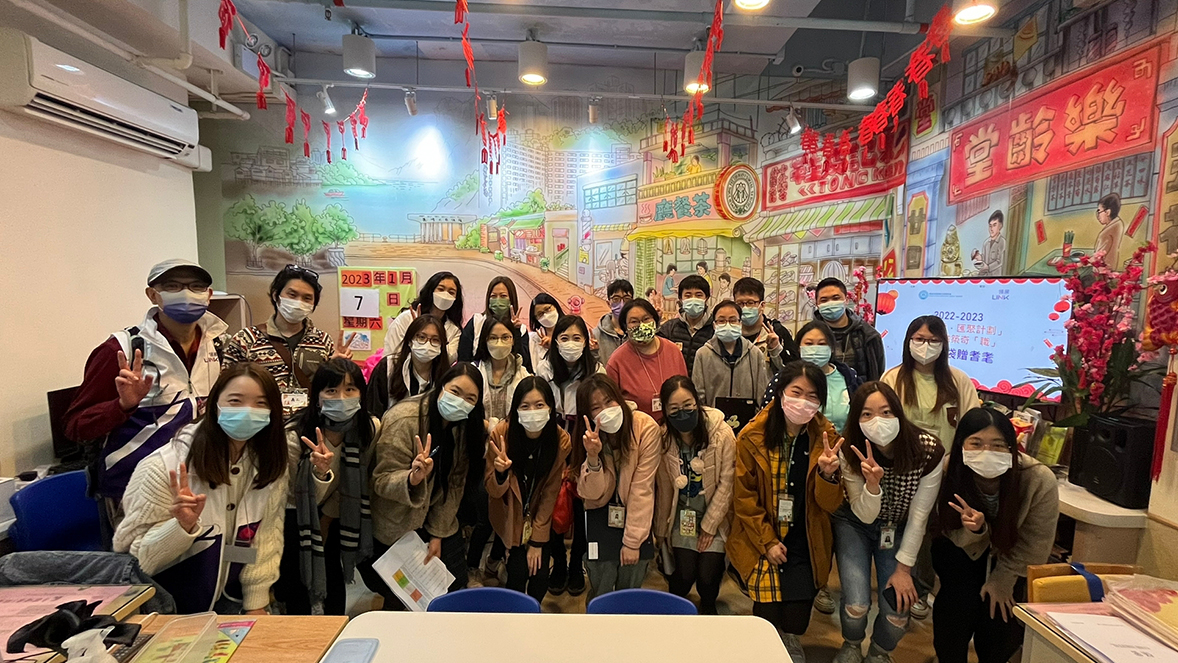 Chinese New Year is not just a time for family and friend reunions, but also an opportunity to care for the people in need. Sponsored by the Link Together Initiative of Link and organized by Kwun Tong Methodist Social Service (KTMSS), the "Project Inclusion: Building Miracle Jobs" has trained participants with Special Education Needs (SEN). At the beginning of January, they paid their first visit to some elderly. Apart from spreading love to those in need, they could apply what they had learnt and started a huge step towards their dream jobs.
The scheme aims to help SEN teens explore career opportunities through vocational training and advanced internship. As the project's service coordinator Rainbow Shiu said: "Hands-on activities and experience are more important than teaching only.
Learning in and out of the classroom
Generally, people with SEN have difficulties in learning and require special education support. Due to their disadvantages in attention, verbal ability or emotions, their learning and job-hunting are far from smooth sailing. Since 2020, Link Together Initiatives has been supporting SEN teenagers. Rainbow pointed out that compared with the programme last year, they have put more emphasis on elderly service related and caregiving training including activity planning and nursing this year. The participants have to simultaneously undergo more than 40 hours of introductory training and over 150 hours of internship. The organisation hopes that the 1-year programme can spark the work motivation and skillsets of the SEN teenagers and devote themselves to the elderly care-related industry, such as activities assistant for the elderly, care worker or occupational therapist assistant, etc.
This year the programme expects the participants to plan and initiate the activities from scratch. The programme also subsidises them to take elderly service advanced training courses including occupational therapy assistant training to obtain the certificate, so that they could better equip themselves, with higher competitiveness, confidence and empathy with the elderly. KTMSS is looking to recruit 40 teenagers who are of working age and follow up individually on their performance in training, personal development, internship and learning as well as their job-hunting progress.
Door-to-door delivery of love
In January, the participants and some Link volunteers visited Lam Tin Elderly Centre at Ping Tin Estate to distribute Chinese New Year Fortune Bags. From preparation, planning, sourcing, packaging to distribution, the participants were involved in each and every part. A total of 120 elderly were distributed with Chinese New Year fortune bags, and the participants visited more than 30 physically unfit and singleton elderly.
Rainbow shared that during the pandemic, they used video calls to replace physical visits. Until this year, though physical visits resume, some restrictions were still in place to keep certain kinds of social distancing. Hence, the volunteers had to chat with the elderly outside the door of their homes, which posed a challenge to the volunteers. Rainbow explained that teenagers are used to online networking, but direct face-to-face communication is more appropriate and crucial to regular elderly care services. "At the beginning, the participants were quite nervous about meeting the elderly physically, but with the assistance of social workers and Link volunteers, they became more confident and could deliver their blessings to the elderly."
To the elderly, social and emotional support are just as important as supplies, so it brings about a precious learning opportunity for the volunteers. "We are worried about the impacts of the pandemic on the elderly's mental health, which is also what the participants of the scheme must try to deal with," said Rainbow, adding that in one case an old lady sobbed when she mentioned her passed-away daughter: "It could take people aback but the volunteer chose to give a hug to her, which was quite heart-warming." To Rainbow's surprise, the elderly later brought with her a thank-you letter to the centre. "She has had a hard time getting over the news so she spent most of her time at home. Fortunately, our volunteers gave her the power to open up and soothed her pain."
Apart from chatting with the elderly, the participants also have to observe their living environment, health conditions and needs. If the home is full of clutter, it is likely a sign of poor self-care ability leading to household hygiene and safety problems. The participant should report to the centre for further follow-up and evaluate his performance with the social worker after the visit.
In addition to the internship hosted by other Methodist centres, the scheme also works with other employers for job matching according to the youths' interest and capability, for instance, to serve as an activities assistant for the elderly or gerontechnology ambassador. "Some elderly people will have difficulties in using a smart phone and its applications, so our volunteers can provide guidance to them, like using the Hospital Authority's HA Go app to make their appointments." Rainbow also shared with us that after the long suspension of elderly service during pandemic, elderly centres and day care centres are gradually opening up again. The participants can therefore meet the rising labour demand.