Every family has a cross to bear, and it is no secret that communication between generations can be an art. In early August, Inspirational Drama Programme for Elderly by Arts' Options, debuted its adaptation of Shakespeare's masterpiece Romeo and Juliet. The adaptation, titled LOmeo & JulieYIP Shake up Shakespeare is a story of two housemates at a care home for the elderly and their respective families, which featured a play within a play, drawing in the audience to reflect on what it means to maintain complex family relationships.
The storyline revolves around LOmeo and JulieYIP. LOmeo is bereaved of his wife and has not escaped from his sorrow, while his daughter is a strong, independent woman who loves her father but, due to different values, often gets in arguments with him. Julie was once an aspiring actress who had to abandon her dreams due to tough living conditions and is diagnosed with dementia in her later years. Fortunately, her four children are all patient with her.
Berthold Chung, who plays LOmeo, recalled his most challenging scene from the play, where LOmeo becomes furious when he finds out his daughter has thrown away relics of his late wife. "The scene where I was sitting back to back with my daughter on the porch stairs and arguing was very challenging, as it demanded a simultaneous expression of bitterness and compassion."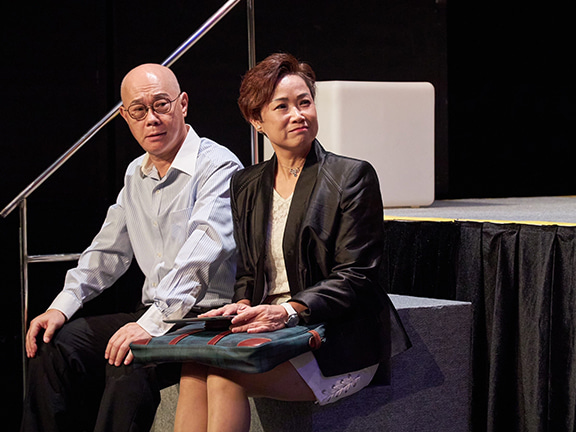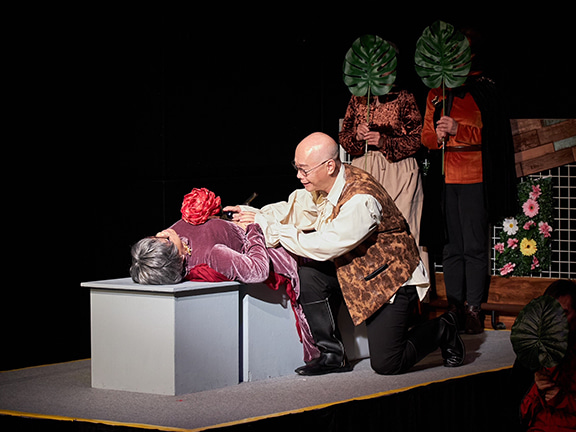 Company is More Important Than Material Support in Maintaining Family Relationships
Charlotte Ho, who plays JulieYIP, concurred that this was the most emotional scene for her. "Life is always like this. You think you have done the best for your family, but they reject your good intentions. In reality, neither side really listens to and accepts the other, and each side always thinks they are right," she said.
Compared to LOmeo, JulieYIP's children are not as well off, but they all help JulieYIP to cast in a show organised by the care home by playing supporting characters such as grasses and flowers on the stage. Sometimes, they learn, spending time with your family is more important than satisfying their material needs.
Charlotte said that the difficult part of playing JulieYIP was using simple and repeated lines to portray her dementia and the things she holds most dearly in her mind despite the illness. "I was very touched that some audience members came up and told me afterwards that the play really struck a chord with them because they have elderly members in their own families experiencing the same situation. They seem to have found comfort in our performance. I guess that is the power of theatre."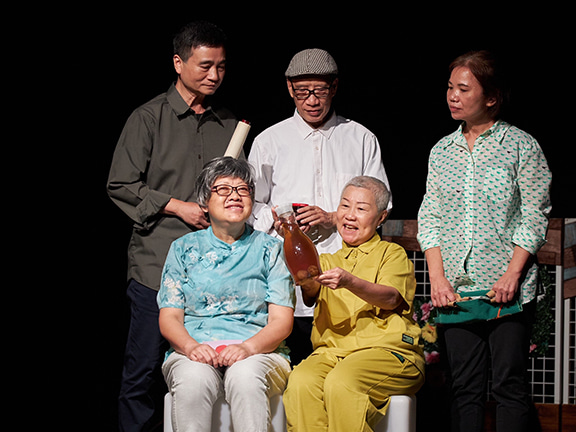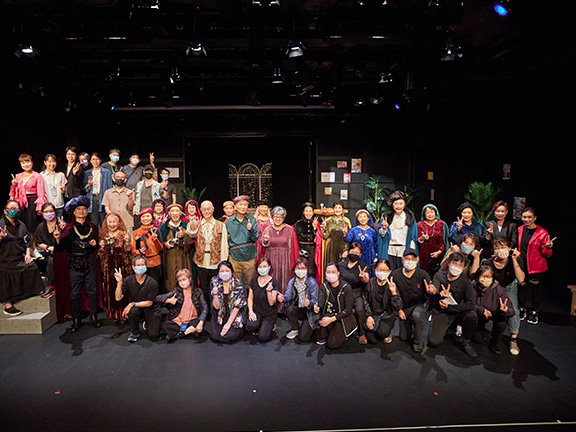 Building Friendships Through Theatre
Both actors are over 65 years old and new to theatre. Last year, they joined the Inspirational Drama Programme for Elderly by Arts' Options, an initiative sponsored by Link Together Initiatives. They went through 100 hours of professional training and were cast to play the lead roles in LOmeo & JulieYIP Shake up Shakespeare.
Berthold is a retired secondary school principal. He decided to join the Inspirational Drama Programme because of his love of watching drama and writing drama reviews.
On the other hand, Charlotte is a full-time housewife. At first, she signed up for the programme as a hobby. In the end, the two were rewarded with a greater experience than they had imagined.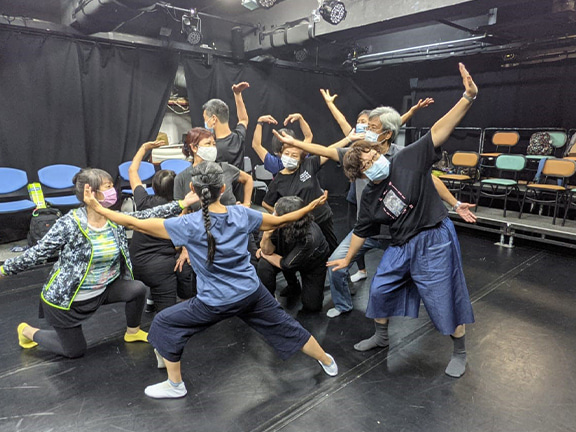 Berthold thinks that the most valuable takeaway from this experience was being able to feel the power of unity within the troupe. "When we performed the play, our acting was still rather rough," he recalled. "Actors forgot their lines on several occasions at the beginning, but nobody complained. Rather, we tried our best to recover on stage to make the play successful."
Charlotte said: "The content of this programme was very professional, and the instructor was very serious. We are actors whose names are not known, so it was very rewarding to see that we had an audience, motivating us to perform even better. We hope to use each performance to improve, which is our way of paying respect to our audience, our instructor and the art form."
Following the debut performance at the Jockey Club Black Box Theatre, LOmeo & JulieYIP Shake up Shakespeare will have a roadshow at selected Link shopping malls to spread the positive message across local communities.