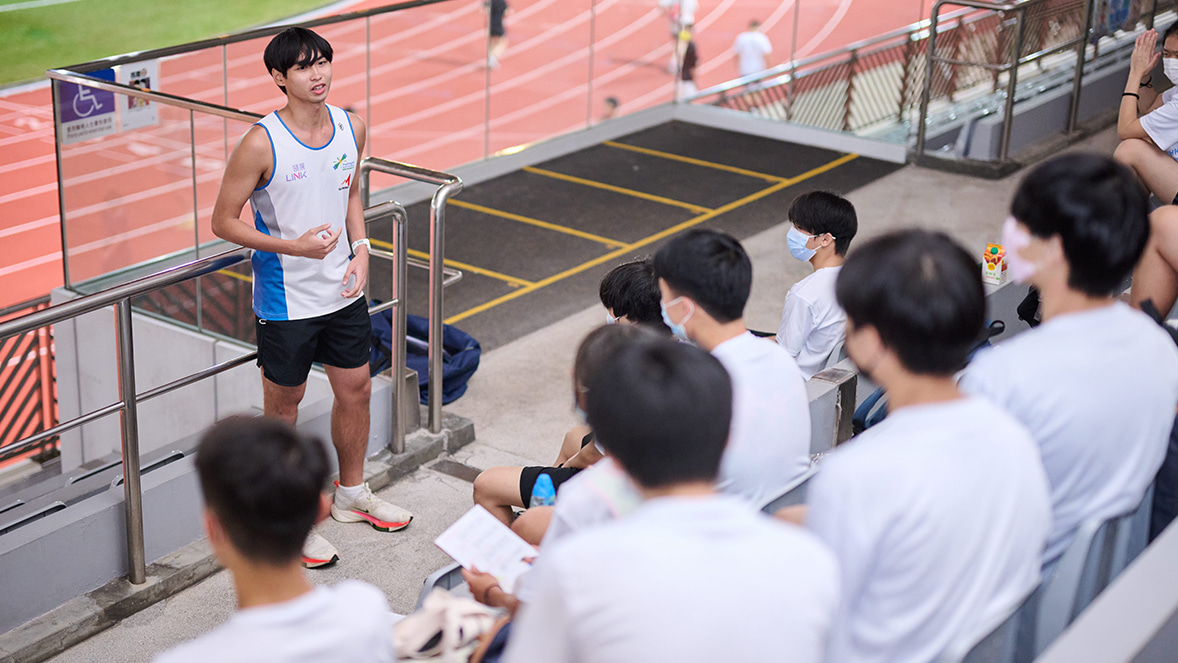 Many runners compete intently against the timer on the sportsground. However, for "Home Run" participants, the sport is not only a pursuit of results, but also a journey of self-exploration.
A fresh graduate in physical education, Vincent joined InspiringHK Sports Foundation in mid-2022 and is now responsible for the Home Run programme. According to Vincent, he started organising social services activities when he was studying: "Sports and social services are things I enjoy doing, and my job is a great combination of them."
In October 2022, the "SportLINK Community Project" of InspiringHK Sports Foundation was funded for the second year by "Link Together Initiatives" to organise 20 sessions of Home Run trainings for underprivileged youths aged 12 to 18.
This year, Home Run continues to organise trainings in Sha Tin, Tuen Mun, Kwun Tong and Tseung Kwan O, with an expansion into Wong Tai Sin, Eastern District, North District and Kwai Tsing. Seeing the eight-district coverage, Vincent said: "In addition to the underprivileged, SEN (special educational needs) and ethnic minority students have priority to join the trainings to encourage regular exercise. We hope that they can discover Hong Kong through long-distance running, thereby raising their sense of belonging to their communities." The training sessions began in early November with around 20 participants in each district; about one-fourth of the former participants have joined again.
A different role, a bigger world
Apart from managing the programme, Vincent also recommended Caesar, a fellow runner, to become the assistant coach. Caesar is the 1,500-metre men's champion from last year's Home Run programme and is currently studying for a higher diploma in physical education. Though he is too old to join the programme this year as a participant, he instead became the assistant coach under the endorsement of Vincent. Caesar said: "I am excited by the idea to try different roles and learn from them. It is probably beneficial to my career planning in the future as well."
At the moment, Caesar has to handle administrative tasks besides coaching students. When asked about how he has adapted to the change, Caesar told us that in the past, he only had to focus and reflect on himself. After becoming an assistant coach, he now makes efforts to reach out to other students and learn about their strengths and weaknesses before guiding them with different approaches – all for their benefit. Caesar also introduced the programme to his friends to encourage their participation.
Despite "graduating" from the Home Run programme, Caesar is still a runner himself, attending trainings from other running clubs and joining competitions from time to time. He shared that after participating in Home Run, he has not only become a faster runner, but also a humbler person with a broader vision: "I was one of the best runners in last year's Home Run programme, but it also showed me the world beyond that. There are many excellent runners with talent out there, so persistent training is crucial."
Aside from Caesar, Vincent has also witnessed growth in other participants: "Some ethnic minority students were more introverted at the beginning and would not open up to others. But halfway through the programme, they grew closer with others and became more cheerful. Some took the initiative to exchange thoughts with coaches and staff, or even joined other clubs' trainings together with their teammates."
Exercise is not only good for physical and mental health, but also for friendship. Vincent shared that one of the key activities "Community Exchange Runs", requires trainees design their own community running routes and take on the role of guides to lead trainees from other communities. Along the journey, they learn about the Link's shopping centre as a community hub and other features of the district. "This year, we have increased the number and enlarged scale of runs so that students can have more opportunities to exchange with other running teams."
Nurturing a passion for sports
Every eight sporting hours accumulated from Home Run will be converted to one "Hygiene Bag", which includes anti-epidemic supplies and lightweight sports equipment such as water dumbbells and resistance bands to promote a healthy lifestyle. With the help of Link's volunteers, the participants deliver the bags to underprivileged members of the community. As of the end of August 2022, the participants of last year's Home Run programme had achieved nearly 6,720 sporting hours altogether, which were converted into more than 840 Hygiene Bags. It is expected that more than 5,000 people will benefit from this year's Home Run programme.
In addition, the programme also offers online mental health talks in an attempt to promote awareness of emotional well-being among teenagers. Moreover, life planning events were held during the summer holidays. Last year, participants not only toured the offices of sports media and sports brands, but also joined a sharing session on planning a sports-related career. Vincent remarked: "A passion for sports doesn't necessarily mean a career as an athlete. We want to remind our students that there are a lot of opportunities in the community waiting for them to discover."