As a boy, 30-year-old Gary Chan began a love affair with books about animals and plants, losing himself in the pages and fantasising about experiencing the magnificent creatures and plants featured in his favourite books in the real world. He started realising his dream at an early age, spending afternoons looking for insects and butterflies near his secondary school. And when he went to college, he met like-minded friends who together observed butterflies in Hong Kong's countryside several times a week. Gary said that he has a "philatelic" mentality when it comes to observing butterflies: "I like butterflies because of the infinite variety of shapes and patterns. There are about 18,000 species of butterflies in the world, and you can never see them all."
After college, Gary extended his butterfly-watching footprint to include nearby Guangdong in Mainland China as well as Singapore, Malaysia, Thailand and Indonesia in Southeast Asia. He even travelled as far as Peru – twice – for a glimpse at a particular butterfly species!
Indeed, butterfly watching has been pretty much Gary's only reason for travelling. "I do in-depth research on the local species and ecological environment before every trip," he said. "Sometimes, I arrange for a local guide to lead the way. Since some rainforest areas are remotely located, I have to head out early in the morning and come back at dusk to allow enough time to search for the 'target'. Those trips are often tiring, but also extremely satisfying."
A memorable butterfly sighting in Peru
Gary's most memorable butterfly watching trips were in 2017 and 2019, when he flew all the way to Manu, a popular spot for bird and butterfly watching in the Amazon rainforest in Peru. There, he spotted the coveted Arcas imperialis, which is considered to be the most beautiful butterfly in the family of Lycaenidae butterflies because of its long tail, greenish scales on its body and shining wings that radiate pink and blue when it flies.
"While the purpose of my trips is to search for butterflies, in actuality butterflies have opened the door for me to different places in the world, giving me the chance to learn about various local customs and people. Earth is home to a rich and magical collection of creatures, and they have broadened my worldview and taught me to wholeheartedly respect nature."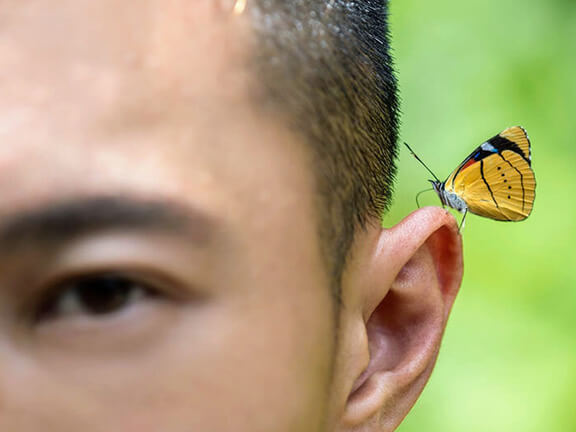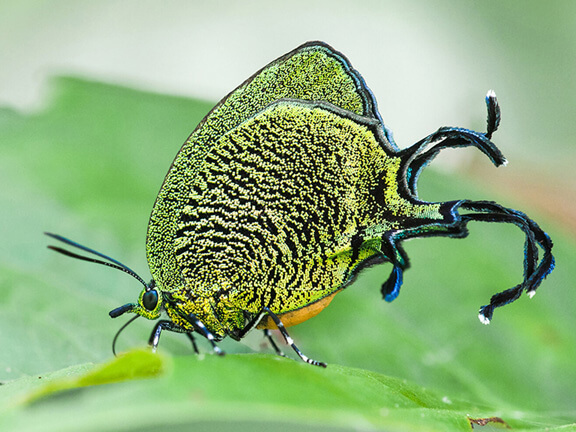 Childhood hobby turns into a profession
Gary, who originally studied Chinese herbs, started working in nature conservation education at the Fung Yuan Butterfly Reserve six years ago. In recent years, he also completed a Master of Science in environmental management, and he has gradually developed his childhood interests into a profession – and a way of life.
"An ecosystem is not like a building that can be demolished and then rebuilt at any time. Its destruction cannot be reversed," reflected Gary. "Butterflies are like an entry point for me to educate people on environmental protection. When we are able to preserve the flowers, trees, insects and animals in butterfly habitats, we are actually helping the entire ecosystem at the same time. Building conservation awareness in society takes a long time. I see it as a sort of life education, especially for children, and I think it is very meaningful."