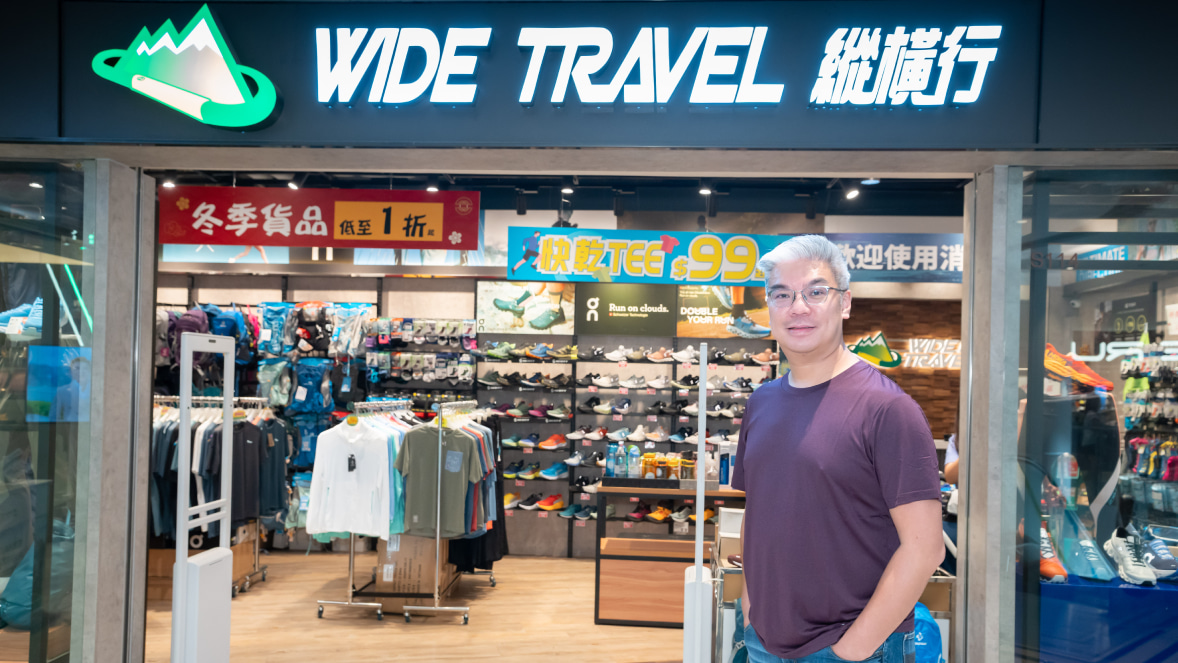 In the movie "Forrest Gump" starring Tom Hanks, the protagonist runs non-stop for over 3 years, paving his own way in life with a pair of "Magic shoes" gifted by his mother. While it sounds like a fantasy, we do need several pairs of good shoes for different occasions, especially when we are exercising. In this issue of Channel 823, we have invited Chris Chan, the owner of "Wide Travel", a one-stop outdoor gear shop located in Link's T Town, to recommend some outfits and equipment for running and hiking so that we can exercise on the "right track"!
Quality and Diversity
Chris has been a travel and hiking fanatic since young and this sparked the idea of establishing "Wide Travel" with some other avid lovers of outdoor activities. There are currently two branches in Hong Kong, one of which was opened in T Town seven years ago. As Chris put it: "The positioning of Link's malls and our business is very similar: both targeting consumers of general goods." "Wide Travel" aims to offer a wide range of top-quality outdoor products that are sourced worldwide, something that is obvious from the moment you enter the store: shelves of multicoloured shoes, backpacks that come in all shapes and sizes, and a variety of accessories that could leave you in a selection dilemma. The all-in-one store ensures that customers can easily find anything they want. You might go in empty-handed and confused, but chances are you would leave satisfied with a full set of first-rate outdoor equipment!
A COVID-Induced Fever of Running and Hiking
The pandemic has disrupted multiple aspects of our lives, among them is our fitness habit. "I still remember the time when the sales would spike in autumn and winter; now it's peak season all year long! I guess when travelling may be difficult during COVID-19, people pay more attention to their health and turn to outdoor activities." Chris also shared that the main customers of "Wide Travel" used to be middle-aged males, but he was seeing more younger faces and females now. As a result, the style of the products has become more diverse to cater for different demands.
Even locals who are born and raised in Hong Kong may overlook the unique scenery of its hiking routes intertwined with the cityscape. "Although Hong Kong is densely populated, finding a suitable route for running or hiking is surprisingly easy in any area. Fifteen minutes is all you need to finish the search."
Good Tools Do the Job
It is almost dazzling when you first enter "Wide Travel" and you might just feel a little lost. Indeed, there are different criteria for choosing clothing and equipment for different sports and this time, Chris is sharing with us some tips on picking the basic equipment for running and hiking.
Running
Clothing
For amateurs, an average jog will range between 30 minutes to an hour, so joggers will get sweaty within a short time. It is therefore best to choose T-shirts that are light, quick-dry and breathable.
Shoes
We all want to run like the wind, so every gram of weight matters. And what is lighter than the clouds in the sky? Chris recommended a Swiss running shoes brand that is known to make runners feel like running on clouds. The ergonomically curved sole provides great rebound and with the breathable mesh fabric, this pair of running shoes is a perfect balance between protection and comfort.
Hiking
Clothes
A hike is usually longer than a jog, taking around two to four hours, which basically means more equipment and supplies. In terms of clothing, the major requirements are anti-bacterial, anti-odour, durable and of course, UV protective.
Shoes
The conditions of hiking routes are unpredictable, so hikers have to be prepared for everything, including rock debris and sludge on the ground. Hiking shoes have thicker outsoles and larger cleats for generating friction. They are also more durable and sometimes waterproof to provide protection in different weather and route conditions.
Hats
Hikers stay in the sun for a prolonged period and hiking hats can effectively block the UV radiation. Chris suggested buying hats with earflaps for extra protection from heat stroke.
Backpacks
Water and other supplies are essential for long treks. Chris recommends bringing a multi-pocket backpack that is functional and waterproof. A big plus if it has an aluminium frame for better support and breathability.
For mountain runners, a vest backpack may be an ideal option. Its extremely light weight offers even more breathability and poses fewer limitations on runners, without sacrificing too much volume for other accessories.
After knowing all these tips, let us all gear up and discover the treasure of running and hiking!