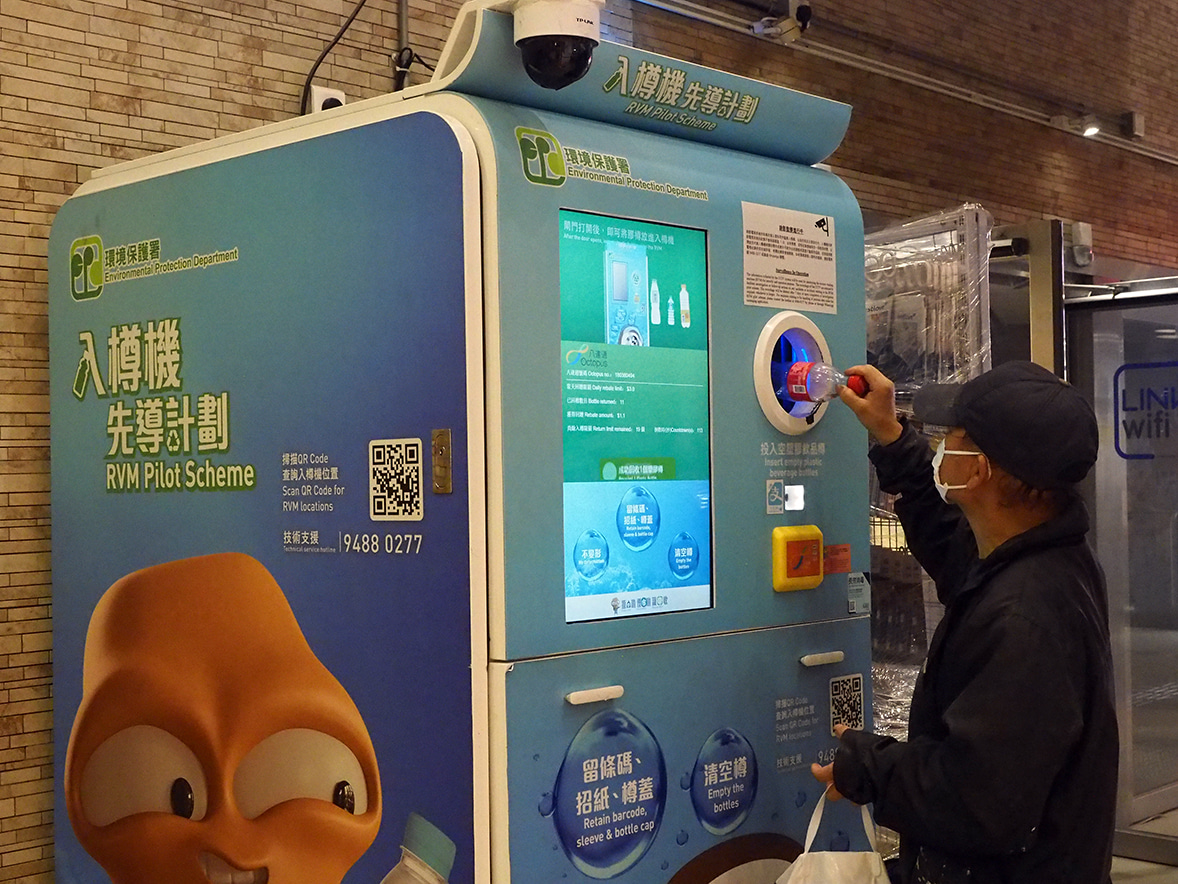 Since August, the number of reverse vending machines (RVM) installed by the Environmental Protection Department (EPD) at Link's properties has increased from 18 to 33. The additional collection points had contributed to the higher volume. Starting from September 2022, over a million bottles were collected each month for three consecutive months by the machines. Nowadays, people with just one or two plastic bottles can regularly be seen queueing up in front of the RVMs. And the best thing is: many of them are doing this not because of the money but for the sake of the environment. The EPD launched the reverse vending machine pilot scheme in 2021, with $0.1 cash reward or charity donation being offered for each bottle collected. Link began supporting the scheme two years ago and has since installed RVM machines in 33 of its shopping malls.
Tak Tin Plaza leads collection effort for three months in a roll
According to EPD statistics, the total number of bottles collected at Link's 33 shopping malls reached 1 million for the first time in September last year. That figure jumped to over 1.2 million in October, before pulling back slightly to around 1.03 million in November.
In fact, following the addition of new collection points, many malls have shown steady increases in collection volume, with the number at the top four malls each exceeding 50,000 bottles a month from August to October. Tak Tin Plaza in Lam Tin has been the top performer in each of those three months, before being overtaken by Wan Tsui Shopping Centre in the Chai Wan district in November (over 45,000 bottles). Other regular top performers include TKO Spot in Tseng Kwan O, Tin Shing Shopping Centre and Tin Shui Shopping Centre in Tin Shui Wai, Siu Sai Wan Plaza, Tsz Wan Shan Shopping Centre in Wong Tai Sin, Choi Wan Commercial Complex in Ngau Chi Wan, and Yiu On Shopping Centre in Ma On Shan.
No bottle left behind
One weekday evening, we went to Siu Sai Wan Plaza to observe how the community embraces the RVMs. There, we spoke to a middle-aged man, who came with a bag of about 30 beverage bottles. One-by-one, we saw him loading them into the machine, with the screen displaying information such as the number of bottles returned, the cash rebate amounts, and the remaining quotas. It turns out that the man would make a drop-off every 7 to 10 days. Other than finding the cash rebate attractive, he also sees the RVM pilot scheme's potential to achieve "real recycling."
Ms Wu, who came with only a single bottle, was another depositor we spoke with. Believing that "every bottle counts", she simply wanted to do her part to help protect the environment.
We next stopped by Wan Tsui Shopping Centre, where a young family came to the machine with a bag of about 10 bottles for their monthly drop-off. According to the mother, it is all about teaching the children about the importance of environmental protection. We also met Mr Lam, who would make a deposit every few days while on his way home. Like others we have spoken to, he is doing this because he believes the scheme to be truly effective in recycling plastic bottles.
Gaining the community's trust with "Real" recycling
Those bringing a large number of bottles to the machines are mostly local residents rather than merchants and restaurants at the malls, according to Patrick Chan, Link's Senior Manager – Property Management. "Most people probably believe that the RVMs are able to take the bottles to local recycling plants and achieve genuine recycling, while the cash reward certainly helps. There are some who would bring about 50 to 60 bottles to the machines each time." Asked about why certain shopping centres consistently outperform the others, he puts it down to the recycling habits among residents of different districts.
According to information provided by the EPD, the contractors collect plastic containers from the machines at least twice a week. And every time a machine is filled up, collection will be made within four hours to ensure smooth operation of the scheme. The RVMs are also equipped with self-monitoring function -- the contractor would be informed when a machine is approaching capacity. Bottle depositors having trouble can call or send a Whatsapp message to the RVM pilot scheme hotline at 9488-0277 to arrange for collection. In addition, the new generation of RVMs has also been upgraded in areas such as bottle identification technology, processing speed, and storage capacity.
Each machine comes with compression capability – each bottle collected would be compressed to reduce its size, thereby increasing the machine's handling and storage capacity. Take a 500-millilitre bottle as an example, each machine can store about 1,200 of such containers (compressed). The contractors can make collection from each machine as often as once a day, with the numbers being reported back to EPD.
Each person can deposit up to 30 plastic beverage containers a day and claim the cash rewards using an octopus card or Alipay (Hong Kong) account. When the daily quotas are full, the card or account can't be used again to deposit bottles for cash reward on the same day.
The 33 shopping malls with RVMs
The EPD plans to gradually increase the number of RVMs to 120, with 33 already installed at Link's shopping malls. The 15 added last year were at Wan Tsui Shopping Centre, TKO Spot, Yiu On Shopping Centre , Cheung Wah Shopping Centre, Tung Tau Estate retail area, Yu Chui Shopping Centre, Tin Tsz Shopping Centre, Homantin Plaza, Fung Tak Shopping Centre, Po Lam Shopping Centre, Chuk Yuen Plaza, Leung King Plaza, Fu Tai Shopping Centre, T Town, and Yin Lai Court Shopping Centre.

The 18 malls that have installed the machines during the previous years were: Siu Sai Wan Plaza, Hing Tung Shopping Centre, Nam Cheong Place, Tsz Wan Shan Shopping Centre, Tak Tin Plaza, Lok Wah Commercial Centre, Choi Wan Commercial Complex, Cheung Fat Plaza, Wo Che Plaza, Hin Keng Shopping Centre, Fu Shin Shopping Centre, Tai Wo Plaza, Choi Ming Shopping Centre, Choi Yuen Plaza, Tin Shing Shopping Centre, Tin Shui Shopping Centre, Kin Sang Shopping Centre, and Fu Tung Plaza.
To know more about the EPD's "RVM Pilot Scheme", browse this site.