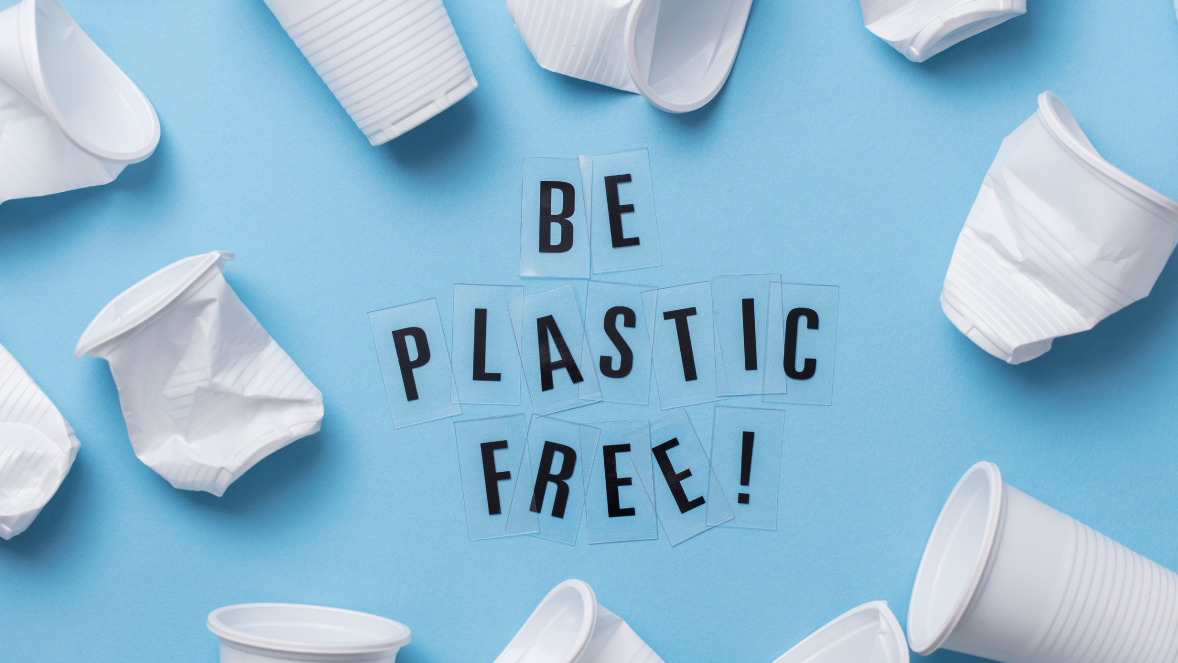 Plastics are everywhere – from food packaging to the microplastics in skin exfoliator. The more things we buy, the more plastic waste we generate.
According to statistics compiled by the Environmental Protection Department, an average of 14,000 tonnes of municipal solid waste are disposed into the landfills of Hong Kong daily in 2020. Among them, over 20% are plastics, with the total weight equivalent to about 90 double decker buses. As natural decomposition of these material can take decades, one can only imagine the extent of land pollution caused by plastics disposal. In this issue of Channel 823, we discuss the importance of promoting a plastic-free culture, and also share some easy steps that you can follow to help protect the environment.
Why Should You Go Plastic-Free?
Statistics shows that disposable plastic tableware alone amounts to 200 tonnes daily in Hong Kong. This has been exacerbated by the pandemic, as more people now order takeaway meals, adding to the amount of plastic tableware being dumped into the landfills. While single-use plastic products bring convenience, they also require an extremely long time to decompose naturally, leading to severe impact on our environment. For example, a plastic bottle may take 450 years to decompose, while material such as plastic bags and polystyrene foam take between 1,000 and 10,000 years respectively.
Indeed, the logic is quite simple: the less plastic we use, the more we can help to reduce waste at source. Less plastics means more space at the landfills, and fewer toxic pollutants being released into the air from incineration. Furthermore, preventing the release of plastics into nature is key to protecting the ocean and land ecosystems, for microplastics may enter the food chain and find their way into our food.
In contrast to Hong Kong, many countries have long promoted a plastic-free culture. Among the member states of the European Union, Denmark is the frontrunner in environmental protection. Since 1994, the country has implemented a plastic-free policy by imposing levies on manufacturers and importers based on the amount of plastics they use. In 2003, similar levies were extended to retailers. Greece is another European nation with a country-wide plastic bag levy, with each bag costing between €0.07 to €0.4 to the user. And the result has been encouraging – plastic bag use in the country has substantially decreased since the levy's implementation.
In Hong Kong, the government is currently planning to implement the Scheme on Regulation of Disposable Plastic Tableware by 2025. The scheme will see catering premises banned from giving single-use small plastic tableware, such as knives and forks, to both dine-in and takeaway customers. Depending on the results, the ban may be extended to larger items such as containers. The government has also planned to introduce pilot schemes, such as "Green Lunch in School" and a comprehensive ban on plastic cutlery in all government cafeterias. These are all evidence that adopting a plastic-free lifestyle is now part of a larger trend.
Three Ways to Reduce Plastic Use in Everyday Life
To eliminate plastic can be inconvenient, as many of us have been accustomed to using them. Yet a plastic-free culture can be built from changing some small habits in our daily lives. Here are some easy ways to start your plastic-free journey.
1. Umbrella Dryer Instead of Umbrella Bags
Small habits accumulated over time can cause serious impact to our environment. The use of umbrella bags is one example. According to the statistics compiled by Greeners Action in 2017, Hong Kong generates 14 million pieces of plastic umbrella bags in one rainy season alone.
But what is the alternative? Without umbrella bags, floors can easily get wet from the rainwater. Which is why, many shopping centres are now equipped with umbrella dryers. All you have to do is to put your umbrella into the dryer and shake off the water. More importantly, these umbrella dryers don't even add to carbon emission as they are not powered by electricity.
As a strong advocate of environmental protection and customer safety, Link is one of the first major mall operators to stop giving out umbrella bags. Besides installing umbrella dryers in all front entrances and spots of heavy foot traffic, Link has also added blower fans and arranged additional cleaning staff to keep the floor dry. The goal is to strike a balance between ensuring customer safety and protecting the environment, while encouraging customers to stop using umbrella bags.
2. Use Reusable Tableware and Recycle Plastic Bottles
In 2019 alone, Hong Kongers disposed of 1.55 billion drinking bottles. The total weight of this waste amounts to 2,690 double decker buses. This underscores the importance of reducing plastic tableware in the effort to build a plastic-free community. One thing we can all start doing now is to prepare reusable tableware and tumblers while dinning out. While picking up takeaways, we can ask the restaurants to not include single-use tableware, or we can clean and reuse them later. For plastic bottles, make sure to rinse thoroughly before taking them to the reverse vending machines or recycling bins.
To encourage plastic bottle recycling, the Environmental Protection Department has initiated the reverse vending machine pilot scheme. Each recycled bottle returns $0.1 instant payment or in the form of a donation to a charity. In all of Link's 18 shopping centres with reverse vending machines, it is convenient for the community to participate in the effort.
3. Bring Your Own Bag
Supermarkets or bakeries may offer plastic bags to customers. So from now on, when you visit these stores, try bringing along your own containers, freezer bags or thermos to help reduce waste.
Hong Kong is gradually warming up to the idea of naked shopping, and many shops nowadays encourage customers to bring their own containers, reuse plastic bags or use reusable bags, as they try to reduce unnecessary packaging. In recent years, these shops have started to make their ways into the community, offering a full range of groceries items from daily products to staple foods and seasoning to fresh produce. The Greeners Fusion in Lek Yuen Plaza and the Move A Little… in Stanley Plaza are among shops that are trying to bring the idea of naked shopping into the community. For those of you who want to try a plastic-free lifestyle, consider visiting these naked shopping venues!