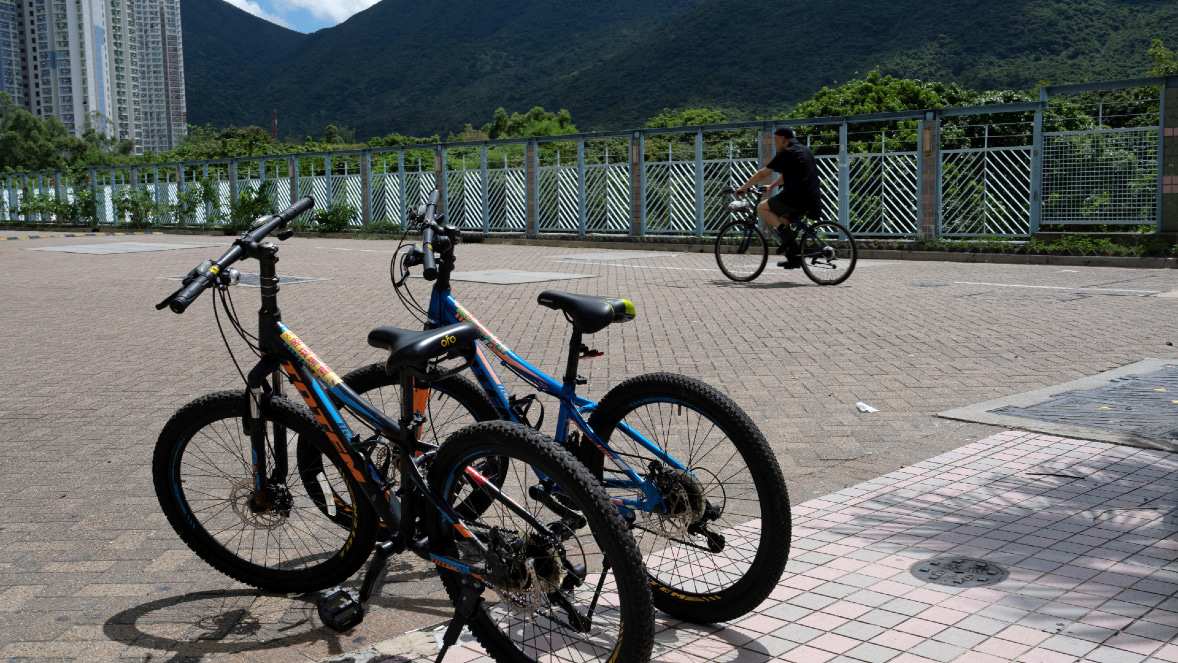 There's nothing quite like being in the zone, at your own pace, exploring the dynamic scenery in a bike ride, whether you're cycling by yourself or with a group of friends, racing to the finish line or simply enjoying the ride. Carrying forward this spirit across communities, Link's "Tour de Link" cross-district in-mall cycling tournament will make its return this August. How about polishing your skills on some of Hong Kong's iconic cycling routes before the competition? Let's check them out!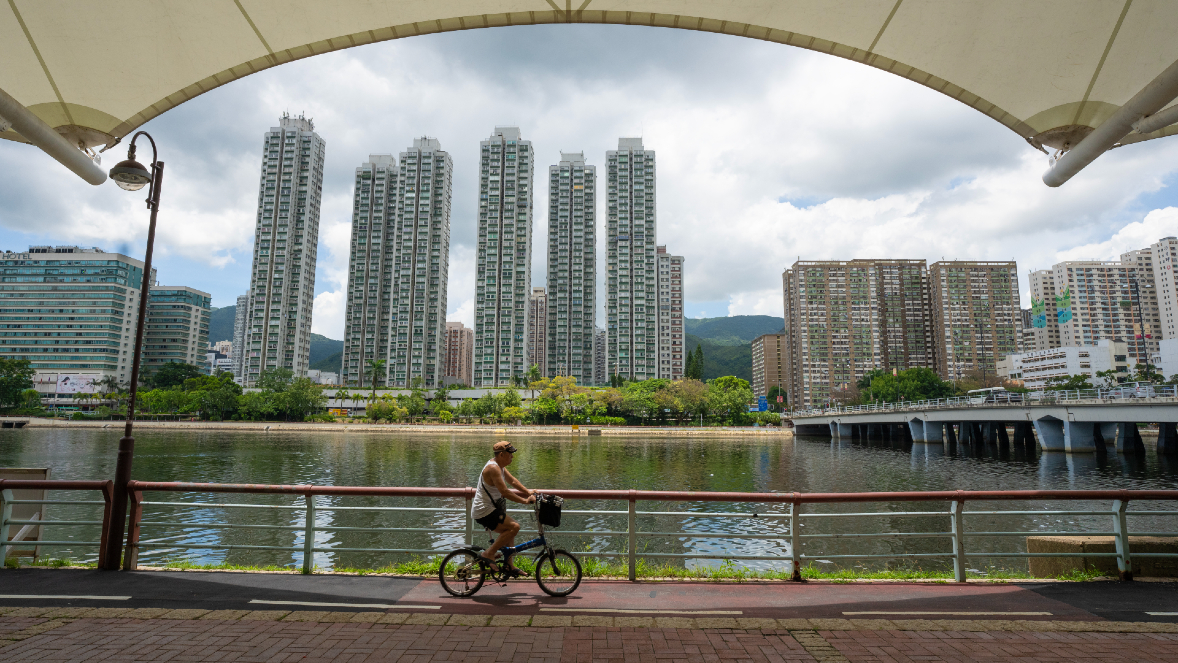 Sha Tin to Tai Po – Breezing by the water
Whether you start your ride from Tai Wai, Sha Tin or farther away, the moment you arrive at the tranquil banks of the Shing Mun River, a sense of serenity will wash over you. Those who love a peaceful ride will find themselves feeling cleansed riding alongside the river at a slower pace.
As a signature location within the community, you can find thematic decorations along the bike path, adding that extra bit element of surprise and fun for couples and families who cycle through the area!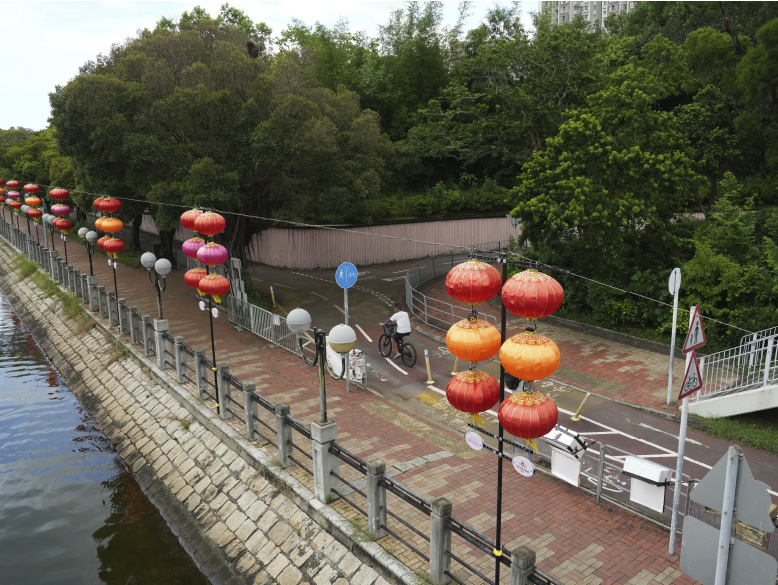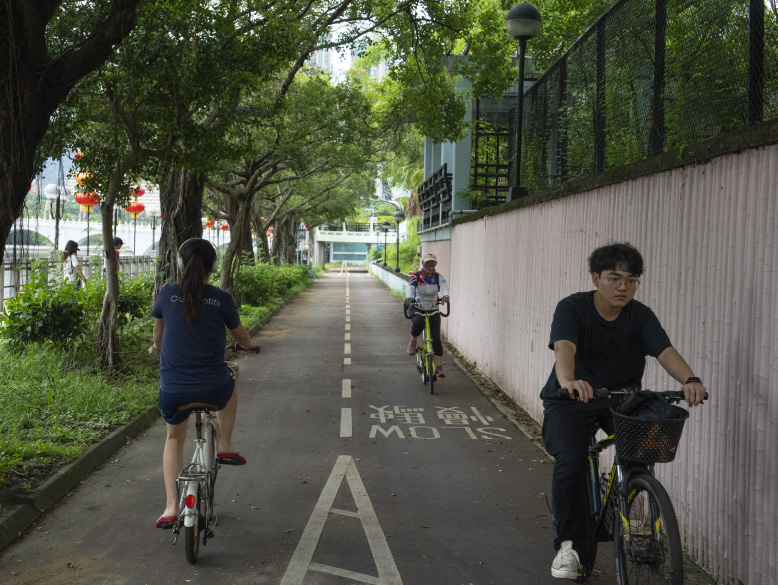 Sitting next to the river is Lek Yuen Plaza. Inside the shopping mall sits Shing Kee Noodle, a shop tucked quietly at the cooked food market frequently visited by Hong Kong cycling legend Wong Kam-po. The shop owner, Mr Cheung, shared with us that he thinks cycling has a unique charm, and that he was proud to witness the spawning of many cycling talents in Hong Kong.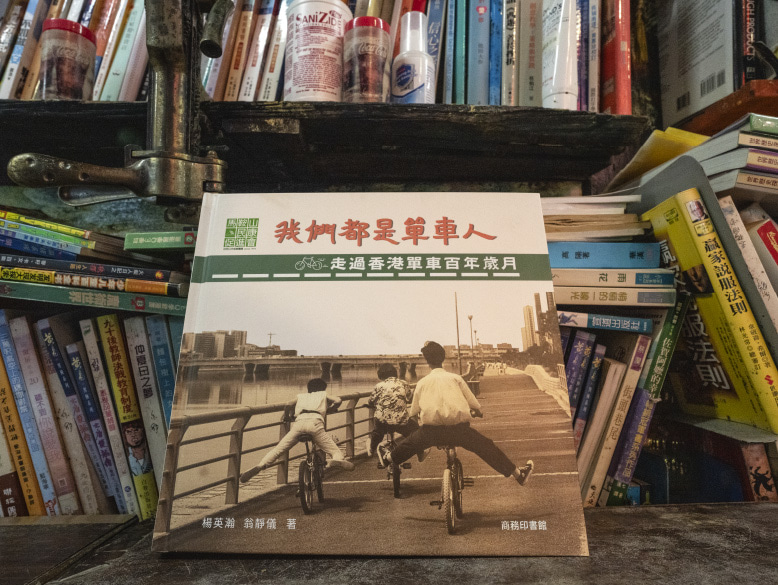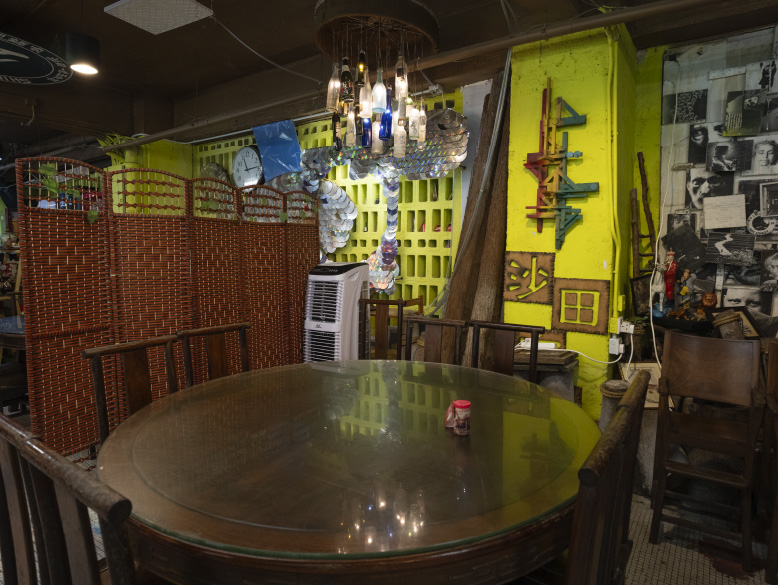 "Cycling was once simply our only mode of transportation, but it has grown to become a safe, healthy and accessible activity for everyone everywhere around the city. It is especially great for young kids, as it can foster their perseverance and self-awareness early on, allowing them to learn to hold accountable for individual efforts and result." As a Sha Tin local to his core, Cheung revealed that the Sha Tin - Tai Po cycling route has remained his all-time favourite for its beautiful scenery, earning the top spot of on his list of recommendations for visitors from outside the area.
Sha Tin to Tai Po – the serene route
Route: Shek Mun MTR station (bike rental) 🡢 Shing Mun River 🡢 Hong Kong Science Park 🡢 Tai Po Waterfront Park 🡢 Tai Mek Tuk (bike return point)
Duration: 2.5 hrs
Distance: Approx. 22km
Difficulty: Easy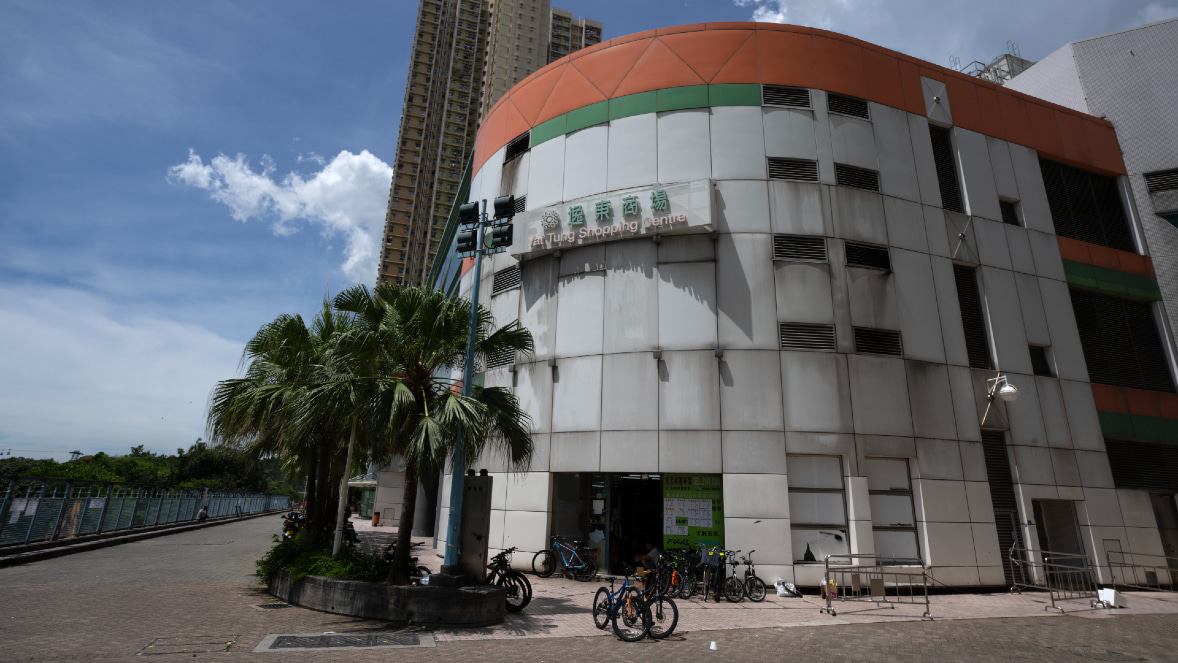 Tung Chung to Disneyland – Sunny all the way!
Those who embrace the sun will get a jolt from cycling alongside the North Lantau Highway in Tung Chung. This is the route where you want to spend the whole day out with your closest friends! Start off by filling up your belly and gathering enough liquids before renting your bike at Yat Tung Shopping Centre. Tung Chung Pro Bike is the only bike rental service close to Tung Chung town centre, so treat the mall as your base before embarking on a thrilling ride, as you won't get to replenish your supply until you reach our final destination! This route will pass through Sunny Bay and stay sunny all the way, which means your sunscreen will be your closest companion for the day.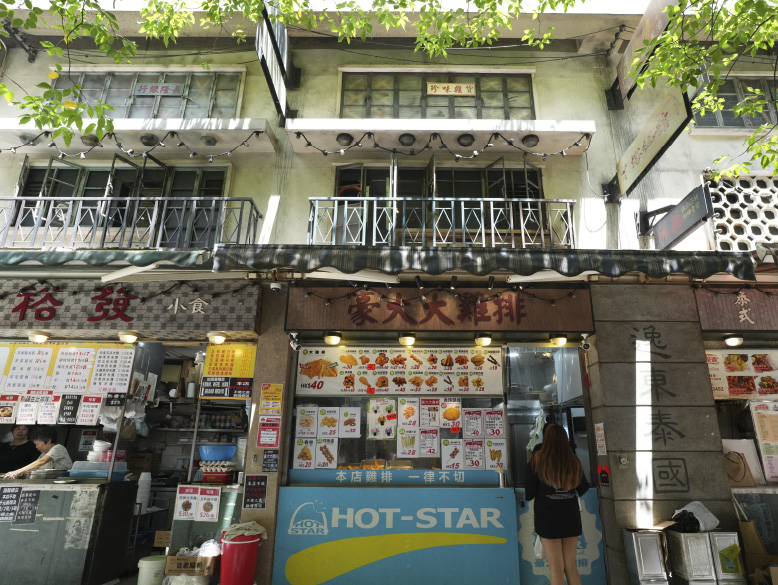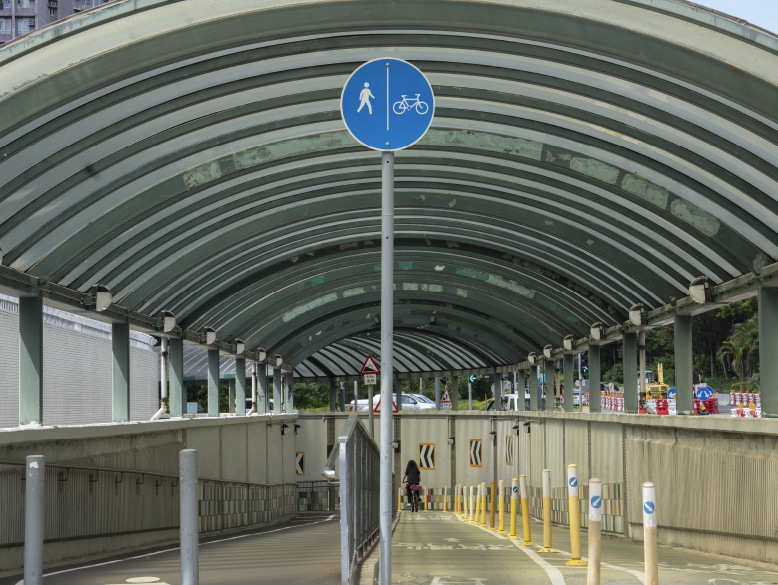 The bike path remains well guided and well-paved until you reach the highway. Be cautious and stay clear of vehicles. Collect your first reward at Sunny Bay, where you can choose to relax and picnic by the water. Ride a little further and you will reach Inspiration Lake near the Hong Kong Disneyland Resort, where you can park your bikes and enjoy a more private space with your company.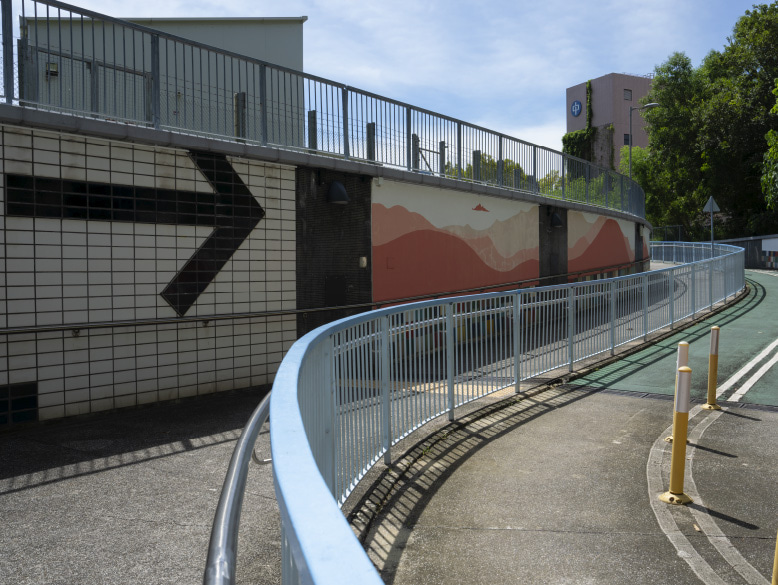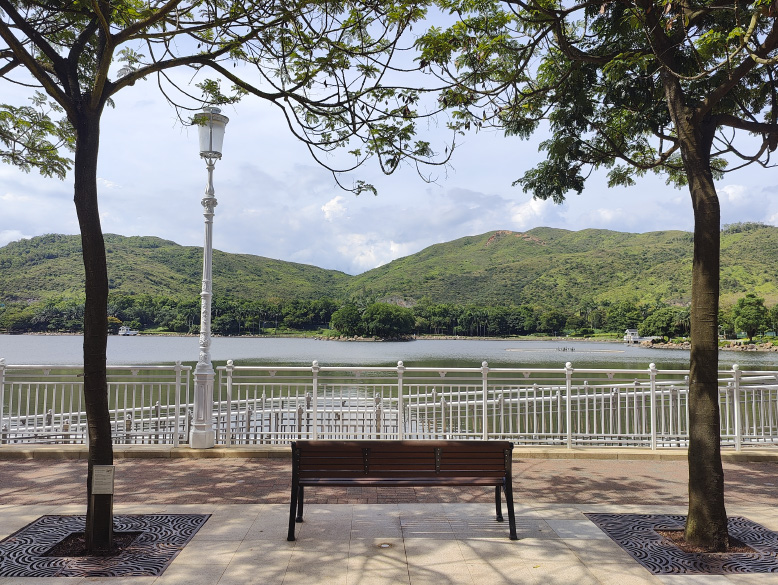 Tung Chung to Inspiration Lake – the sunny route
Route: Yat Tung Shopping Centre (bike rental) 🡢 Tung Chung New Development Ferry Pier 🡢 North Lantau Highway 🡢 Sunny Bay 🡢 Inspiration Lake (point of return)
Duration: 5 hrs
Distance: 24km
Difficulty: Moderate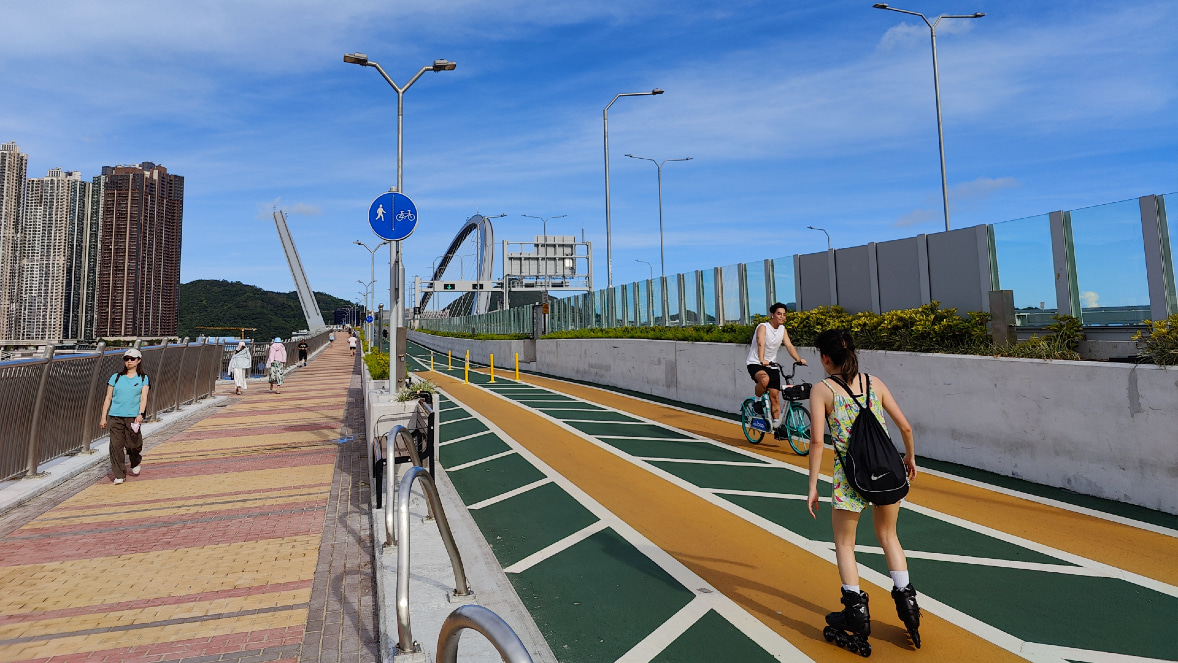 Tseung Kwan O – Above and beyond
The Cross Bay Link which opened in December 2022 introduced a 5-kilometres long cycling track starting from near Choi Ming Shopping Centre and ending near TKO Spot. The end points of this track form a nice loop, making it also a perfect training ground. There are bike racks for you to park your bike and seats right next to the track, in case you need to take a break and grab a bite. If you are a beginner to cycling, this track is the perfect training ground for you.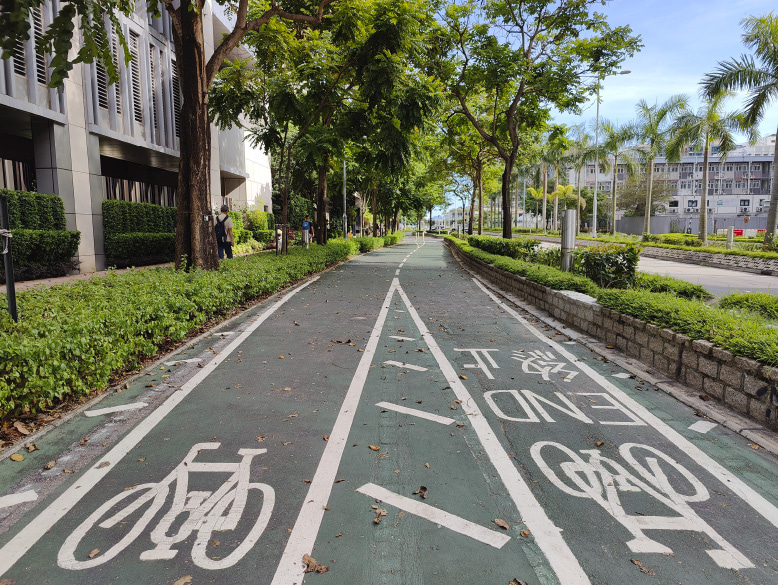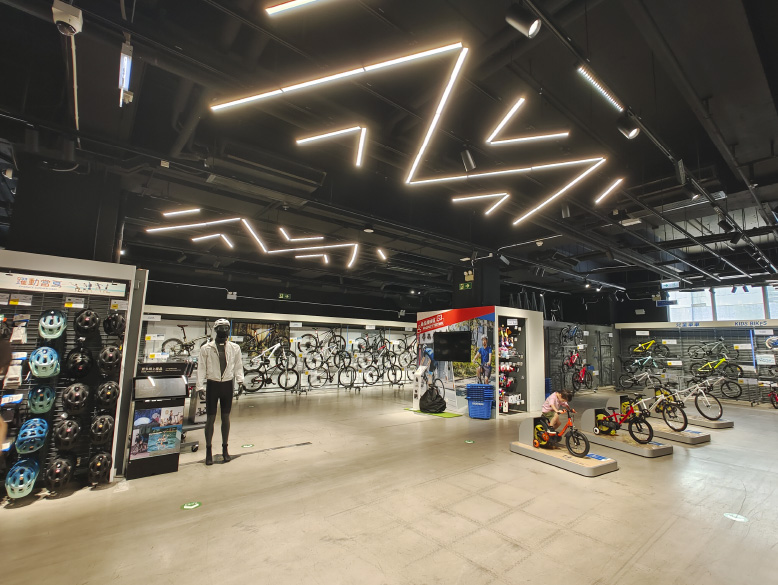 Don't have the gears to start? Fret not. TKO Spot houses the largest Decathlon in Hong Kong. Here, you can be sure to find everything you need.
Cross Bay Link – the friendly route
Route: TKO Spot 🡢 TKO Waterfront Promenade 🡢 Choi Ming Shopping Centre
Duration: 0.5 hr
Distance: 5km
Difficulty: Very easy
The Cross Bay Link in its entirety brought a significant impact to two communities - Tseung Kwan O and Lam Tin, by connecting them together. In a similar spirit, Tour de Link connects members from six different districts to compete for the honour of their home group, linking people and communities together through a healthy challenge.
Hong Kong's first and largest cross-district in-mall cycling tournament "Tour de Link" will return on 2 August, taking place from 2 to 13 August at Lok Fu Place, TKO Spot and Wo Che Plaza, and the second round will run from 16 to 27 August at Kai Tin Shopping Centre, T Town and Oi Tung Shopping Centre.
Gather your trusted buddies, family and neighbours and ride to spread the joy of victory from your communities. See you at the tournament!
"Wheelie" useful tips
Are you an absolute beginner to cycling? Fear no more. Here are a few useful tips to ensure a great time for you.
Safety first. Be sure to ask any bike rental shopkeeper to make sure proper functioning of the bicycle and opt for safety gear where available.
Ask for a bike basket if you have heavy belongings. The extra weight really makes a difference in longer routes.
Double check for return service. Some bike rental shops have pick-up points at the end or along a biking route. You might be asked to pay extra, but it's worth the time saved!