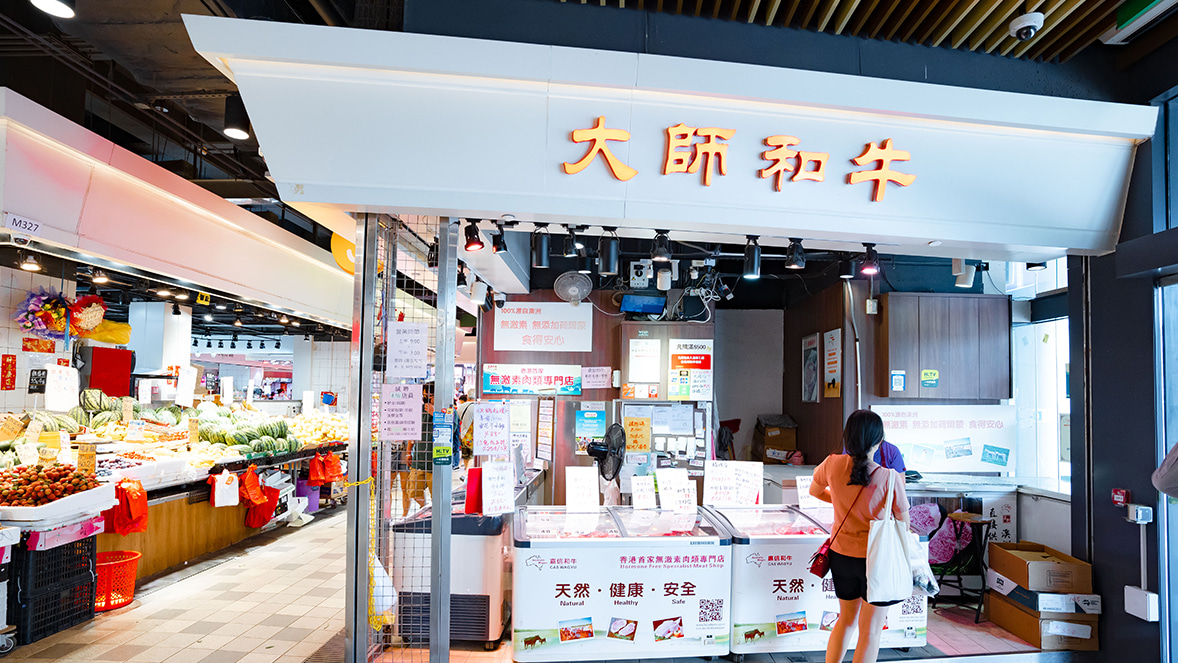 Buttery, juicy and flavourful, wagyu beef is a favourite Japanese delicacy for many. After two years of border restrictions, the country has finally opened its doors to tourists again. This obviously is music to the ears of wagyu lovers! Yet it doesn't take a trip to Japan to taste wagyu beef. Excellent Wagyu, the market stall of Tin Shing Market in Tin Shui Wai, carries full-blood wagyu reared in the ranches of Australia. What makes them special is that the cattle are purebred for all generations. Wagyu lovers who are not able to visit Japan can still feast on delicious wagyu beef in Hong Kong.
Selective breeding preserves the flavours of grass-fed Wagyu
Sven Fu, the founder of Excellent Wagyu, says that his father ran a business rearing and breeding full-blood wagyu cattle in Australia. This was the first Hong Kong company that reared Australian wagyu. His family's first venture has also provided the most reliable supply for the store, which opened in 2013.
"Many people are mistaken in thinking that wagyu is just a kind of cattle. In fact, selective breeding is necessary," explained Sven. "For example, some larger wagyu cattle do not yield marbled meat. Other wagyu cattle that yield marbled meat are small, and they may also get sick easily and do not produce offspring. Therefore, selective breeding is necessary to balance the texture of the beef, eventually yielding flavourful marbled meat."
Wagyu is the most expensive beef in the world, so naturally most people would laugh at the idea of opening a Wagyu specialty shop at a fresh market in public housing area. Not for Hong Kong. What matters, according to Sven, is whether what you are selling is value-for-money. And this is also the advantage of Australian wagyu, which he says has no fundamental differences from Japanese Wagyu as they originate from the same source.
As Sven explains, full-blood wagyu bulls of Australia can weigh one tonne, while heifers can weigh 800kg. They are significantly larger than the full-blood wagyu cattle in Japan. This has resulted in a lower per-unit cost for the beef. The cattle that supply wagyu beef at Excellent Wagyu are raised free-range and grass-fed in Australia. "If they are kept in crowded conditions, the cattle will be stressed. Their meat will not turn out marbled. Even human beings can become skinny due to stress. Therefore, the best environment for rearing wagyu cattle is open, green pastures." Sven points out that the great natural environment of Australia provides for wonderful wagyu. The cattle do not need massages and music.
Sirloin, Ribeye and Tenderloin
Excellent Wagyu carries 20 to 30 kinds of wagyu at its store. Amongst them the M9 and M9+ are top grade. Within this top grade, the sirloin, ribeye and tenderloin cuts are the most expensive. "You can pan fry a steak, grill it, and of course it is perfect for hot pot too!" Sven says that these three parts of wagyu would taste good no matter how you cooked them. His shelf selection caters to customers' preferences in preparation – sliced, diced or as a steak. Due to the pandemic, the people of Hong Kong have dined out less. With more people now being used to cooking at home, Sven saw the opportunity and rolled out the company's online store.
Besides wagyu beef, Excellent Wagyu also sells Angus beef and other affordable alternatives in the market. Regardless of the breed, all products at Excellent Wagyu are imported from Australia, "All our beef is hormone-free. We want our customers to spend their money for the best product," Sven said, adding that the store's aim is to bring high quality, tasty and healthy beef to his customers.