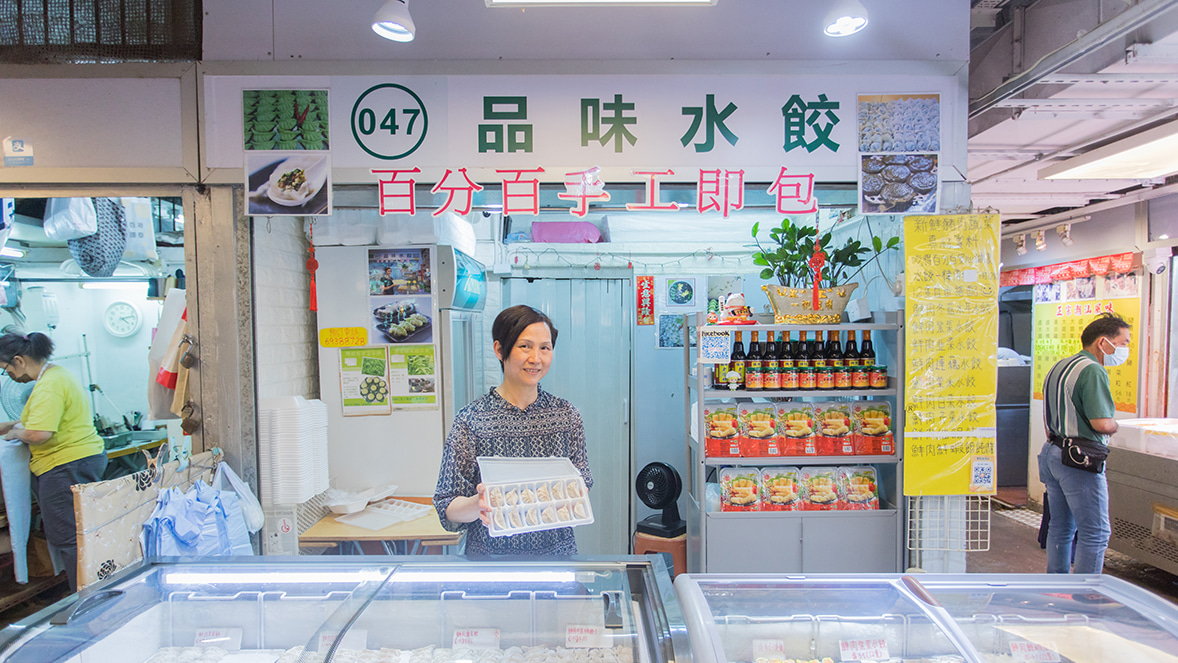 There is a northern Chinese saying that "nothing tastes better then dumplings," which shows the high regard for dumplings among traditional Chinese cuisine. Whether poached, pan-fried or steamed, the cooking of dumplings is simple compared to the intricate process of making them, which is why good hand-made dumpling shops often have huge number of followers. Located in the Lek Yuen Market in Sha Tin, Tasty Dumplings' signage boldly proclaims "100% Hand-Wrapped and Fresh" and the stall lives up to its reputation for making fresh and hearty dumplings.
Fresh and all-natural – a family business' commitment to quality dumplings
The stall owner, Ms Li scoops a spoonful of filling and puts it into the dumpling wrap. She seals the edges with water and shapes the pouch into its beautiful form. All it takes is a mere 10 seconds in her expert hands.
Ms Li oversees every aspect of the store, from wrapping the dumplings to greeting customers. With encouragements from her family, she set up her dumpling stall in Lek Yuen Market in 2018. "I used to make dumplings for my family during festive occasions and they loved my dumplings! The more I heard their compliments, the more I enjoyed making them. This has given me the confidence I needed to start my own dumpling business."
As a family business, it is Ms Li who decides on the fillings for the dumplings that the store will feature for the day. Her day begins at 8am when Lek Yuen Market opens, she makes her round of the stalls to look for the freshest ingredients. "This market has a wide variety of stalls. I start by getting fresh pork, and then I find the freshest veggies of the day. The decision about the types of dumpling to make depends on the ingredients." Ms Li sets a high standard for ingredient quality. She also only makes a limited quantity of dumplings each day and - when the dumplings are sold out, that's it! No frozen dumplings here! This is her commitment of selling only fresh dumplings to customers.
Ms Li's hand-wrapped dumplings are hearty and juicy. The dumplings are backed full of the natural flavours of the ingredients because she never puts any MSG into her fillings. Of Hakka origin, Ms Li learned from her mother the traditional dumpling-making skills. "I lived in our hometown in Mainland China when I was young. There was simply no such thing as MSG back in those days." Ms Li misses her mother's home cooking very much, and it is this nostalgia that motivates her to recreate, through her own hands, the tastes of home for her customers.
Pick your own dumpling – creativity in practice
Besides offering a range of daily-changing fillings, Ms Li has also given much thought into meeting customer preferences. All her dumplings cost $35 per dozen. Customers are free to choose any combination of flavours. They do not have to spend extra to taste all the flavours available. Each flavour is wrapped into a different shape: goldfish, wood fish, clams etc. "This is so that the customers can tell the different flavours by their shapes when they cook and eat them." Every detail of her business reflects her thoughtfulness and creativity.
Bringing joy with dumplings
Tasty Dumplings has been in business for more than four years and Ms Li's skills and thoughtfulness has earned her praise in the community. "My customers told me that the dumplings are delicious. Their compliments are all the reason I need to keep making these tasty dumplings!" Ms Li says she will keep running her business as long as the dumplings are able to bring joy to the community.