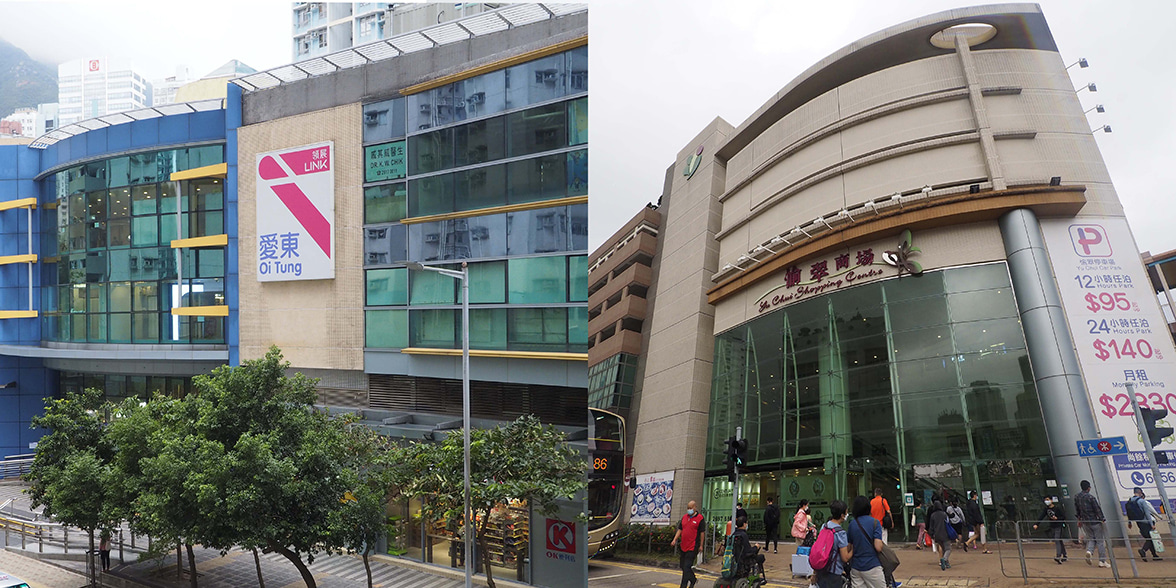 If shopping centres can cater for the elderly and the disabled, they are both improving the shopping experience and promoting inclusiveness. Two of Link's malls, namely Oi Tung Shopping Centre in Shau Kei Wan and Yu Chui Shopping Centre in Sha Tin, have recently participated in the "Charter for Age-friendly Shopping Malls" under the "Jockey Club Age-Friendly City" project. The scheme aims to encourage shopping malls to provide more elder- and user-friendly measures that could better take care of the needs of visitors at all ages.
For Wheelchair users: Ramps
What does it mean to become a chartered mall? If you are an elderly or a wheelchair user, then the barrier-free facilities in a mall would be one of your concerns. In Oi Tung Shopping Centre and Yu Chui Shopping Centre, there are ramps at the main entrances and outside the elevators for easier access of wheelchair users; low-levelled design are also present at the customer service counters of both malls, which accommodate the eye level of wheelchair users and facilitate conversation with the staff; accessible washrooms for disabled people are also more spacious with improved accessibility; near the major entrances and frequently-visited area, there are also clear signages and directory for the convenience of shoppers.
For the Visually Impaired: Tactile Maps
At the entrances of Oi Tung and Yu Chui shopping centres, there are tactile maps with braille signs. They are also equipped with voice navigation function to better tell the locations. Tactile paths outside accessible washrooms are also available for the convenience of the users.
For the Deaf and Mute: Cue Cards
The service counter in Oi Tung Shopping Centre is well-prepared for the deaf and mute community as they have prepared cue cards for different enquiries. On the other hand, the staff are also well-trained. According to Karen Cheung, Link's Property Management Manager at Oi Tung, regular training has been provided to front-line officers on how to assist visitors in need.
For the Elderly: "Age at Home" Centre
Peter Kwong, Link's Property Management Senior Manager responsible for the Yu Chui Shopping Centre, was glad about the move-in of the Jockey Club "age at home" Gerontech Education and Rental Service Centre in Jan 2021. The centre is open to public and provides trial and rental services of various gerontech products, professional evaluation, follow-up services and holds free educational events about gerontech. Due to the relatively high price of some equipment, rental service is an affordable way for the elderly and their caretakers to benefit from the latest technology.
Jeff Mau, Link's Director of Property Management, explained that Oi Tung and Yu Chui were chosen to participate in the "Charter for Age-friendly Shopping Malls" because they were well-equipped with barrier-free facilities, and they were in the vicinity of elderly homes. They would consider nominating other shopping centres as they saw fit.