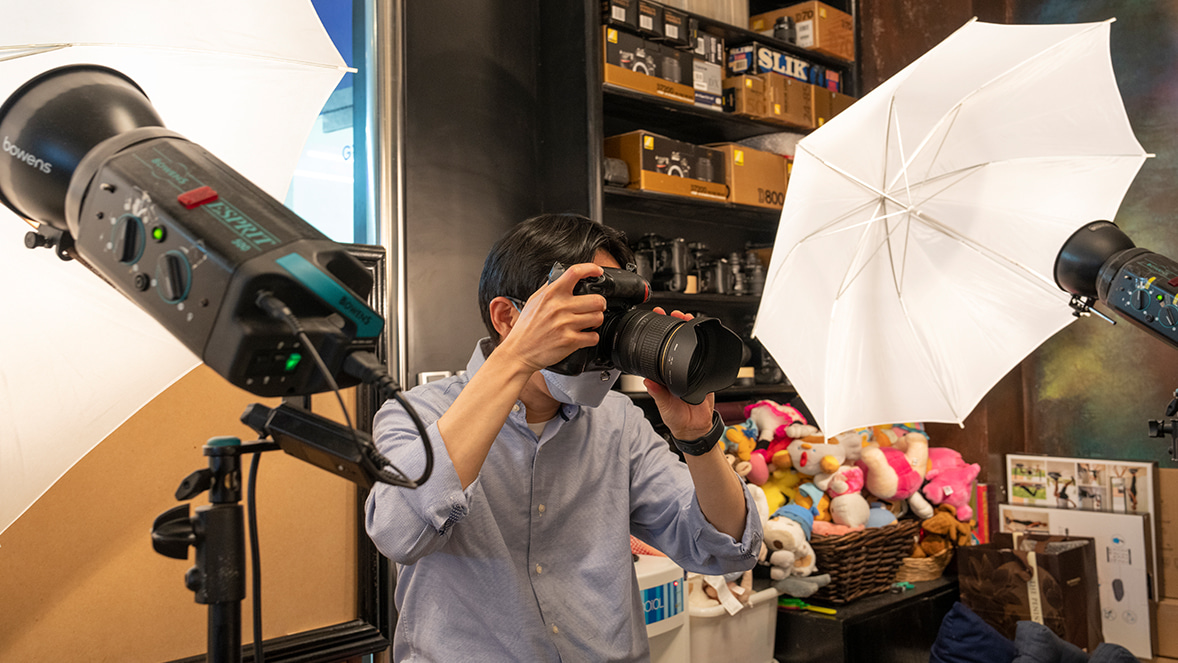 Photography has long entered the digital era. Unlike previous generations, most of us no longer rely on photo studios to chronicle the different stages of life. As more functions are being added to smartphones – even photocopying can now be done from home –traditional photo studios are becoming rarer and rarer as a result. Pak Hop Photo Company at Wo Che Plaza has remained an exception. For 42 years, it has been recording the joy and the sorrow of its customers and saving them into a collection of photo memories.
Whenever we walk past Pak Hop on the third floor of Wo Che Plaza, our eyes are caught by the gigantic oil paintings and pictures in the display window. Among them is a portrait of Yang Chen-ning, the Chinese University Chair Professor who won the Nobel Prize in Physics in 1957 – we couldn't help wondering who commissioned the work! "These works aren't aimed for regular families," said studio owner Jackson Yim, with a laugh. "Sometimes I would hire artists to paint these to decorate the shop." That said, the Professor was indeed a customer once, and the shop even carries his inscription. It was Jackson's father who commissioned the painting that was based on one of the Professor's pictures. According to Jackson, all the photographs were his father's work. And though the studio offers oil portrait service, there have never been many takers.
"This has been my life and livelihood since I was a child," said Jackson, who took over the studio from his father in 1997. Since arriving in Hong Kong as a refugee, his father had earned his living by photography. "When he was younger, he worked as a photographer at several wedding photography studios. Back then we lived on Castle Peak Road, and he only had to walk downstairs to go to work." That also made it easy for Jackson to visit his father at work. Fast forward to 1980, his father decided to open his own studio at Wo Che in Sha Tin, back then a satellite town at the early stage of development. Wo Che Plaza was the first air-conditioned shopping centre owned by Housing Department, being close to housing estates and the Chinese University of Hong Kong and Jackson's father saw the potential. To this day, the studio has moved from the second floor to the third.
Jackson had been helping out at the studio since childhood. With time, he has also developed an interest in visual arts. Since taking over from his father in 1997, he has witnessed many changes to the industry, from the rapid rise of one-hour photo processing to the replacement of traditional film with digital cameras. To stay in business, he knew he had to change with time and keep his eager to learn. "Other than fundamental skills, the essence of photography is to communicate and to understand clients' needs," he said. Indeed, the studio not only serves the local community, but also entertains regular patrons from other districts. Student ID and graduation photos are its main source of business. The studio also offers services such as film restoration and photo touch up.
Even though Pak Hop has been operated for more than four decades, Jackson admits he is still passionate about photography, receiving supports from many loyal customers "Let me tell you a secret, I couldn't even recognise some of customers. When they came for their university graduation photos, they would tell me how they used to come for student ID photo when they were little." To his surprise, his photography and image-processing skills can help others. "The elderly brought me their old photos which were not in good condition. I will restore them with digital techniques. Sometimes people would give me photos of their loved ones who just passed away that were taken with mobile phones. They tend to be of lower resolution so I would try my best to touch up and enlarge them."
Jackson derived much satisfaction from helping customers capture important moments of their lives. "Once, after an elderly picked up the photos, her family members called and thanked me and complimented on the quality. That was quite an incredible feeling." According to Jackson, whenever he snaps a picture, it is not just to record the face, but also to share joy and create happy memories for his customers.