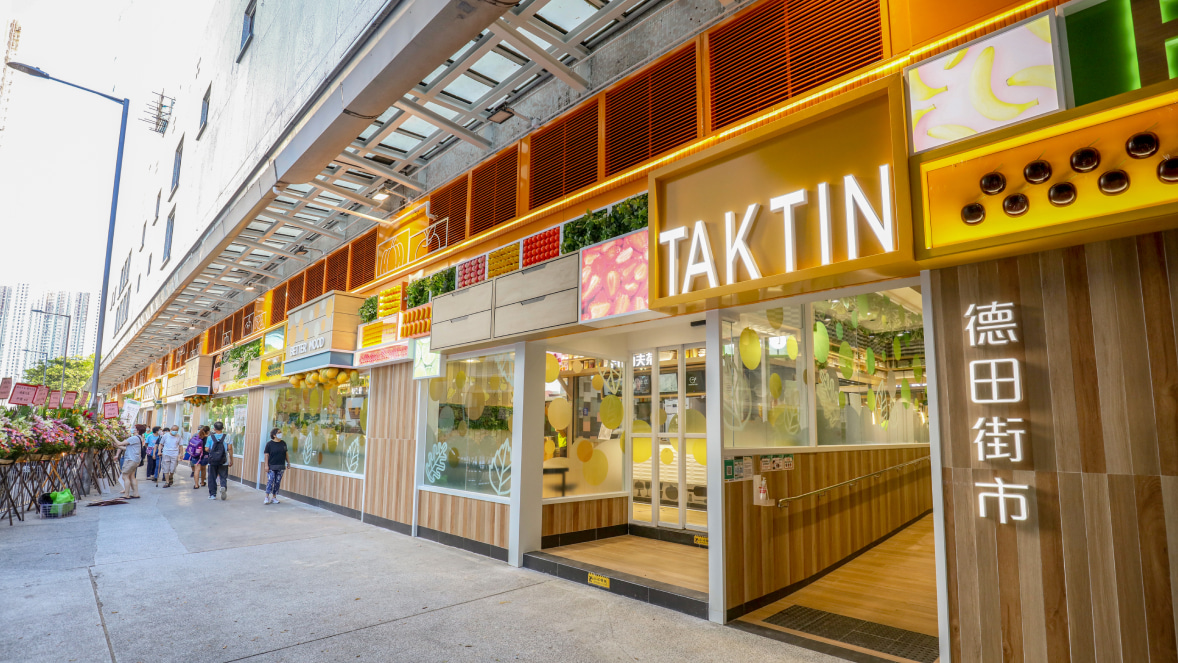 Besides buying groceries, what are some of the things you can do at the fresh market? How about snacking? Or doing a bit of charity work? Operated by Link, the newly reopened Tak Tin Market in Lam Tin allows you to do all these things in one place!
Tak Tin Market reopened in early August following a makeover. Other than the brighter and more spacious indoor fresh market, a food corner has also been added to offer shoppers a mixture of local delights and snack food from around the world. In this issue of Channel 823, we speak to tenants at the market to get their take on the newly renovated space and the features that are most attractive to shoppers.
Spacious and stylish – an upgraded shopping experience
The first thing that meets shoppers when they walk into Tak Tin Market is the refreshingly cool air from the air conditioner. That, coupled with renovation based on the theme of "Unboxing Freshness", brings an entirely new shopping experience. The revamped market now boasts nearly 30,000 square feet of shopping space and more than 70 merchants offering fresh vegetables, fruits, meat, seafood, snack food and other grocery items. But what really sets it apart from the old Tak Tin Market is the brighter and more spacious layout – merchants now are being grouped into different zones according to the type of goods they sell. Other enhancements include the refurbished restroom facilities, slip-resistant flooring and improved air-conditioning.
Joe Yu, who has been running a vegetable stall, Carmen Vegetable, in Tak Tin Market for 11 years, cited the layout as what impresses him most about the new space. "The fresh market used to be quite dark, to the point where people sometimes couldn't even see what's being sold. But after the renovation, it's now much brighter and cleaner, with shoppers able to see the whole layout in one glance. With the wider walkways, they also feel less congested, which makes the whole shopping experience more enjoyable." The reopened market has boosted both foot traffic and business, according to Joe. "There's been about a 20 to 30% increase in footfall. Also, in addition to the peak morning hours, we are also seeing more shoppers in the afternoon. In total we saw about 20% more in sales to our vegetable stall."
The Food Corner brings you snacks from around the world
Another "must-try" for all foodies is the Food Corner at Tak Tin Market. Here they can choose from a total of 14 stalls selling a variety of snacks from around the world including Southeast Asian snacks, gourmet hotdogs, Taiwanese drinks, Japanese Yakitori and deep fried foods. There are also local Hong Kong-style snacks such as steamed vermicelli rolls, cart noodles, siu mei, shredded chicken, braised dishes and sweet soup.
The Food Corner is bright and airy with a design that features floor-to-ceiling glass, and comfortable seating for diners. Another surprising feature is that business hours are now extended to 11pm, making it a hotspot for nearby residents looking for late night snacks!
In addition to the vegetable stall, Joe also runs the Phu Quoc Island Vietnamese restaurant at the end of the Food Corner. "The Food Corner has drawn a lot of young people and it's now much livelier and no longer just a hangout spot for the elderly."
First-ever fresh market digital membership program with food donation feature
Another new element added to the revamped fresh market is charity. Link has launched the first-ever digital membership program for its fresh markets at Tak Tin, under which members can earn points to redeem gifts, or even donate food! From now on, members can donate a pack of vegetables (weighing about two kilograms) with every 100 membership points. Link will settle the total donation points at the end of each month and use them towards buying vegetables from merchants in Tak Tin. The food will then be handed over to Food Angel to be distributed to needy families and individuals.
About Tak Tin Market
Address: Tak Tin Plaza, 223 Pik Wan Road, Lam Tin, Kwun Tong, Kowloon
Opening hours: 7am to 7:30pm
Food Corner opening hours: 7am to 11pm
Facebook: https://www.facebook.com/TakTinMarket