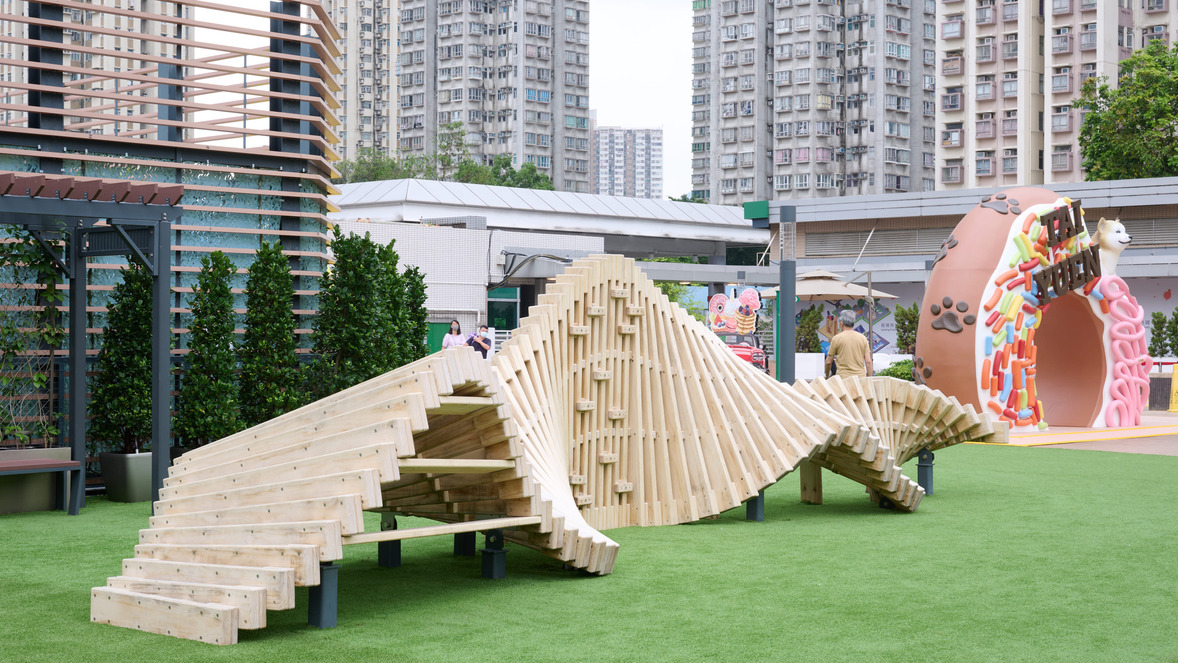 Imagine yourself lying down on a grassy slope with various recreational facilities nearby, and a place for people to walk their dogs. It sounds like a setting that can only happen in country parks, but it's actually a lot closer to where people live. Recently, Link completed a makeover of the podium at Tai Yuen Commercial Centre in Tai Po, transforming the first floor into a brand new rest area known as "Play, Eat, Tai Yuen ". The idea for this placemaking project is to turn a public area into a community-friendly facility for parents to enjoy family fun with their kids and pets together. At the same time, newly added artistic and recreational elements make the space even more attractive. Not surprisingly, the podium has become a popular hangout and check-in spot for families.
Located in central Tai Po, Tai Yuen Estate was the first housing estate completed in the district. It was the fruit of the Hong Kong government's new town initiative that began in the 1980s. With the growth of population, Tai Yuen Commercial Centre became one of the main shopping destinations in this area. From a fresh market to retail stores to restaurants, it meets all the needs of people's daily lives. Over the years, it has gone through many renovations and upgrades – the addition of an organic farm, rest areas that help to improve the quality of life and the environment for the local community.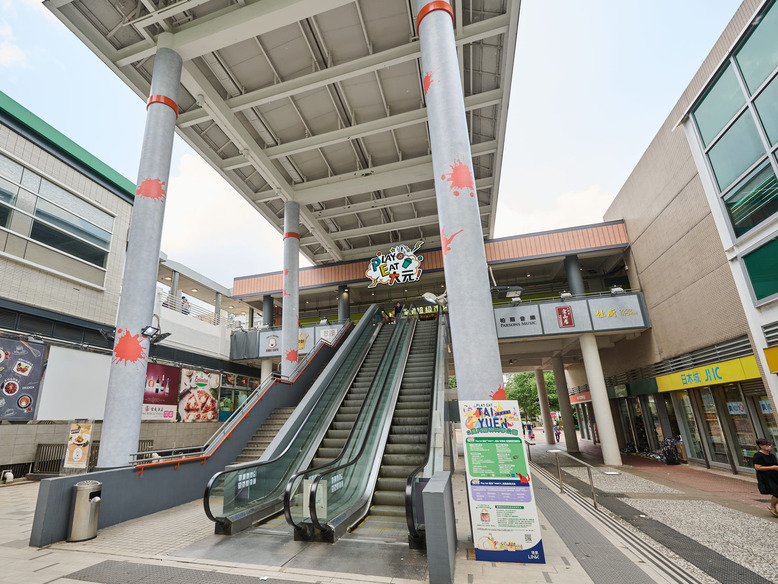 Discovering the new possibilities of public space
In recent years, Link's management team has been considering the potential of public space within its property portfolio. What they came to realise is that placemaking could be a good way to create value and connect the community. "Rather than simply renovating, we adopted a different designing concept that involved the use of public space to strengthen community bond and interaction, explained Jack Yiu, Senior Manager – Project (Hong Kong) at Link. Those shopping malls located in residential areas are closely linked to the lives of the neighbouring communities. And because of that, they need to be more than just a spot for retail and restaurants. They also need to play a role in helping to connect the community, and placemaking provides a good starting point.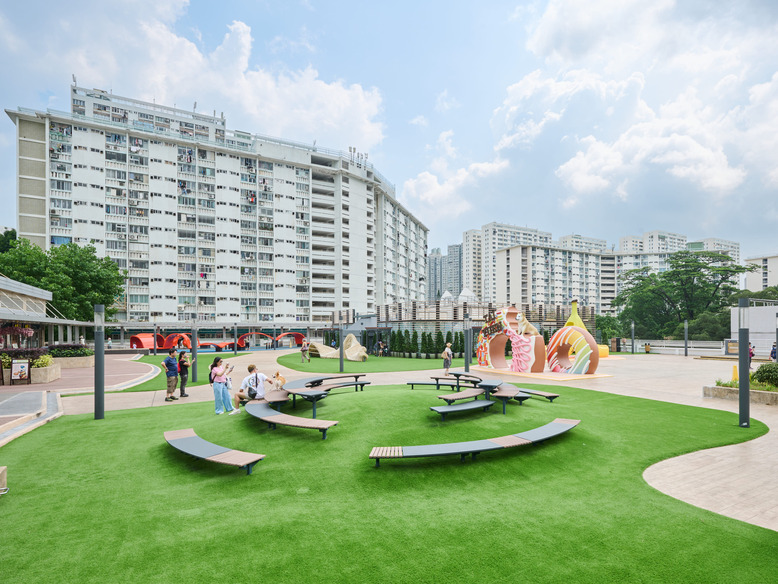 Following the upgrade project, the 66,000-square-foot podium on the first floor Tai Yuen Commercial Centre is now divided into three main areas: recreation, resting, and dining. Given Tai Yuen's proximity to Yuen Chau Tsai, a small island near Tai Po, the design team has added ocean and wave elements to the recreational facilities. The goal is to make the 20,000-square-foot "Play Eat Tai Yuen" pet-friendly park stand out from similar projects, which often follow a fixed template. The park includes a kiosk and other multi-purpose recreational facilities, such as wavy ribbons and wooden playscape. Some of these facilities are made of crude wood, adding green and natural elements to the setting. In addition, all building materials used in the projects are all bought from nearby regions to minimise carbon footprint.
What makes Tai Po stand out is the harmonious blend of concrete and nature. The district is filled with shopping malls and residential buildings, but there are also plenty of beautiful hiking trails, waterfront promenades, and country parks. Compared to most other districts in the city, Tai Po has more natural landscapes and a generally more relaxed ambience – some may even see it as an urban oasis. In fact, the artistic and recreational elements the team tries to inject into the new rest area in Tai Yuen are reflective of the "slow living" style that is now being adopted by more and more people in Hong Kong.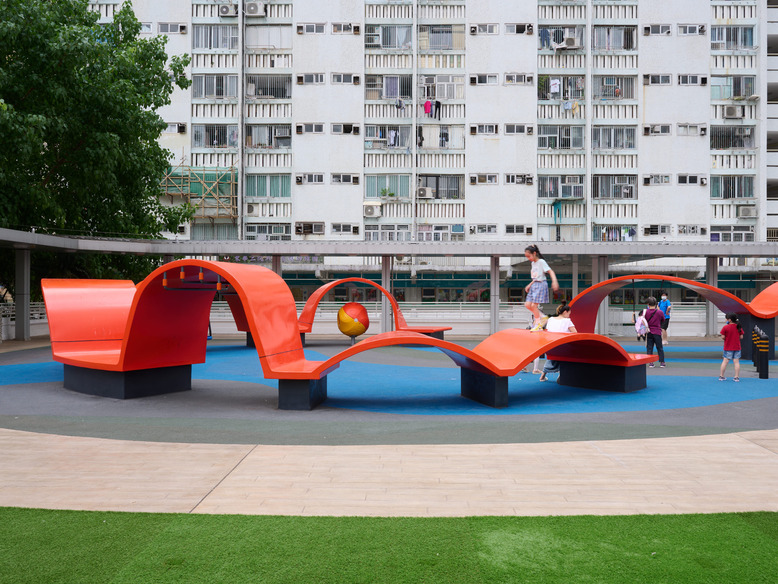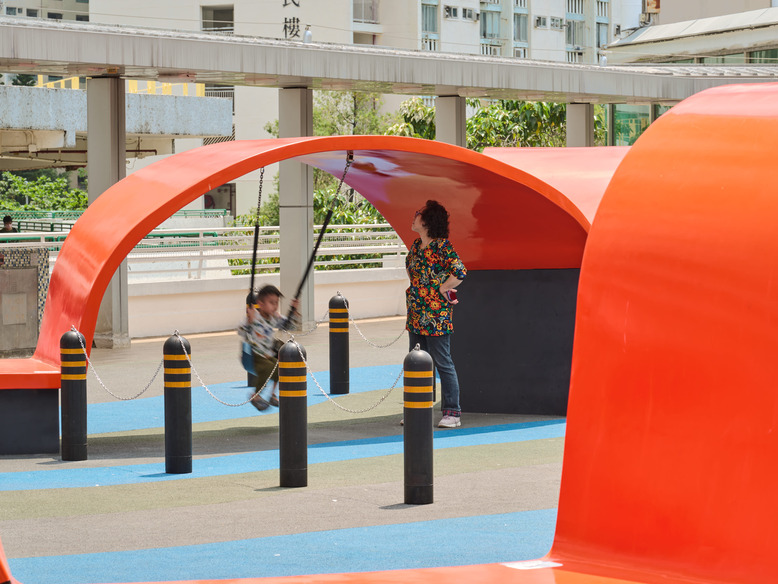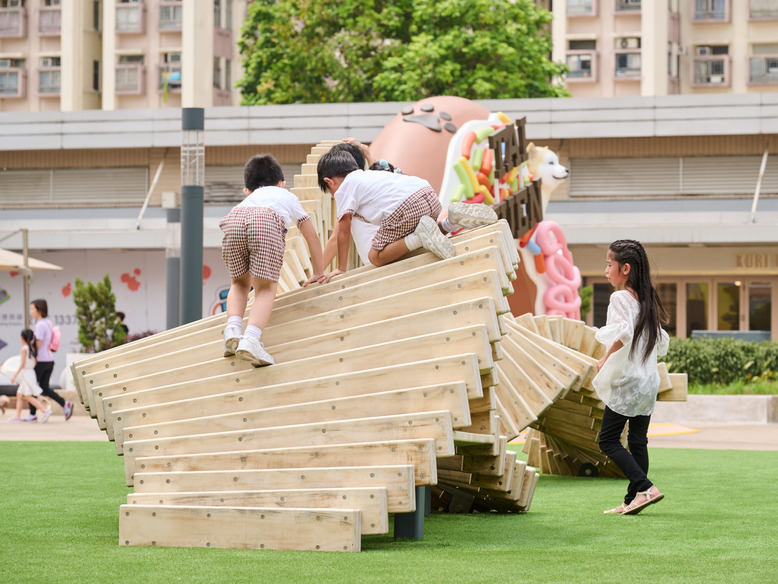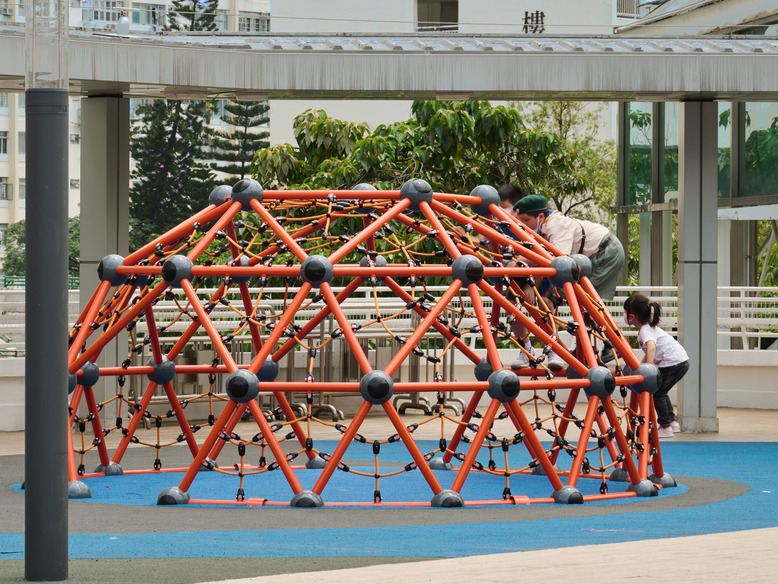 Living slow and sharing the joy with pets
As Jack explains, the platform design adopts contrasting colour schemes of orange and blue. It also provides a huge plot of land for growing shrubs and other plants to strengthen the interaction between people and nature. Besides, there are different platforms for people to sit on, a gazebo with a top made of plants. All these elements are added to help make the podium stand out from similar projects.
Rex Yu, Assistant Manager - Project (Hong Kong) at Link and another member of the team, explained that the grassy slope is there for people to rest and enjoy the sunshine during the day. At night, the soft yellow light emitted from the group of 22 tall lamps on the podium helps them to relax and enjoy the night view. Some may even bring their dinner there, making it a round-the-clock popular hangout spot.
The podium comes with numerous pet-friendly facilities, such as automatic hand sanitiser dispensers, pet food and water bowls, and dog carparks, etc. The eateries next to the park are a hub for pet-friendly restaurants. Along one of the walkways to the podium, a wall painting on the side of the escalator – the work by illustrator Maf Cheung, has become another popular check-in spot.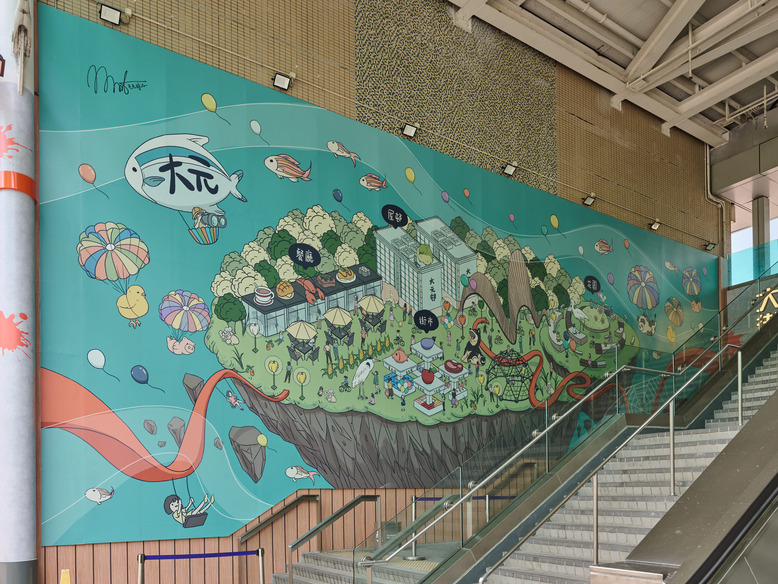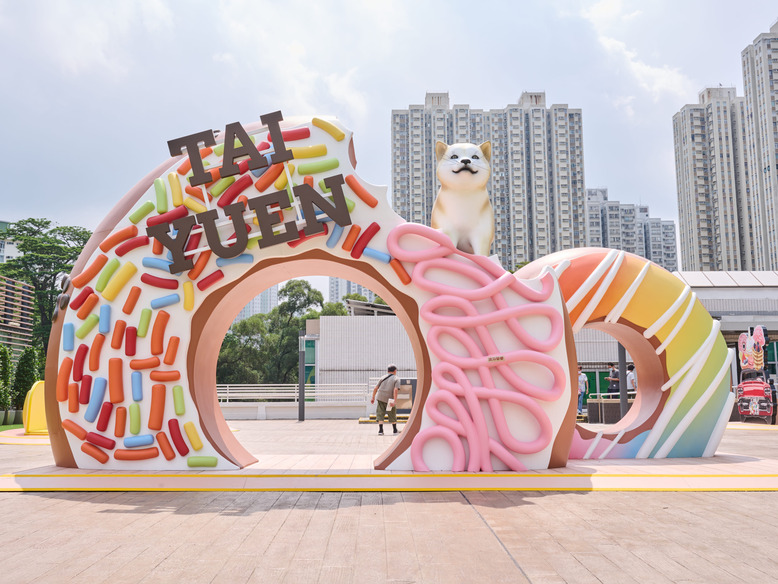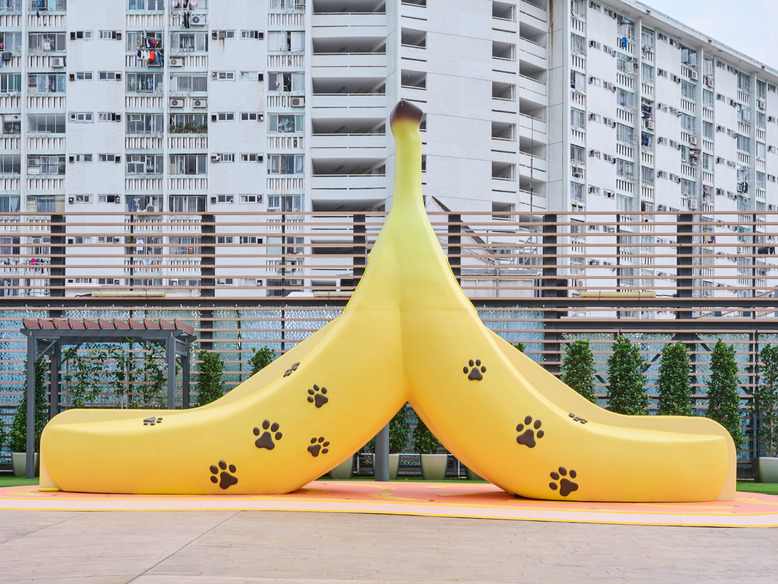 Promoting placemaking with students
According to Rex, other than Link's own design team, this placemaking project also includes the work by students from the Hong Kong Design Institute (HKDI) Landscape Architecture high diploma program. They were selected after taking part in a placemaking design competition organised by Link and HKDI in 2021. Some became summer interns and eventually got involved in the design of the Tai Yuen Commercial Centre podium. And the best part? For many of them, it was the first time that their ideas got adopted and used by a real project.
From now until 30 July, Tai Yuen Commercial Centre is hosting a series of pet-themed weekend activities, such as adoption days, and other pet-related carnival games. "We provide some basic facilities and use activities to liven up the place. This is what placemaking is about," Jack concludes.