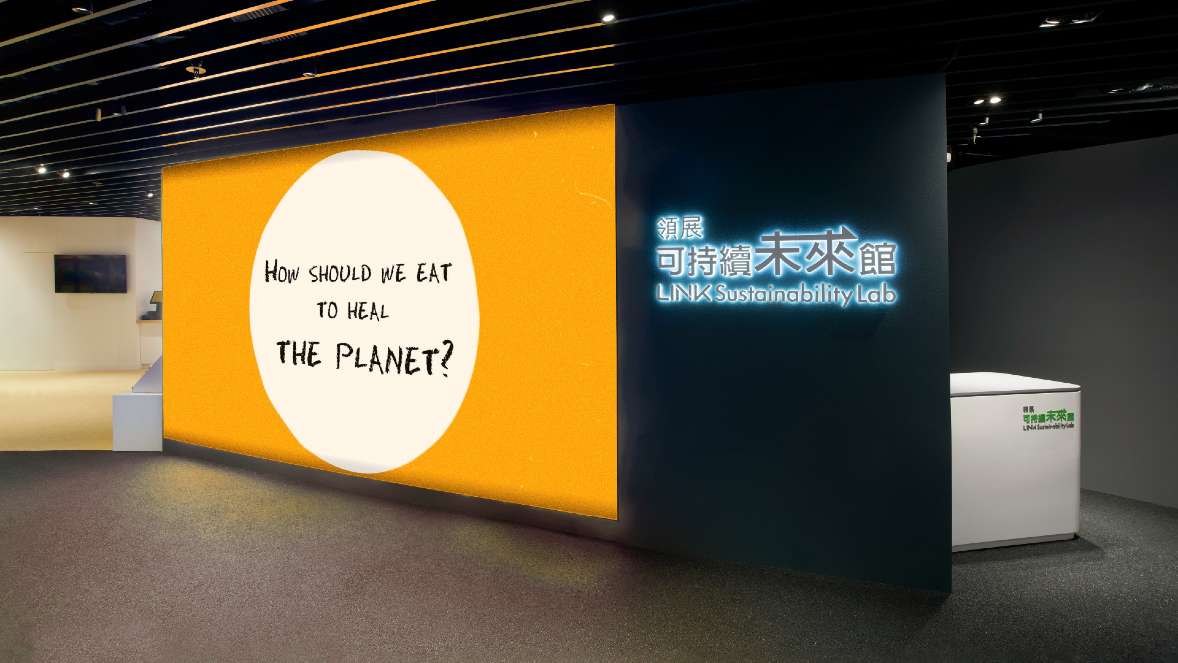 Link believes that sustainability is more than a lofty ideal – it can be achieved with efforts from all members of the community, and should be a part of everyday life that can be adopted in the community and accessible to everyone as a viable lifestyle and business model. On 23 April, Link Sustainability Lab officially opened its doors to the public with the purpose of popularising sustainability from within the community, and bringing together stakeholders to collectively promote sustainability. What can we do to contribute to the cause? Let's find out from the Lab!
An Accessible Education and Collaboration Platform for All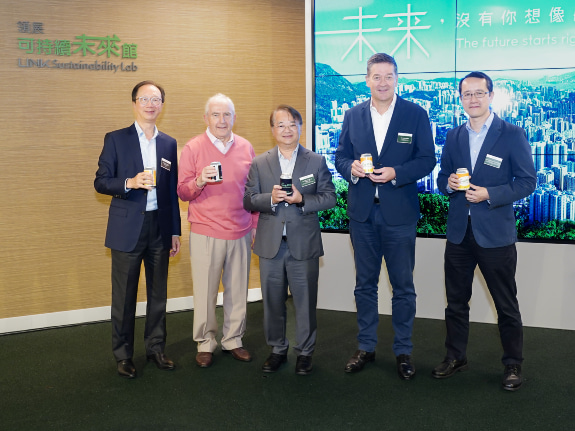 The Sustainability Lab is a not-for-profit platform for promoting public education and collaboration on sustainability. In this easily accessible Lab, Link shows to the public how the long-term vision of sustainability can be broken down into many actionable pathways and achievable smaller goals. By making sustainability accessible, actionable and achievable, Link hopes to popularise sustainability knowledge and demonstrate that sustainability can be adopted by everyone in the community as a viable lifestyle and business model.
The Lab also holds a wide range of workshops, talks and events on sustainability topics targeting different audiences by collaborating with NGOs, social enterprises, tenants, business partners, public bodies and even government departments. For the first six months, the Lab's first thematic exhibition is set as "Take Eat Seriously", exploring the connection between the modern food system and people's daily lives. Let's have a look at this hot sustainability topic!
Immerse Yourself in the World of "Low-carbon Food"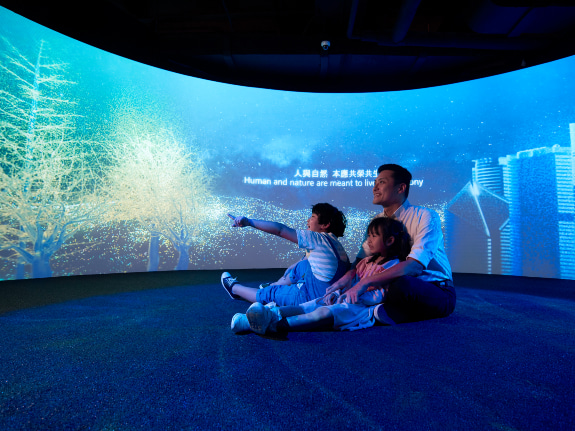 The first station of the Lab is a 270-degree immersive projection show at the entrance area. It serves as a space where visitors can stop and think about the intricate relationship between human being, nature and food. And yes, don't forget to check in on social media!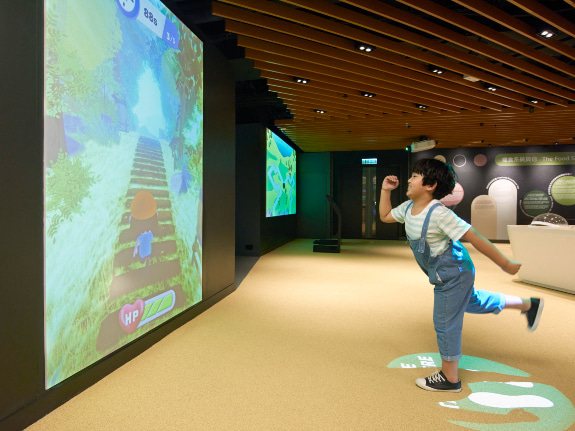 After building a foundation of knowledge about the modern food system, it's time to move on to the "real" experience. Stepping out from the projection zone, visitors will come into contact with a series of game installation. In collaboration with Future Green, these interactive games were designed to let them learn through play, such as the amount of carbon footprint generated in the entire food production process, and how much their regular diet can be classified into the category of low-carbon food choice.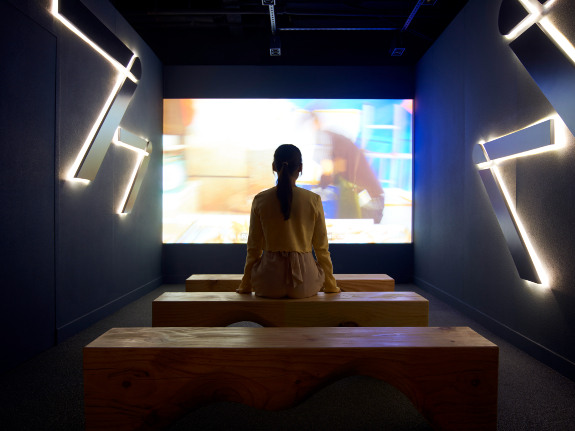 Hong Kong can do "farm-to-table"?
One of the important elements of low-carbon diet is buying locally grown food. As it turns out, Hong Kong has no shortage of high quality local food. Inside the theatre, you can hear about the benefits of local farming and shellfish farming from local farmers and fishermen. A senior Western chief also shares her personal experience in operating a more sustainable business model by sourcing local ingredients.
If you want to know more about local farming, the exhibition area also features picture books that introduces the in-season period of 16 kinds of local crops. From them, visitors can learn about the best times to buy seasonal fruits and vegetables. The goal is to encourage more people to buy locally grown food, which can help reduce carbon emission from food transportation. There will also be information about food extinction and food technology. Hopefully, they can inspire us all to think more about issues related to food crisis caused by climate change.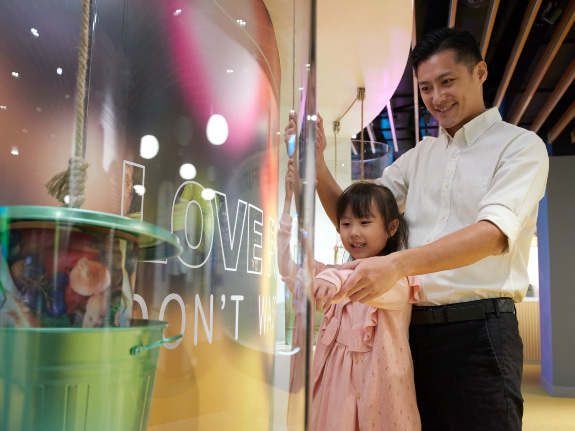 At present, the daily food waste disposal in Hong Kong amounts to 3,400 tonnes, which is equivalent to the capacity of 200 buses. Have you ever wondered how much food waste is generated by a four-person household in Hong Kong every day and every month? Let's pull the food recycling bin, feel its weight and learn how to take one more step to reduce food waste!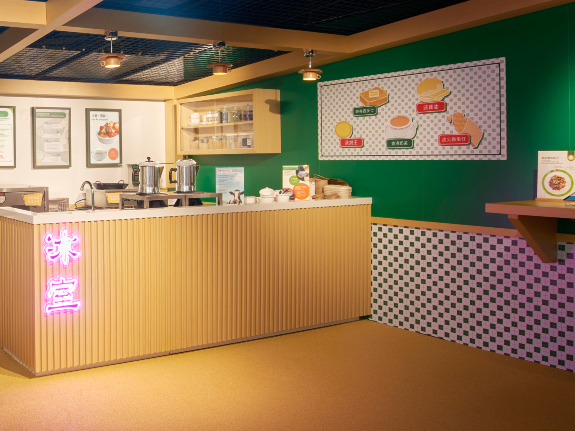 Understanding Sustainable Operating Model from "Cha Chaan Teng"
Hong Kong is a gourmet paradise with many people choosing to dine out regularly. In fact, F&B accounts for one of Link's biggest tenant groups. The Sustainable Cha Chaan Teng is a product of the partnership between CLP and Grassroot Initiatives. Its goal is to inspire Link's tenants and other F&B industry peers to identify the balance between sustainability and customer satisfaction, through showcasing sustainable solutions from ingredient procurement, menu design, kitchen equipment, cooking methods all the way to takeaway packaging.
With "plastic-free dinning" being one of the major issues facing the sustainable F&B operators, the Lab also introduces seven kinds of oft-encountered plastics and the steps required to recycle them. It also displays a collection of lifestyle products made of recycled plastics to help visitors understand the "reuse and rebirth" of plastics.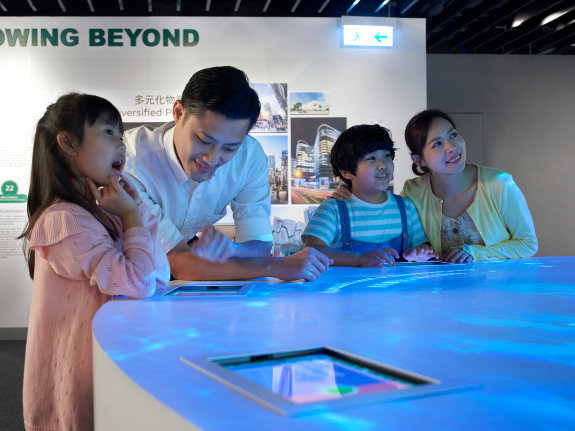 A showcase of Link's sustainability journey
As the operator and founder of this collaboration platform, the "Link Zone" showcases the sustainability journey of Link, including its pledge to achieve net zero in 2035 and its various initiatives to lower carbon emissions and contribute to a greener city. Here, Link also introduces its flagship charity and community engagement programme and various placemaking initiatives which aim to make spaces better for the enjoyment of members in the communities that we serve.
As well, the Lab itself is also a great showcase of sustainability solutions in practice, as Link has implemented many environmentally friendly measures within this space, such as the use of projected image that help reduce both electricity and heating conception, as well as recycling water used by the air-conditioner system for plants in the Lab.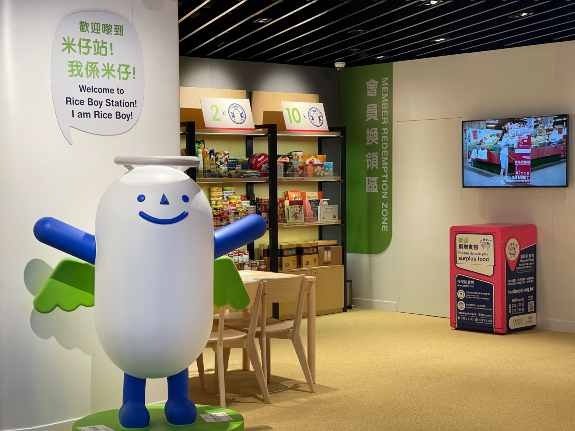 First green mart "Rice Boy Station" by Food Angel
The last stop of the Lab is "Rice Boy Station," a collaboration between Link and NGO Food Angel which serves as a single stop that provides retail, donation and food support services to help alleviate food waste problems.
A display of dried food donated by companies and individuals, allowing Food Angel's food support service users to redeem food at their choices with the "Rice Boy Tokens" given by the NGO each month.
Offering a series of products promoting the concept of sustainable development, including Food Angel's "Rice Boy products", locally-grown dry food, environmentally-friendly cleaning supplies and handicrafts by local artists. All the net proceeds, after deducting expenses, will go to support food recycling and food assistance programmes by Food Angel.
We believe sustainable development can only succeed when everyone in the society works together. With this in mind, Link Sustainability Lab seeks to bring together like-minded partners from all segments in our society to share the practical solutions and experiences about sustainable development. We look forward to greeting all of you at the Link Sustainability Lab and seeing you start the first step of your personal sustainability journey.
Basics of the Link Sustainability Lab:
Location

3/F, Zone A, Lok Fu Place

198 Junction Road, Wang Tau Hom, Kowloon

Opening Hours

11am to 7:30pm (admission until 7pm daily)

Monday to Sunday

Admission

Free of charge; Walk-in allowed; Guided tour can be offered to groups of 12 or more with prior arrangement

More Information: