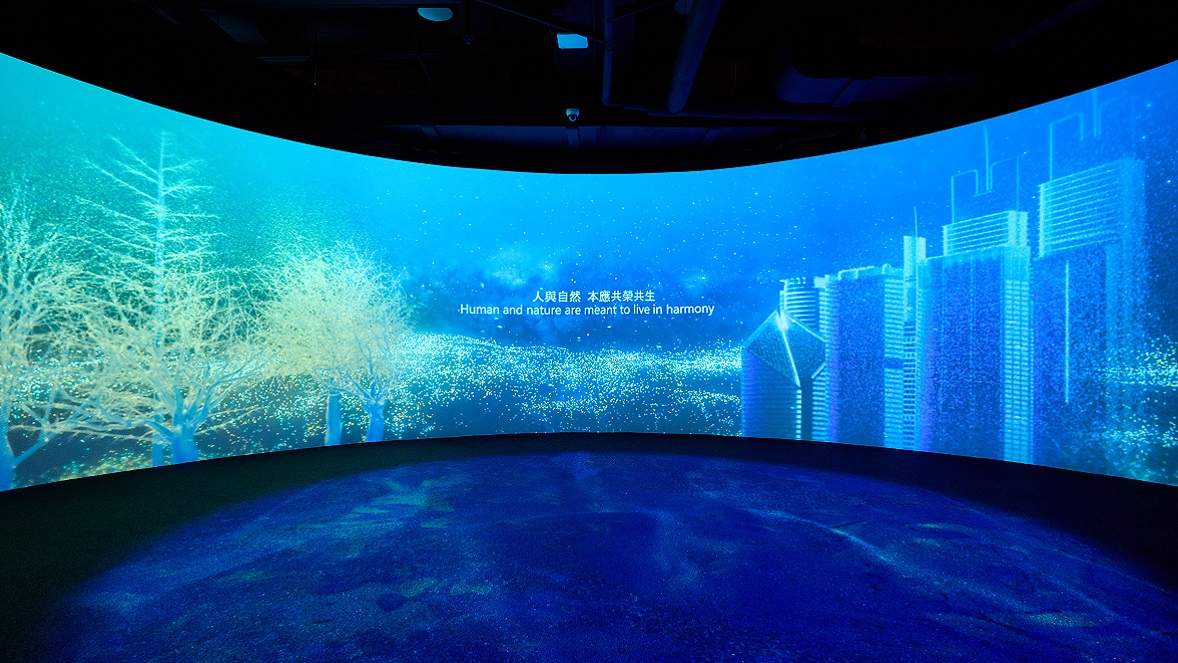 Last July, Ka-yu Wong, Senior Manager at Link's Corporate Affairs, was told she had a new responsibility: running the Link Sustainability Lab. Channel 823 caught up with her recently at work as she watched some visitors reading through text on the Lab's display boards and others trying out some of the Lab's interactive games. She recounted her experience over the past months: "When I was given the mission, I was a bit lost about where and how to start. Sustainable development is a broad concept. Our colleagues from different departments have had many discussions over the past few months and there were plenty of struggles, debates, and even doubts being put forward. Luckily, many of Link's partners participated at the planning stage and offered the team practical advice and help. "And the public response since the Lab's opening has been encouraging."
Using teamwork to complete an impossible mission
Some thought it was "mission impossible". Yet her team managed to complete the entire project – from inviting tenders from contractors in September to the Lab's grand opening in April – in merely seven months. The design of the venue and the content of the exhibition and the Lab's interactive gaming features were all started in October, while basic renovation was done in February. And by the end of that month, all exhibition content was confirmed.
"We received professional advice and recommendations from different teams within Link: project and engineering, asset management, sustainable development, marketing and human resources, in addition to different functions with corporate affairs," said Ka-yu, who became known as "The Curator" to her team. "We also identified partners who were able to work with us on ideation. Together they made the project execution very smooth."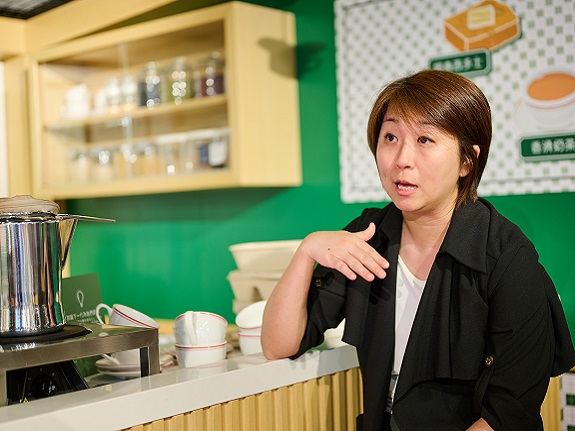 So what are the main challenges of a project of this magnitude? According to Ka-yu, meeting the construction schedule was the biggest challenge. The team also had to decide on the choice of sustainable renovation materials as well as how to optimise the flow of the interactive games. In addition, pandemic restrictions caused many delays, which meant that the entire process had to be more flexible to ensure construction went according to plan. Luckily, both Ka-yu and the team received lots of help from various Link departments, including project and engineering, sustainability and asset management.
The themes and content of the Lab's exhibition were all handled by Link, who also had to liaise with external partners including government departments, business partners and sustainability experts to curate the exhibition content, and to work with a number of NGOs to plan for workshops and other themed activities. Separately, Kingsmen Hong Kong Limited, the contractor, was responsible for the hardware and interior design, as well as production for the videos and all multi-media interactive games.
Words from the contractor: A challenging yet fulfilling experience
To ensure that the lab opened on schedule, Kingsmen faced numerous challenges and pressures, which can be imagined. "Compared to our other projects, the main challenge we had this time was the tight schedule," said Ash Huang, Account Service Manager at Kingsmen. Since October, when the venue handover was completed, starting with floor levelling and water and electricity supply, the company worked with expert consultants in various sustainable development areas. The Christmas and Lunar New Year holidays added more obstacles to the project. But thanks to Kingsmen's smooth working relationship with Link's project team and the support from all parties involved, the contractor was eventually able to finish all of its parts on schedule.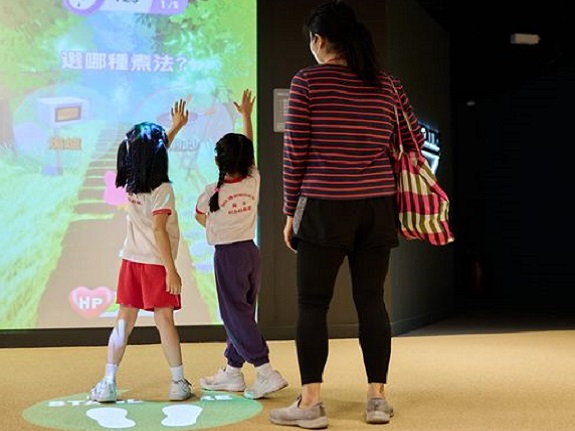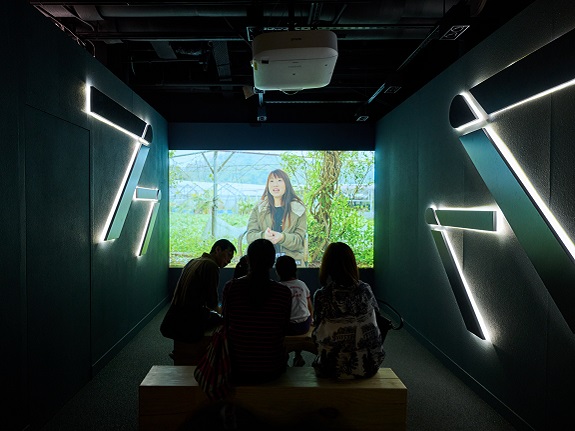 With the objective of promoting public knowledge about sustainable development, the Lab is open to the public for free. "What's most fulfilling is that we are able to build a non-profit public education platform at a location close to the community like Lok Fu Place," Ash said.
At the beginning, the team was worried that the sustainable development text on the display boards would get buried in the euphoria of all the interactive games. Yet it turns out that many visitors are also spending a fair amount of time reading and digesting these messages, with many parents using this as an opportunity to discuss environmental issues with their children. Many young visitors are also taking pictures of the games so that they can do further research in their own time.
Content catering to different age groups
Like other museums and exhibitions, the Lab has a team of staff to help run its daily operations. Many of them have shown interest in areas such as environmental protection and green living, and are keen to contribute.
"Besides knowledge sharing and providing assistance when necessary, I like to observe visitors' reactions," Jenny Lam, one of the Lab's ambassadors, said. "Most of them have little knowledge about carbon emissions, yet they are all willing to learn more. I've noticed that while elderly visitors prefer watching short films, most young visitors are naturally drawn to interactive games. Parents, on the other hand, tend to pay more attention to the text on the display boards, which they digest and then explain to their children. Another popular spot in the Lab is the Sustainable Cha Chaan Teng (Tea House), where entire families can engage in role-playing – a good way to instil sustainable development concepts in the younger generation."
"There was a group of retirees who saw reports about the Lab in various newspapers. They kept the clippings and decided to come together," said Jenny, adding that she has already come across a few stories like this – and has been touched by them – in the one month since she took up the ambassador role.
Visitor feedback: We've learned a lot…but we want more games!
Ms Yee, a mother who came with two young girls, had learned about the Lab from an ad in an MTR station. During her visit, she and her daughter with her classmate spent time both reading the display boards' content and playing the interactive games. "I don't know much about sustainable development, but I hope my daughter can start being aware of it from a young age. Everything here is interesting," she said.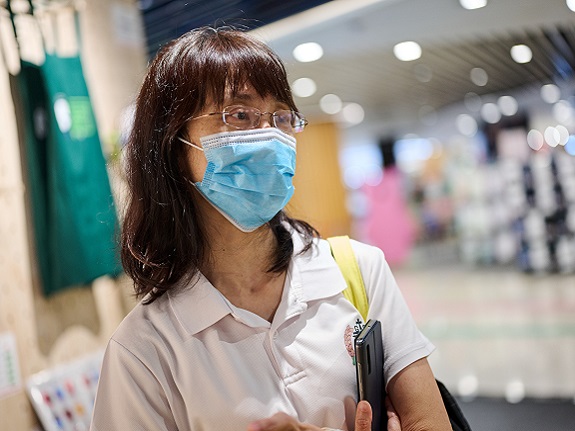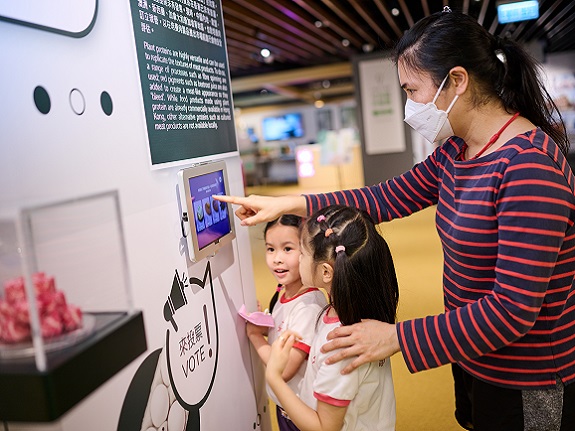 Ms Ho, a youth counsellor, learned about the Lab's opening from TV. "The themes are interesting, though I see how the text can be difficult to understand for young children. Perhaps this is more suited for middle school students," she said, adding that the Lab should install more interactive games, such as a calorie counter.
The first themed exhibition at the Link Sustainability Lab "Take Eat Seriously" will run for six months. It is open to everyone, and we welcome your feedback!