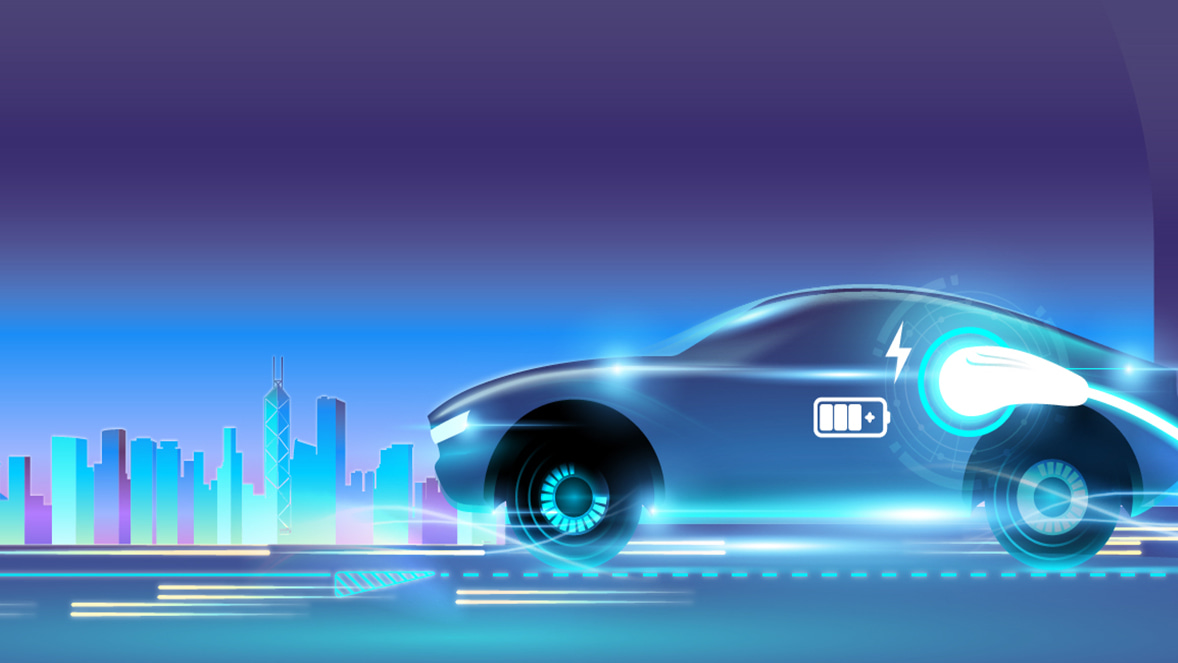 When using ride-hailing apps, would you specify your preference for All-Electric Vehicles (EVs) or hybrid electric taxis? And have you ever been in the situation where you wanted to buy an EV to offset high gas price, but were too worried about the shortage of charging stations in Hong Kong?
EV sets become mainstream over coming decade
Over the past few years, new registration of private EVs in Hong Kong has experienced rapid growth as the government pushes for wider adoption of the technology. It has risen from 6% of overall new registration in 2019 to 45% over the first three quarters of 2022. This represented an almost 100% annual growth. In his latest Policy Address, the Chief Executive reiterated the government's drive to stop new registration of fuel-based vehicles by 2035 as part of its goal to achieve carbon-neutral by 2050. It is inevitable that EVs will become mainstream in the future.

Because of land shortage, most people in Hong Kong live in high rises or large housing estates. Even for those who own parking spaces, it may not be easy to install private EV chargers for their vehicles. Electricity capacity aside, there are also all sorts of issues relating to land titles and liabilities. As such, for EVs to achieve wider adoption, there need to more public charging points to meet rising demand.
Augmentation of charging points needs collaboration from multiple parties
The cost of installing charging points in Hong Kong can be extremely high. At the same time, the overall shortage of parking spots means carpark owners have only few incentives to allocate space to set up public EV chargers. With the city's narrow streets, it is also impractical to building these facilities on roadside.
Link has played an active role in supporting many initiatives related to low carbon living, including the Hong Kong Roadmap on Popularisation of Electric Vehicle launched by the government in 2021. On November 3, Link announced that it is working with three strategic partners (Cornerstone Technologies Holdings Limited, Hong Kong EV Power Limited, and Shell Hong Kong Limited) and other suppliers to provide 3,000 public EV charging points in its 113 carparks across 15 districts in the city by the end of 2024. This will make Link Hong Kong's largest private provider of public EV charging points.
Hong Kong EV Power Limited (EV power) is Hong Kong's first homegrown supplier to specialise in charging services. The company became aware of the impact of climate change over a decade ago, and has since been betting on the potential of clean energy and EV becoming mainstream. It now focuses on providing one-stop EV charging solutions to public and private carpark operators in both Hong Kong and the Mainland.
According to Laurence Chan, CEO of EV Power, the cost of setting up public EV charging points in Hong Kong is high on par with some infrastructure projects, with the prerequisites include sufficient space and capacity of electricity supply. As such, to make this a feasible venture, it would require collaboration from multiple stakeholders, including carmakers, electricity suppliers, EV charging service providers, and carpark owners, etc.
Using night-time stored electricity to meet charging demand
"The idea that we have embraced all long is that users should be charging their vehicles while their cars are in the carpark, so that they don't have to drive around looking for charging points," said Chan. Through the strategic collaboration with Link to install charging points across different districts, they can now provide service to both drivers who shop at the malls and residents in the local communities. This, according to Chan, is the optimal way to utilise electricity.

"Everyday, after the shopping malls close, they leave a lot of idle electricity, and we can transfer such electricity to the cars of local residents during midnight. Charging at off-peak times allows optimisation of energy consumption and avoids overloading the electricity grid, making the EV charging truly environmental friendly." Chan hopes to leverage on Link's extensive property network to promote the adoption of EV, and to provide an authentic green and sustainable charging service to the community.
With the strategic partners investing $120 million in total for installing 2,100 charging points at Link's 113 carparks, Wilson Leung, Link's General Manager – Car Park Management (Hong Kong), said that the first batch of charging points can begin operating as early as the first quarter of 2023, subject to the administrative approval from relevant authorities.

"The 3,000 charging points being planned by 2024 will use up all of Link's current electricity capacity. But we wish to take the first step in promoting low carbon living among the community. In the future, we will study plans with the power companies to increase our capacity. Our goal is to continue supporting the government's smart city blueprint and to contribute to the development of Hong Kong into a smart green city."
Welcome to subscribe Link's official YouTube account