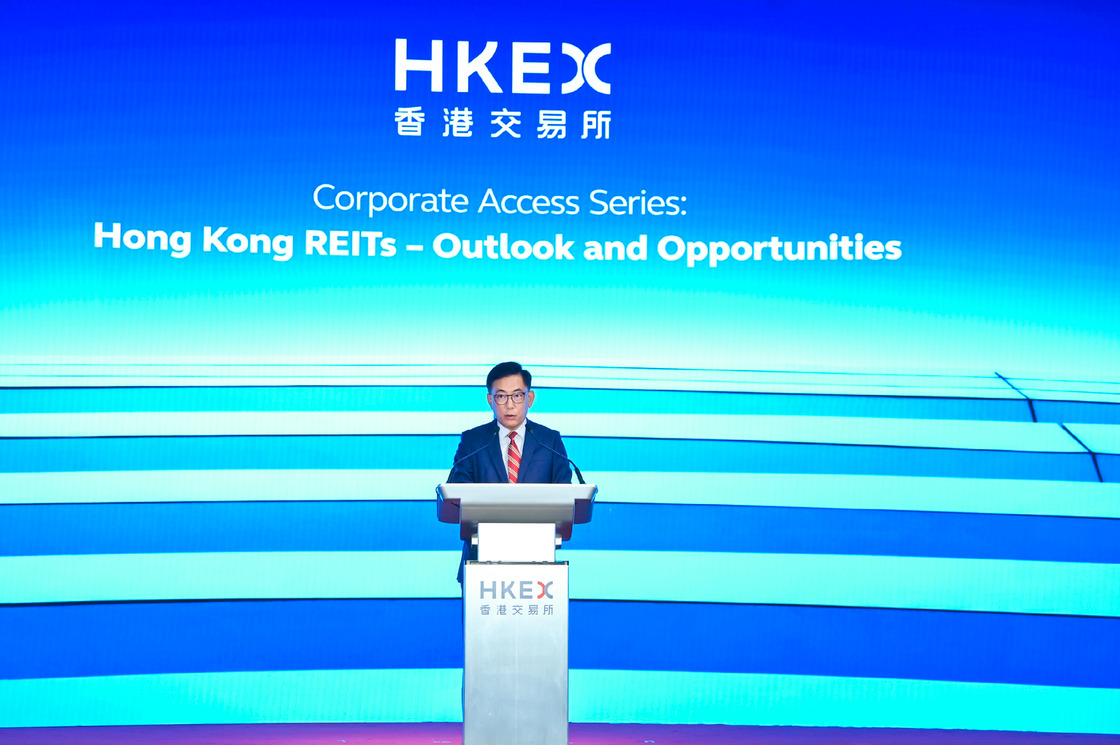 Link CEO George Hongchoy, in his keynote speech of HKEX Corporate Access Series today, discusses the multiple transitions of Link from the first REIT in Hong Kong into Asia's largest REIT in terms of market capitalisation, with a diversified portfolio worth over $200 billion spanning multiple markets nowadays. He said Link has maintained an excellent track record of delivering returns at each of its key stages of development and always strives to thrive amid change. He thanks Hong Kong regulators for creating a marketplace that promotes the development and growth of the REIT industry. He believes catalysts to attract more investors and issuers thus making the Hong Kong market more successful include admitting REITs into the Stock Connect scheme, and addressing potential issuers' pain points such as stamp duty exemption when sponsors transfer assets into the REIT, and allowing companies rather than trust to set up as REITS.
---
Nicolas, Christina, distinguished guests, ladies and gentlemen,
Good afternoon.
I am delighted to join you here at the HKEX Corporate Access Series. Many thanks to HKEX for inviting me to share with you my views on the development of the real estate investment trust market in Hong Kong, and how Link, as Hong Kong's first listed REIT, has transformed over these years as we continue to deliver growth to our stakeholders.
Speaking of the development of Hong Kong's REIT market, one would inevitably associate it with the growth of Link REIT since its listing on the Stock Exchange on 25 November 2005. Indeed, we just celebrated the 17th anniversary of Link IPO last Friday.
As you may know, Link has survived multiple transformations since its listing, and it has constantly evolved to become stronger and more resilient. Now we can proudly share with you that Link has been Asia's largest REIT in terms of market capitalisation. In fact, Link is like a microcosm of Hong Kong. With the economic development and changes of times, we have undergone multiple transitions yet constantly strive for excellence and long-term sustainable growth.
Starting from an owner and manager of domestic public assets with a portfolio worth of HK$38 billion at its IPO in 2005, Link has now transformed to a regional leader with a diversified portfolio worth over HK$200 billion including retail facilities, car parks, offices and logistics assets spanning Hong Kong, the Mainland China, London, Sydney and Melbourne.
Link's history is interconnected with the development of Hong Kong's REIT market. Now, let me tell you more about our story.
Link 1.0
As the first REIT in Hong Kong, Link decided to lay a solid foundation in our home and targeted to develop the Hong Kong-focused strategic initiatives in our early years. Starting from an IPO with a portfolio of 180 shopping centres and car parks, we focused to build our functional core competencies in managing this Hong Kong portfolio.
Asset management, portfolio management and capital management have always been the three pillars of Link's value creation model. Right after Link's IPO, the most acute issue we had to tackle then was asset management. During the period, we faced the challenges of aged assets and shopper defection, the fact that the tenant and trade mix of our properties then were NOT best fitting the customers' "evolving lifestyle".
In view of these, Link kicked off a series of asset enhancement projects, which was supported by extensive market research and effective capital management. Link has so far invested over HK$9 billion in 93 asset enhancement projects in Hong Kong, with placemaking, thematic makeover, shopping experience improvement, accessibility, tenant diversity, and so forth. During the process, Link significantly upgraded its assets to provide high-quality public spaces with an aim to serve the Hong Kong community.
We are grateful that the asset enhancement projects have benefited both the residents and the commercial tenants concerned. Over the years, our tenants' sales growth has steadily outperform the local retail market, and our tenants' occupancy cost, that is the percentage of rental to tenants' sales turnover, remains healthy at 12.6% as at end of September 2022.
Link 2.0
In the first ten years, Link has built solid foundation in Hong Kong, and accumulated enormous experience in non-discretionary retail market and substantially enhancing the quality of many properties through asset enhancement initiatives. In our second phase of development, we then sought to grow beyond our original assets. We started thinking about the long-term productivity, resilience and sustainability of our portfolio. In fact, as a REIT, we are obliged to review our portfolio from time to time, and to ensure our portfolio has drivers for future growth.
The story turned to a new chapter when we approached the 10th anniversary of Link's listing. While we maintained our 100% dividend distribution policy, we began our divestment, capital recycling and reallocation programme. We have a conviction in active portfolio management. We believe Link's future and stability is predicated on its portfolio resilience and growth prospects.
In the pursuit of sustainable growth and portfolio optimisation, Link has subsequently diversified its asset class exposure by investing in more than 10 office properties and five logistics properties. It has also diversified its asset holdings across multiple markets. Outside Hong Kong, our portfolio now consists of 12 retail, office and logistics properties in Mainland China, as well as 10 retail and office properties in Australia and the United Kingdom. Link also diversified our investment models to include joint venture, minority ownership and development projects.
Investments in the Mainland China and overseas have strengthened our core competences in portfolio management, asset management and capital management. Increased business partnerships have also extended our network and access to new opportunities. All these provide us with a solid foundation for further expansion.
Link 3.0 and Prospects
Today, Link owns 130 assets with nine million square feet of retail and office space across 15 administrative districts in Hong Kong, and 22 properties retail, office and logistics properties in Mainland China, Australia and the United Kingdom. Although our portfolio is fairly different from the one listed on the Stock Exchange 17 years ago, I can assure you that our purpose has not changed – we remain committed to deliver the maximum benefits to our unitholders as well as our various groups of stakeholders, by growing our portfolio, achieving portfolio optimisation and sustainable income growth, as well as making places better for the enjoyment of our stakeholders and their future generations.
As of now, we will target opportunities in multiple asset classes, with focus on non-discretionary retail and logistics, in multiple markets. We will also consider multiple investment models and platforms going forward. We will continue to broaden our investible universe across tier one cities in the Mainland China, Australia, Singapore in addition to our home base Hong Kong.
While we are patient in waiting for repricing opportunities amid the current market situation, we have been actively exploring collaborating with capital partners to address opportunities that may surface anytime. We believe working with capital partners would allow us to enjoy the benefits of pooled resources and expertise. It could also help grow our AUM, asset under management, bring in fee income streams and improve our profitability.
With the formation of capital partnerships, we can also support our partners' growing demand of capital deployment in the Asia Pacific region. Being a sizable independent real estate asset manager in the Asia Pacific region, Link is a rarity, and we have a lot to offer to the investors who are interested in tapping growth and allocating capital into the region.
Closing
Over the past 17 years, we have maintained an excellent track record of delivering returns at EACH of our key stages of development. We continue to thrive amid change. In fact, we have grown our distribution per unit every year since IPO.
We have to thank Hong Kong's policymakers, particularly the SFC, Securities and Futures Commission, for creating a marketplace that promotes the development and growth of the REIT industry in Hong Kong. The SFC has constant dialogues with the industry, understand market concerns, and has updated the REIT Code as market situation evolves to allow issuers more room for growth.
Hong Kong, as an international financial centre, possesses many advantages that are conducive to the growth of a REIT market. We should build on this foundation to create a prosperous REIT market here by attracting more investors and more issuers, the latter will offer investors more investment choices and make the market more attractive.
Catalysts to create this virtuous cycle include admitting REITs into the Stock Connect scheme between the Mainland and Hong Kong, which will help expand H-REITs' investor base. Addressing potential issuers' pain points such as stamp duty exemption when sponsors transfer assets into the REIT, and allowing companies rather than trust to set up as REITS will also certainly help.
We are delighted to acknowledge that the HKSAR Government and financial regulators are committed to promote the H-REIT market development by various measures and policies. I believe everyone in the REIT industry are standing ready to join hands to complement the government policies to make our market an even more successful one.
Thanks again to HKEX for putting together this remarkable programme for industry experts and issuers to conduct constructive exchanges. I wish you all the best of business and a fruitful dialogue ahead. Thank you very much.