At Link, our experience in positively influencing and shaping thriving local communities has taught us that sustainable growth and community well-being are not mutually exclusive. In fact, the local communities where we grow our business are testimony to the co-existence of long-term commercial interests and social benefits.
As a homegrown Hong Kong-listed REIT, Link has long been committed to becoming a world-class real estate investor and asset manager. We continually aim to create sustainable business and social value that benefits different generations in the community, improving the quality of life for our fellow Hong Kong citizens.
With 130 properties in 15 districts throughout Hong Kong, Link is a trusted daily companion for the people of Hong Kong, directly or indirectly serving millions of local residents every day by providing affordable products and services that support their daily needs.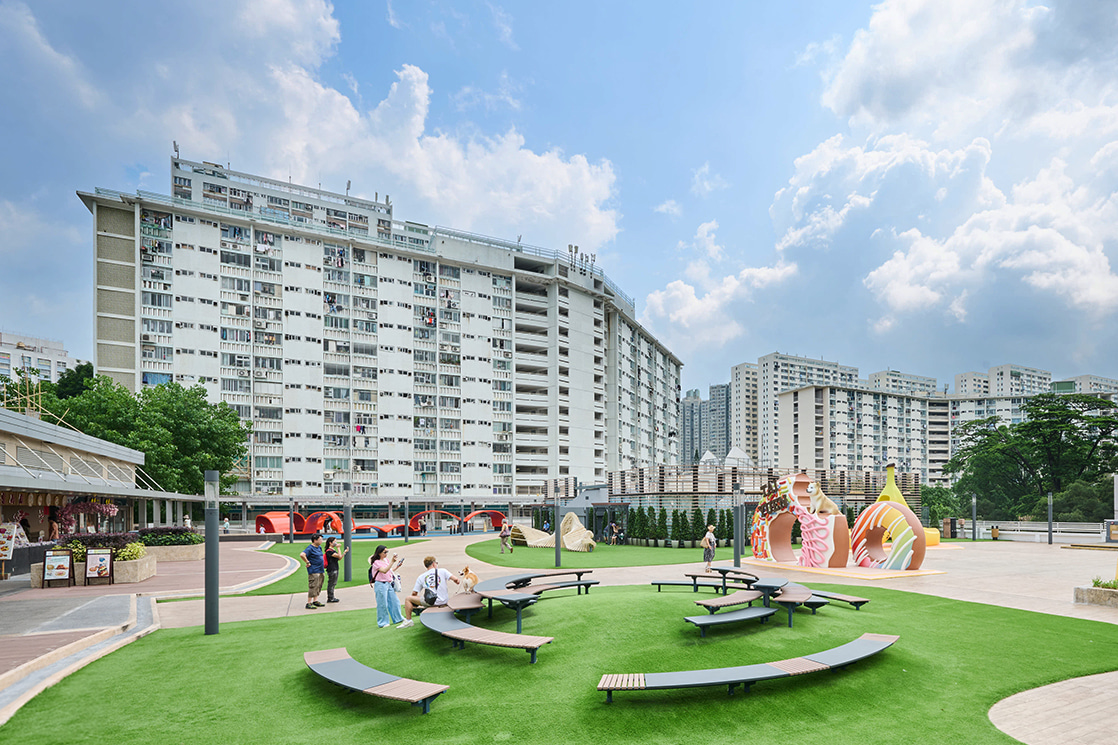 The inextricable "link" between business and community prosperity
Over the past 20 years, the lifestyle of Hong Kong citizens has undergone significant changes. We have stayed on the pulse of what Hong Kong citizens pursue and worked towards a better quality of life for all. This has driven us to adapt and keep pace with the times, reinventing the way communities are shaped.
As the owner and manager of community commercial facilities, we have been dedicated to making investments that shape our retail properties into social hubs and cultivate spaces that are conducive to both businesses and residents. This approach has resulted in the growth of businesses and the simultaneous development of communities, creating greater value for each member of the community – from local estate residents to entrepreneurial small business owners.
Link has always adhered to this principle to best take care of community needs in our core operations spanning a cross-section of neighbourhoods throughout Hong Kong. In practice, we have continuously enhanced our asset facilities over the years, catering to the needs of existing members of the community, and to attract a broader customer base.
Revitalising facilities, anticipating needs
Link has invested $230 million to improve accessibility in our properties, and by the end of March 2023, we had also upgraded facilities for about 40 fresh markets in our portfolio. These renovated fresh markets provide spacious, dry and comfortable walkways for wheelchairs and strollers, providing a high-quality shopping experience for different customers, including the elderly.
After the renovation, the fresh markets became cleaner and brighter, and contained a wider variety of products. These enhancements have attracted a new generation of customers to our modernised versions of Hong Kong's iconic fresh markets while allowing us to retain our existing customer base. This has resulted in increased sales for our stall tenants, many of which are small, family-owned businesses.
The enhancements have also revitalised Hong Kong's fresh market industry, which had once been a sunset industry. In addition to attracting more young customers, Link's modern fresh markets have encouraged younger family members of stall owners to take over the family business, bringing new vitality to these important community businesses.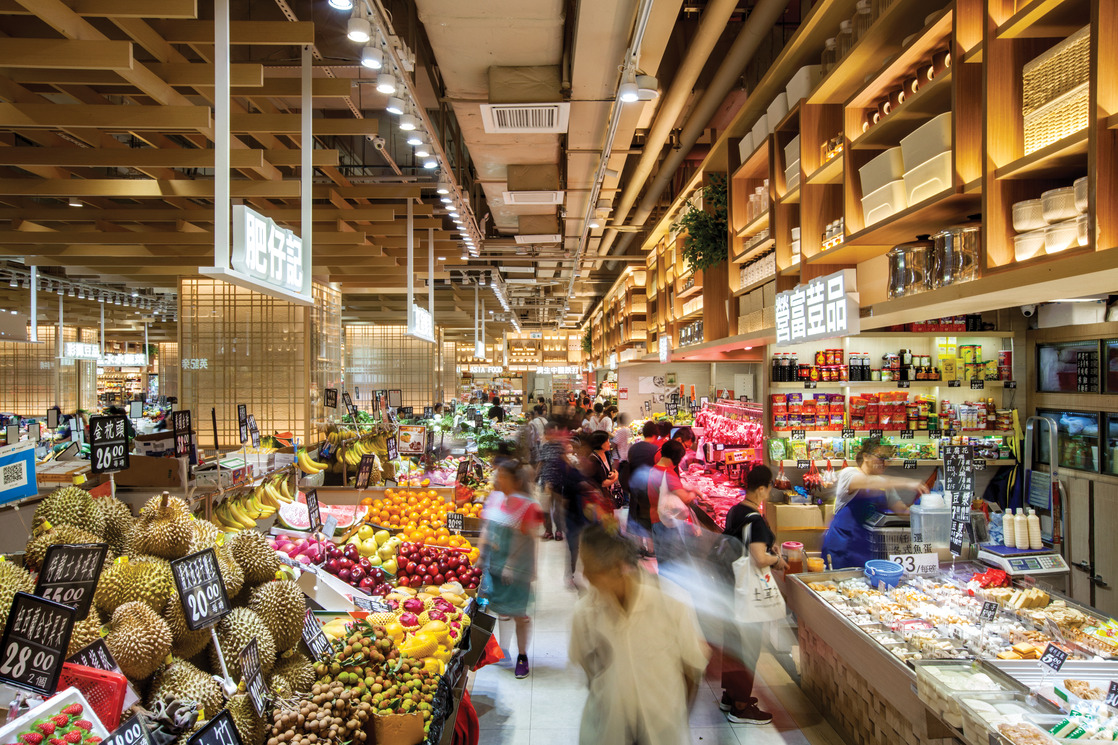 Small independent shops, major ingredient for success
There have been some misconceptions that Link deliberately replaces long-established small independent shops in the community with chain stores for greater gains. This could not be farther from the actual state of affairs. In fact, we view these speciality shops as essential to ensure the provision of a wider range of goods and services, which adds character and attraction to our shopping malls.
We pride ourselves on being a steward of local communities and small businesses, which are both key ingredients to our business success and our role as a community member. Over the past decade, small businesses (excluding fresh market stalls and micro-chains) have accounted for an average of about 60% of Link's total retail shop units.
Moreover, in terms of keeping our shoppers engaged, there are no incentives for us to replace distinctive small shops with run-of-the-mill chain stores. In fact, our Asset Management and Leasing teams actively seek out individual speciality tenants that offer distinct, quality products and services.
When a tenant ends their lease, we always look for a similar replacement. This is easier said than done in remote and ageing estates, especially when some elderly operators opt to retire at the end of their leases, substitutes that enjoy the same affinity with the local neighbourhood are rare. For example, in the case of an old couple who chose to retire and end their family drug business in a less-frequented mall, we may not be able to find another independent operator in time to continuously provide the service and may have to settle for the closest replacement of a chain drugstore.
On the other hand, if a new small individual shop has proven to be popular, we often invite the owner to expand to other Link properties in or near other housing estates. These tenants graduate into what we call a "micro-chain". Link has proudly groomed a number of these micro-chains in our portfolio, giving small, local businesses a chance to excel on a broader scale.
In 2009, we established the Link Tenant Academy to equip small businesses with a timely understanding of market information, management concepts, industry trends and retail skills. We have held many seminars and workshops to help small businesses grow sustainably and successfully.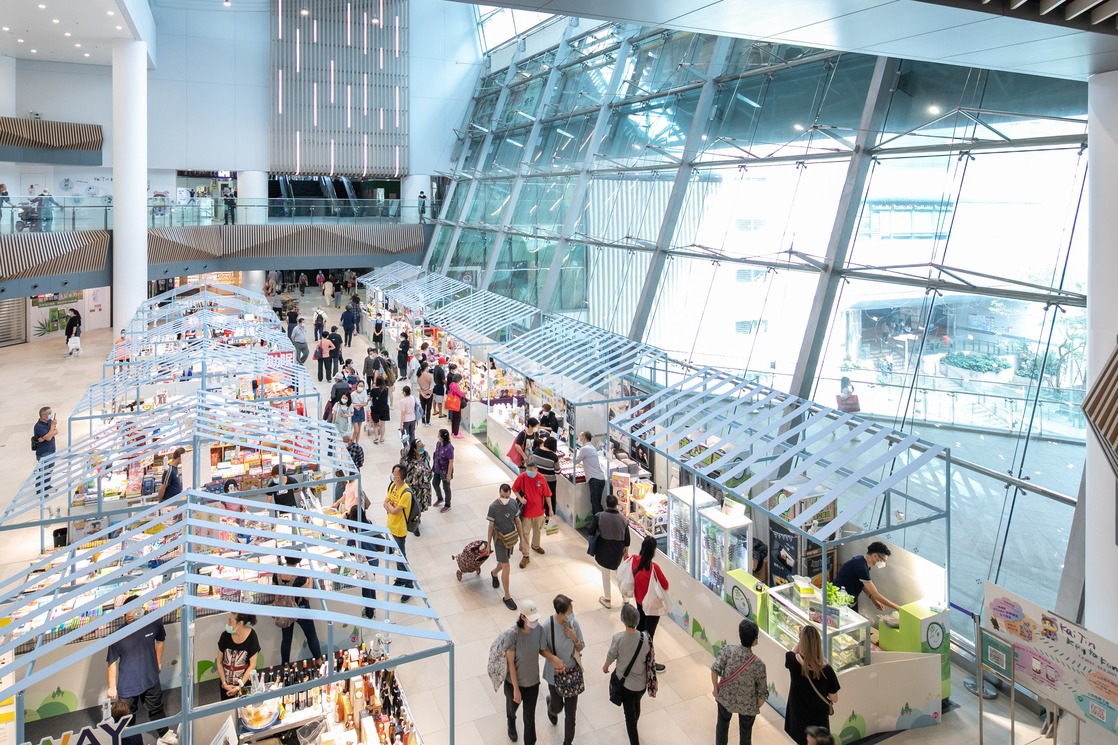 Making places, linking lives
In response to changing community needs arising from an ageing population, we have further repositioned our assets to better serve the elderly population and their families. Take our proposed Lok Wah Market conversion project in Kwun Tong as an example, we made a precise response to the increasing demand for elderly care services due to the ageing population in the community, while echoing the government's policy of "ageing-in-place". Because we also understand the need for residents in the area to purchase fresh food and daily necessities, we reserved retail space at the project area for fresh produce and household necessities to continue serving all residents of the surrounding neighbourhood while also providing a comfortable home for the centre's elderly constituency.
Link has also invested a significant amount of our resources into equipping our properties with the facilities and services to play the role of a community social hub. We provide leisure facilities with features customised to each community, making it easy for residents of all ages, physical conditions and economic status to use them. By adding vitality and colour to the community, we hope to enhance residents' sense of belonging to their community.
Beyond improving our hardware, we also make significant social investments through our community projects. Our flagship charity and community engagement programme, Link Together Initiatives, is celebrating its 10th anniversary this year. Through this signature programme, not only does Link donate an amount equal to up to 0.25% of the net property income for the previous financial year to charity each year, but we also use our extensive shopping centre network and community resources to collaborate with charitable organisations in three key areas: youth development, inclusivity and active ageing, and environmental sustainability. This allows us to respond to the ever-changing needs of the community by helping community-based organisations realise innovative and effective projects.
The projects we sponsor promote sustainable development in the community while enhancing community engagement and cohesion. The "Transformational Multi Performing Arts Programme for Golden Agers" which we have sponsored for four consecutive years, provides professional training and performance opportunities for seniors who have talent and a strong interest in drama. This allows them to connect with like-minded friends and the community, enhance their quality of life, and explore a second career in professional theatre. Another of our NGO partners, Environmental Association, has built a total of eight butterfly gardens in the outdoor spaces of our shopping malls over the past three years, successfully bringing environmental conservation into the city, increasing urban biodiversity, and establishing a volunteer team to maintain the completed butterfly gardens.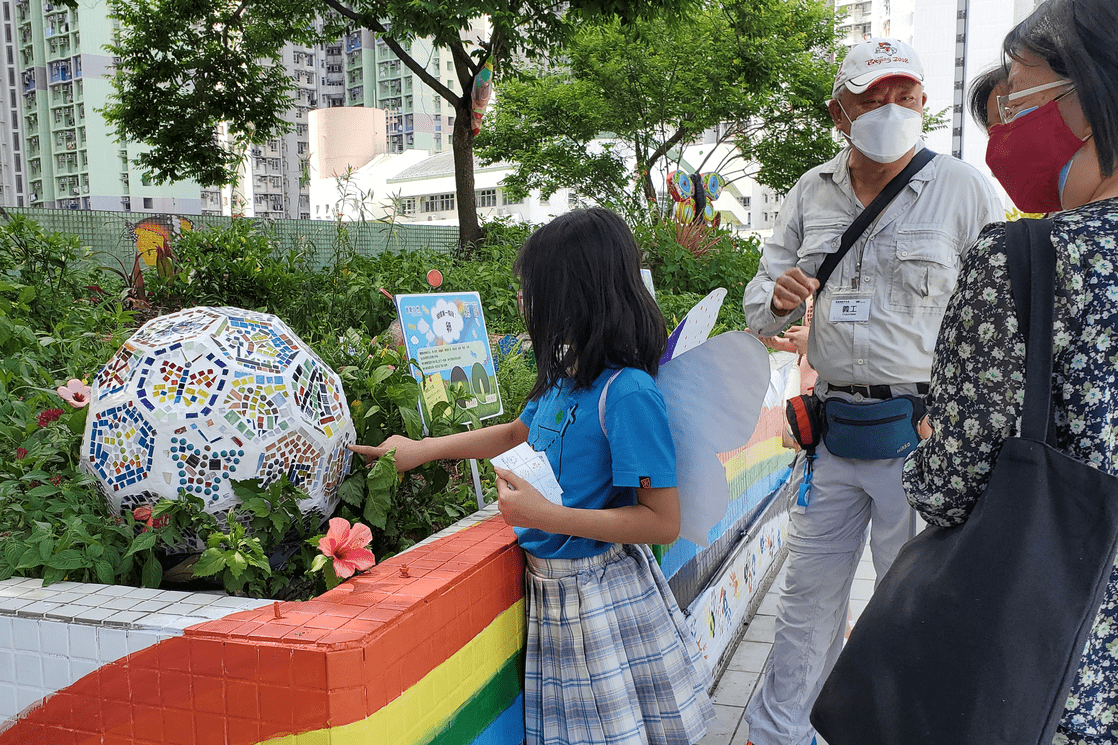 Sustainable business propelled by positive social impact
Earlier this year, Link introduced the Link Sustainability Lab, a platform for public education and collaboration. The Lab aims to connect different stakeholders in society, including both the public and private sectors, to work together to simplify and streamline the concept of sustainable development – a sometimes abstract, lofty ideal – into smaller actionable goals. Through practical and achievable solutions, we empower members of the public to gradually achieve these goals one by one, and collectively build a sustainable society. Since its opening in late April and up to the end of July, the Link Sustainability Lab has attracted over 91,000 visitors and held 68 workshops, making it a highly popular community investment project for Link.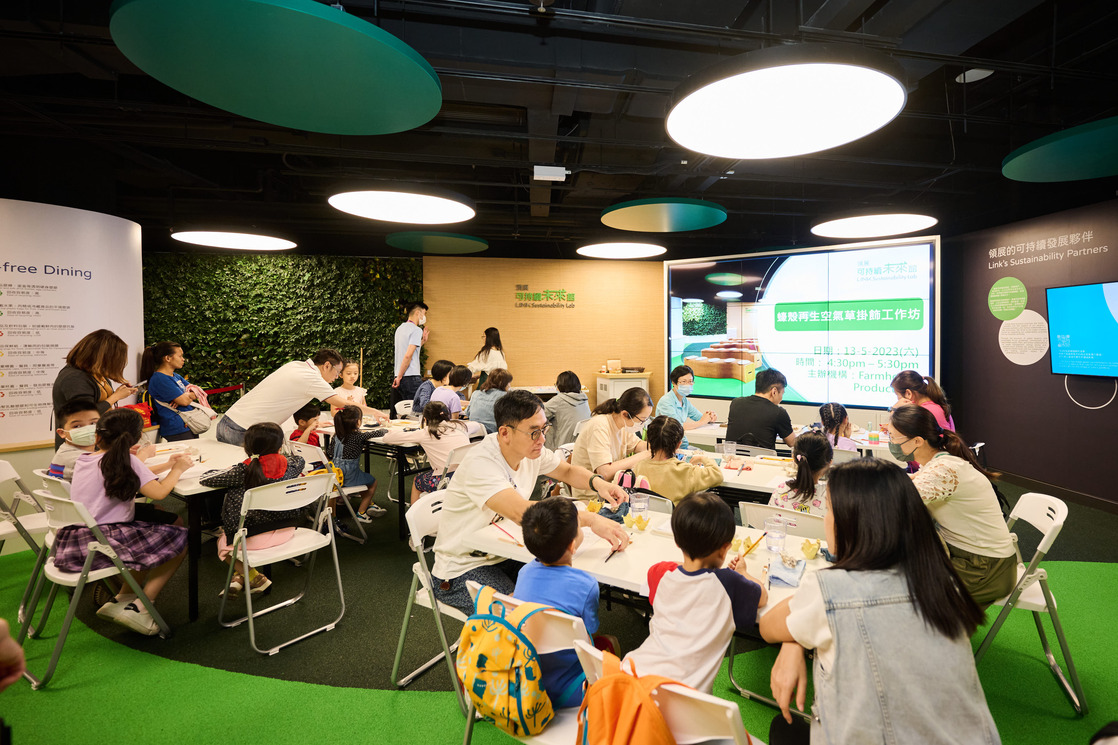 Link believes in the holistic growth of our communities, and of the people and businesses that give these communities their vitality and strength. As such, we have long been committed to creating sustainable community businesses in Hong Kong and making significant investments in the community, while also focusing on our core business operations. We know that actions speak louder than words, so we choose to lead by doing, and show that our long-term commercial interests complement our role as a trusted daily partner of the community. We look forward to continuing to grow alongside Hong Kong's diverse communities and businesses with our stakeholders as we strive for a better, brighter future for all.