In an article with Securities Times, Link CEO George Hongchoy explores the trends of cross-border consumption in the Greater Bay Area (GBA), and discusses why mall operators should shift their thinking to transform traditional shopping malls into more inviting "third place" to attract and retain their customers. The following is an English translation of the article.
---
Hong Kong consumers' enthusiasm for cross-border spending in the Greater Bay Area has been making headlines over the past few months. What we witnessed during the recent "Golden Week" holiday is a further testament to this trend.
Hong Kong's Immigration Department recorded around 486,000 mainland visitors during the three-day holiday from 30 September to 2 October, as compared to over 600,000 Hong Kong residents traveling north during the same period. There has already been plenty of discussion about the reasons for the "Shop North" boom. In my views, the surge in two-way cross-border consumption is simply a natural outcome of the ongoing infrastructure enhancement in the GBA.
In fact, the shift towards consuming North by Hong Kong people has been taking place even before the COVID-19 pandemic. Yet the recent increase in attention can mainly be attributed to two factors: a sudden release of pent-up demand for northbound travel in a short period of time that exceeded everyone's expectations; and the decline in mainland tourists to Hong Kong as a result of exchange rate changes and other reasons, which further shifts the balance.
From a commercial asset investment and management perspective, identifying the drivers of these market trends is only the beginning. What matters more important is how shopping mall operators navigate the evolving landscape in order to capitalise on the opportunities created by this two-way cross-border consumption boom in the long term.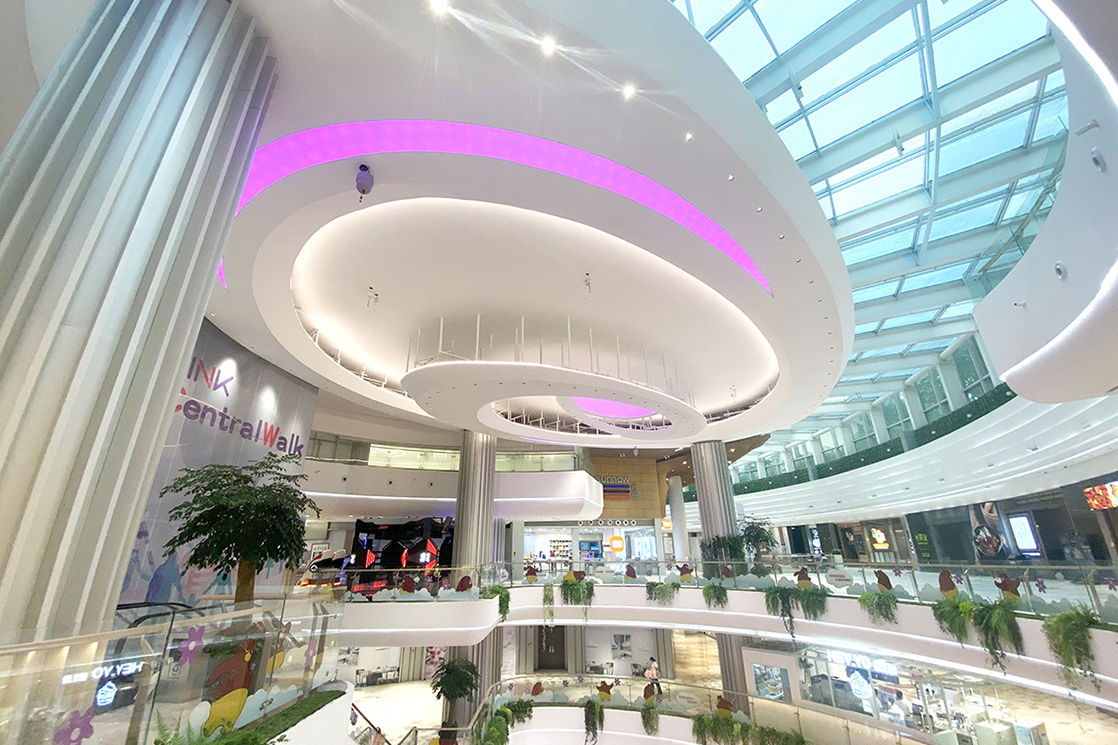 Hong Kong consumers' fascination with shopping malls
Hong Kong consumers are obviously fond of shopping malls. Much of this can be attributed to the unique features of the local market. Hong Kong's land scarcity is well-documented, which has led to high land price, a Hong Kong resident has on average about 16 square metres of living space. As such, for most Hong Kong people, malls are not only a place to shop and pick up groceries, but also for friends and family gatherings, especially during holidays.
In that sense, the role of shopping malls in Hong Kong far transcends those of simple shopping destinations. Those located near the city's railway lines or other highly convenient public transport have naturally become the "third place" in the lives of many local residents. Community malls, which cater primarily to the neighbourhoods, are typical examples. These malls provide a wide range of dining options, leisure and entertainment facilities and services to the local communities, becoming their "daily life companion" and a home extension.
Therefore Hong Kong consumers tend to bring the same shopping mindset while visiting mainland cities in the GBA. Taking Shenzhen as an example, the influx of Hong Kong consumers into malls along the subway lines has made numerous headlines this year. Among the biggest surge in visitor number are those located near the Convention and Exhibition Centre, Guomao and Dongmen subway stations, mostly due to their proximity to the Futian and Luohu immigration control points.
Even our own statistics corroborate this trend. In the first half of this year, Link CentralWalk, located near the Convention and Exhibition Centre, recorded growth in both footfall and sales. The overall footfall during the summer holiday (July and August) jumped by 80% from a year earlier. Specifically, sales of the food favoured by Hong Kong customers, such as coconut chicken hot pot and fish in fermented vegetable soup, also recorded impressive growth, while bar revenue gained about 50%.
Creating the "Third Place"
The COVID-19 pandemic and the advancement in e-commerce have posed a series of challenges for shopping malls in the GBA in recent years. Against this backdrop, the influx of Hong Kong consumers has provided mall owners with some much needed relief.
At the same time, mall owners must keep in mind that Hong Kong consumers will not simply cling on to shopping malls along the subway lines forever. As two-way cross-border consumption becomes more prevalent in the long run, these visitors will gradually explore alternative tourism and consumption destinations. To attract and retain their patronage, mall managers need to shift their thinking and demonstrate their creativity to transform traditional shopping malls into more inviting "third place", in the same way they attracted mainland consumers.
There are many differences between Hong Kong and Mainland China that drive the transformation of shopping malls into vibrant "third place". In Hong Kong, the major issue is the scarcity of residential land, while Mainland China is facing the rapid growth of e-commerce. Traditional malls on the Mainland should evolve into "third place" for leisure and entertainment satisfying social needs that cannot be fulfilled online. In essence, understanding targeted customers and providing diversified and innovative customer experiences are the keys to thriving in this ever-changing environment.
However, not all shopping malls can be redeveloped to accommodate the latest consumer trends. Asset enhancement or upgrade is a more practical approach to achieving the goal. Taking Link Plaza Tianhe as an example, after acquiring the mall (formerly known as Happy Valley Shopping Mall) in Zhujiang New Town, Guangzhou in 2021, we immediately embarked on an enhancement project. Our plan involved a thorough study of the neighbourhood's characteristics, which is a blend of business and daily life needs, and exploring creative business models that focus on meeting the diverse needs and lifestyles of the new generation.
After being rebranded as Link Plaza Tianhe in May, the mall is positioned as an environmentally friendly social hive for individuals advocating health and happiness. Alongside with infrastructure enhancements, we have also launched an urban life zone with 24/7 access, a full-service children's playground, and a Gen-Z gathering hub specifically designed for professionals and young people to unwind and enjoy the nightlife.
A win-win outcome
Creating a "third place" is by no means a one-off exercise. Over the past 18 years, Link has successfully completed 94 asset enhancement projects in Hong Kong, most of which are part of a continuous and dynamic process. The reason is simple: shopping malls must consistently upgrade their infrastructure and improve customer experience to stay attuned to evolving consumer demands and market conditions. Mall operators need to continuously review their business plans and promptly enhance facilities to meet rising customer expectations and thrive in the long run.
Since the beginning of this year, we have seen many shopping malls in Mainland China experimenting new business models to attract customers. Examples of this include the so-called first-store economy and the night markets. In the GBA, the post-COVID revitalisation of the "one-hour living circle" has accelerated the convergence of culture and consumption between Hong Kong and the Mainland. In response to this trend, Link has also launched several unique campaigns: In collaboration with the Hong Kong and Shenzhen governments and other institutions, we hosted the inaugural "Hong Kong-Shenzhen Star-up Cultural Festival" at Link CentralWalk in Shenzhen. The event aimed to foster interaction between the two cities through diversifying consumption experiences and assisting Hong Kong entrepreneurs in their integration into the GBA. In Hong Kong, we also organised a series of Hanfu-themed activities at Temple Mall in central Kowloon to promote Hanfu culture.
From a macro perspective, the benefits of continuous upgrading shopping malls and retail models will eventually extend beyond consumers and mall operators. Improved properties result in better customer experiences, which will naturally elevate tenants' brand images and generate more business opportunities for them. At the same time, the overall enhancement of a mall contributes to an improved living environment and better quality of life for the surrounding community.
Link Plaza Tianhe in Guangzhou serves as a prime example of how rebranding and asset upgrading can lead to a positive outcome. Following the enhancement, the mall successfully attracted 60 new brands, of which more than half opened their first store in the city or the region. After completion of the first phase of the enhancement in September, the footfall increased by 30% year-on-year during the Golden Week holiday. The mall achieved a new single-day record in footfall on 29 September (Mid-Autumn Festival), the day it reopened with the new look since its acquisition by Link in 2021.
In Shenzhen, Link CentralWalk has increased its proportion of green space to 43.1%, representing over 18,000 square metres, as part of an enhancement project that commenced at the beginning of last year. Besides providing a unique green shopping mall for the surrounding neighbourhood, it also helps mitigate the heat island effect and rainfall runoff, thereby improving the microclimate. The delightful new mall has been well-received by customers, with footfall up 124% during the Golden Week holiday. Particularly, the mall achieved a record single-day footfall of 70,000 on 1 October, which was a new high since it reopened in January 2022.
As two-way cross-border consumption within the GBA becomes more prevalent, I am confident that more customers and industries will benefit from the one-hour living circle. But at the same time, the evolution of consumption patterns may pose a number of challenges to shopping mall operators along the way. Working together with all stakeholders and seeking innovative solutions is the only way for mall operators to turn these challenges into opportunities and achieve win-win outcomes.